Hello everyone here is our second guest post written by the lovely Ellie from www.Maydoll.co.uk. Ellie always adds something fun and girly into everything she wears and she inspires me to be a little more girly and throw on a dress now and again! I hope you enjoy the post and remember to check out her blog!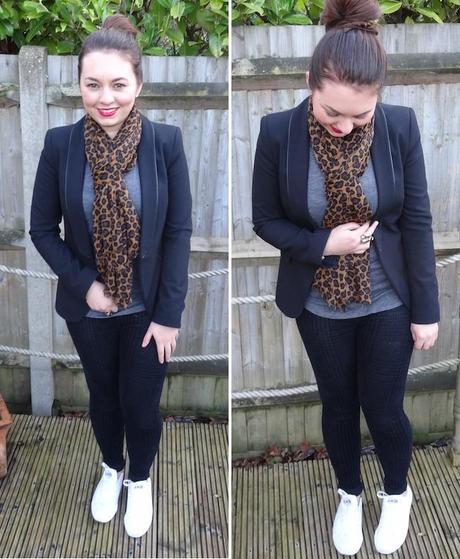 WHAT I AM WEARING: Jacket/Zara T-shirt/Topshop Leggings/Topshop Trainers/Converse Scarf/Zara
Describe Maydoll?
Hi Guys, The lovely Leigh has asked me to do a guest post about my blog
maydoll.co.uk
. I'm pretty hopeless at describing myself but luckily Leigh has provided me with some questions to answer! My name is Ellie may which is how the name maydoll came a round, I am 20 years old and live in
London
. I started my blog just over a year ago as somewhere to be creative and share my passion for fashion and make up, I also throw in some lifestyle posts to mix it up! I find my blog an enjoyable outlet from my day to day life as an insurance underwriter, (not be to be confused with undertaker!) and is a great way to meet new people :).
What is your staple clothing/accessory and why?
 am going to cheat and pick 2. The first is my leopard print scarf which I am wearing above. It really easily brightens up an outfit, and instantly makes me feel more stylish and together when I have to cover my outfit up with a big coat! My other pick is a statement necklace, as it can really transform a simple outfit.
Where do you get most of your inspiration from when it comes to style?
queue the usual answer but it is true... Other blogs and people in the street. I love it when I see someone out that Is wearing an item of clothing I have but styled it so differently, it really inspires me to try something different.
remember to check out Ellie's blog before leaving :)
if you would like to do a guest post then please feel free to email me on obviousleigh@gmail.com Leigh xo