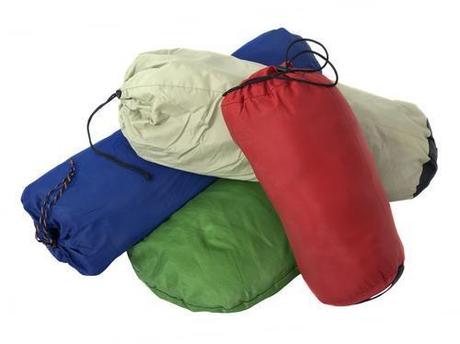 Not all sleeping bags are created equal! If you want to be comfortable when sleeping outside, it is important that you select the correct bag for the conditions you will be facing. If you choose your sleeping bag correctly, a good night's sleep is guaranteed no matter what the weather.
When it comes to picking your bag, there are a number of things to look out for. This guide will break each point down and give you a good overview of which type will be best for you.
Shape
The first thing to do is determine which shape of bag you need. There are two main types: rectangle and mommy. They each have their advantages.
Rectangle: These are usually cheaper. They are a simple shape which allows for plenty of room to move about. A rectangle shaped sleeping bag will generally serve best for short term trips in summer. They are difficult to pack up; as a result they are unsuitable for trips where space saving is key.
Mummy: Wide at the top and tapering towards the feet, a mommy sleeping bag is the best option in colder conditions. The fact that you will be cocooned means that it is easier to warm up inside these bags. Many of these bags come with a hood attached; great for keeping your head out of the cold! They are generally less bulky, making them the best choice for longer expeditions where you will be carrying your own equipment.
They are usually more expensive and can feel more restricted if you are used to sleeping in a rectangle bag.
EN 13537 Rating
The EN 13537 system was introduced to combat the drawbacks of the old seasonal rating method. Because the temperatures of different seasons varied dramatically from country to country, people would often find themselves stuck with an unsuitable sleeping bag.
Using sensors and a heated mannequin, the following factors are determined:
Upper Limit/ Lower Limit: Upper limit is the maximum temperature a person can sleep at without sweating too much. Lower limit is the minimum temperature where a comfortable eight hours of sleep can be achieved.
Comfort level: This is the temperature range in which a comfortable night's sleep can be achieved. When buying your bag, look for the widest range.
Extreme Temperature: In case of emergencies, this is the lowest temperature you can sleep in for six hours without serious health concerns.
Filling
The main choice of filling is either down or synthetic filling. Down offers extremely good insulation for its weight and is extremely compressible. This makes it great when space is an issue. However, it doesn't perform well when damp.
Synthetic fillings offer great value for money. They work well in damp conditions but are much more bulky than down filled sleeping bags.
Which filling you should choose depends on the type of trip you are planning on undertaking.
When you consider these three points you should have a good idea of which sleeping bag will be best for you. Just remember that different people react to low temperatures in different ways. If you are a naturally cold person it is always worth adjusting your sleeping bag to accommodate this.
This piece was written by Mark Enright, a writer for Mountain Leisure Perth, suppliers of high quality outdoor equipment.