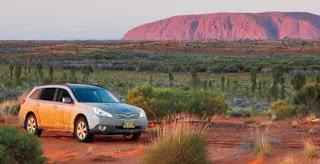 If you love off-roading and are thinking of taming the Australian outback, just ensure you are prepared for anything. With little to no passing traffic, the chances of someone stopping to help should you encounter any problems are small. Add to this the scarcity of towns and gas stations, you really must ensure you carry sufficient and extra amounts of food, water and fuel. The core of Australia is a real desert, so if your vehicle isn't equipped with air-conditioning, you will suffer temperatures of 45°C during the day. Whilst hot throughout the day, temperatures drop to freezing at night, so ensure adequate blankets etc…
No matter where or how remote your destination, it's always good practice to take at least 10L of drinking water per person per day of driving. 
ALWAYS carry an additional 5-day's worth of extra water, should you experience problems or breakdown. Other vital survival tools include thick, warm blankets, used as shade in the day and for warmth at night. Matches or a lighter are key should you need to make a fire in isolated areas – fire not only provides warmth, but is very good at attracting attention if lost.
Everyone takes his or her mobile phone with them, but don't expect it to work if in the outback – large areas of the unpopulated country do not have service at all.
Using unsealed roads will require a proper 4WD (four-wheel-drive) vehicle. Planning ahead is highly advisable for these outback treks – it's not just a case of hiring a sedan and off you go. Even SUVs or soft road vehicles are not up to the task of the outback; if the roads are marked as 4X4, only one vehicle will suffice.
The biggest obstacles on these roads are potholes and corrugations on loose gravel roads. On sandy terrain, potholes aren't always visible. Although the path ahead may seem quite even, hitting a pothole at speed can overturn a car. Corrugations in the track are groove formations that look like waves on the road's surface – at low speeds the car will shake and vibrate so much it's almost unbearable and difficult to control.
The main thing to remember is research and preparation. If a 4WD is needed, make sure you find somewhere who are experienced with these types of vehicles, whether it's a hire company or if you are looking to purchase your own. If you are experienced and do want to buy your own, talk to dealers and find the one most suited to your needs. Depending on the terrain, there are many 4WD vehicles on the market, Landrover,
Subaru
, Nissan and Toyota leading examples.
Experiencing the outback in your own 4WD is an unforgettable adventure – it's one hell of an achievement traversing and conquering such a magnificent landscape.