Make your meal on a makeshift barbecue
A good grill is an essential piece of summer equipment for any garden in the UK. It doesn't matter how few days of sun we get actually get, we still manage to squeeze a few barbecues in every summer. Lots of us like to splash out on new outdoors equipment and barbecues, however you could also try making one yourself from cheap and readily available equipment.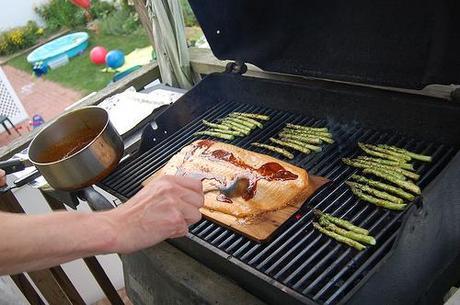 BBQ
It's not just at home that you can benefit from a makeshift barbecue either, homemade grills are really useful when you're out camping, caravanning or travelling, especially if you're on the road somewhere hot.
There are a few different techniques for making your own barbie, including sturdy brick and concrete structures. However, if you haven't got the patience, time or expertise for this then you can make a barbecue from something as rudimentary as an old bucket; the only thing that you have to make sure of is that the bucket is resistant to both heat and fire, so it's best to go with a metal one.
Once you've got the ideal bucket, you then need to create holes all the way around the base, about three inches up from the bottom and about 2 to 3 inches apart. These will allow air to flow both in and out of the barbecue. To make the holes, you can simply hammer a large nail into the bucket.
Once the first set of perforations have been made, you then need to create another set, around 2 inches above the initial holes, with a distance of 1.5 inches between them. These holes don't need to go all the way around; you just need 4 either side of the bucket, directly facing each other. Into these holes, you need to insert thin metal rods. These rods should fit securely but not too tightly, as you'll need to take them out at some point to clean your construction.
Once you fill your bucket with charcoal, and light the fire, you're makeshift barbecue is ready for use. To cook, you can either rest skewers over the top of the flame, or get a grill to put on the rim of the bucket.
Of course, whenever you're barbecuing, it's important to respect a few safety and etiquette rules. Any cooking you do should be done in a well-ventilated area, downwind of your neighbours and away from any tents, caravans or children.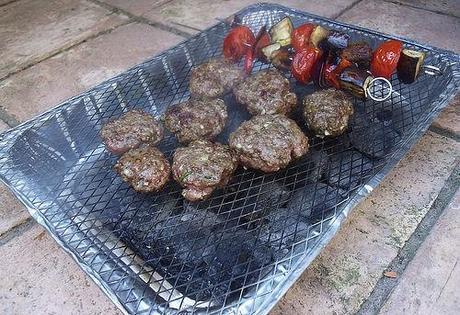 Instant barbecue (can also be bought)
As you're already grilling on an unusual contraption, you might want to try cooking foods that you wouldn't normally think of barbecuing. If you're traveling by the sea, you could try grilling clams or muscles, which are delicious with the simple addition of a garlic and melted butter marinade.
However, if you're at home and looking to use up a few ingredients from your vegetable patch, then why not try a healthy homemade pizza? All you need is bread, cheese and any veg, like perhaps asparagus and carrots for example that you may have growing in your garden.