It's no secret that cold cases draw a lot of entertainment and media interest. From podcasters, thriller novels, to true crime TV, viewers and readers can't get enough!
And I'm no different! My new thriller, Hole in the Woods, is based on a cold case I followed for twenty-five years. The specific cold case was that of Shannon Siders of Newaygo, Michigan. Shannon was brutally raped and murdered the summer of 1989 and her body was left for three months at the Hole in the Woods, a local party spot deep in the Manistee National Forest.
Her story inspired my fictional version but also spurred my deeper interest in partnering with the Cold Case Foundation, a non-profit focused on solving the hardest, most forgotten violent crime and missing persons cases.
Once I started researching Shannon's case and eventually was led to the CCF, I was eager to get a behind the scenes look at cold case solving. So... what do we actually know about cold cases? Why do they grow cold? How many cold cases are there in America? Why did Shannon's case go cold for so long? And how is CCF tackling cold cases differently?
What is a cold case?
A case is considered cold if the crime has not been solved after one year of when the offense occurred.
Why did Shannon Sider's case grow cold?
From what I know and have learned about Shannon's case, I can point to a couple reasons why it went cold.
First, Shannon's body was not found until three months after her murder. Most of the biological evidence, even her own, was very deteriorated. Of the very small traces of DNA found her remains, none was able to be linked to anyone but Shannon. And of course, when she was killed in 1989, DNA science was very new and you needed a lot more of it to test for DNA than you do nowadays. But even when the samples were retested in 2012 with better technology, they were given inconclusive results. With no physical evidence present, it was impossible to make a connection to Shannon and her killers.
Second, investigators spent hundreds of hours interviewing Shannon's friends, family, and those last seen with her. Over 460 interviews! At the time there was never any probable cause to make an arrest. Investigators could not find any direct or circumstantial evidence that would give them the ability to make an arrest in Shannon's killing. Even police examinations of the killers' vehicle yielded no such cause because by the time the car was examined, the killer had weeks, if not months, to dispose of any evidence and clean up their car.
Third, the lead investigator on Shannon's case believed for a short time after her father reported her missing that she might still be alive. There were reports of another Shannon, who looked similar to Shannon Siders, and was seen in a store at a neighboring town. Police also had reason to believe she had run away and was in hiding. Weeks of time that passed after Shannon went missing that investigators just didn't give her disappearance the credence it deserved.
Fourth, the county where Shannon was killed is not densely populated and does not have access to a large police budget. Basically, it's rural and middle class. The police department is small. There is a minor sheriff's post. And there is absolutely no cold case unit. And wasn't in the whole state of Michigan until 2011. It all goes back to lack of resources.
Why do other cases grow cold?
There are many factors that might render a case to remain unsolved. Maybe there wasn't enough evidence surrounding the crime or victim? Maybe the victim was found weeks, months, or years after the crime was committed? Maybe the case was not investigated properly at the onset? Maybe all the leads pointed to a false direction where time and energy was used up, allowing other leads to disappear or cover their tracks.
On the law enforcement side, the main contributors to a case growing cold are time, resources, and commitment to these cases.
By commitment I mean the amount of time and the priority a law enforcement agency and investigators are able to allot to cold cases. Police priority gives focus on present and future crimes so as to deal with today's events and prevent tomorrow's. Continuing investigation on crimes in the distance past naturally takes a back seat, simply out of daily task priority.
Lack of funding is another big obstacle facing police departments when it comes to the investigation of cold cases. There isn't enough money to invest in old cases, and only about 18 percent of the nation's 18,000+ police agencies actually have a cold case unit.
Lack of resources, meaning both lack of investigators and cold case protocol is the third challenge. Only 20 percent of those 18 percent of cold case units actually have proper protocols in place to guide them through the process in the most effective way.
Since 1995, the national average of solved homicides is 64%; leaving about 36% of homicides nationally unsolved every year. (FBI Uniform Crime Report.) Every year, 5,737 killers get away with murder. This paints a bleak picture for crime solving across the country.
And this is exactly where the Cold Case Foundation can fill the gap!
What exactly is The Cold Case Foundation?
The CCF is what I call the Avengers of cold case solving! CCF was founded in 2014 and is currently run by Greg Cooper (former FBI) and Dean Jackson (former law enforcement). The CCF is an NPO and employs an all-volunteer board and staff of law enforcement experts from the FBI, police branches, and investigators and forensic experts from around the country. Most are retired and all are eager to lend their decades of experience to keep fighting crime.
Each new cold case brought to the CCF is assigned to a super power team of these seasoned professionals who volunteer their time and expertise to those hardest to solve cases. They use a technique called Victimology, which seeks to study the victim's life and relationships. With these clues, investigators can more effectively and efficiently find clearer and cleaner trails to the killer.
What Kinds of Cases Does the CCF Help Solve?
Homicides Missing Persons Unidentified Bodies Rape/Sexual Assaults
Is There A Cost for Using the CCF?
No. Applicants can apply through the CCF website. There is no cost to police departments or victims and their families for the CCF support services.
Why are you partnering with The Cold Case Foundation?
As a crime fiction writer, I view crime solving for its story and entertainment value; but I've always felt that it is essential to give back something positive to the real-life crime fighting world and the real life crime fighters (aka the TRUE heroes and heroines). I chose the CCF because they share my personal mission "to shed hope and light into the darkest recesses of the human experience."
My work with the CCF primarily involves being a public ambassador for them and working as an educator for their Victim Prevention Training, which teaches people in all walks of life how to significantly lower their risk of becoming a victim of a violent crime.
I am also donating a portion of the sales from Hole in the Woods to the CCF.
Where Can I Learn More?
Visit: Connect:
CCF Facebook page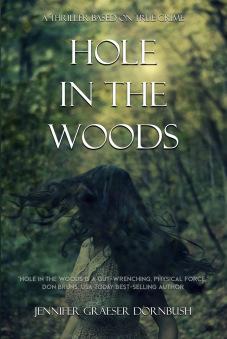 What is Hole in the Woods About?
http://www.coldcasefoundation.org
Reduce Your Victim Risk! Take and host a CCF Victim Prevention Training Event for your school, business, community group, church group to learn how to lower your risk of becoming a victim of a violent crime. Their new victim avoidance program is scheduled to be rolled out on December 1, 2020.
In 1989, in a sleepy Michigan town, missing high school grad Nina Laramie's skeleton is found near a remote party spot in the forest. Fear and anger ripple through this tight- knit community when the case goes cold. Thirty years later, Riley St. James is assigned to the case, despite her similar past to the victim, and must face the killers who want their secret to stay in the Hole in the Woods. This true crime thriller is based on the 1989 true-life murder case of Shannon Siders, in which the author's father was the medical examiner.
Jennifer is a screenwriter, author, international speaker, and forensic specialist. As she says, "I grew up around death." The television or movie screen is the closest most people will ever come to witness in the forensic world. But Jennifer was raised in it, as the daughter of a small town medical examiner whose office was in their home. Her latest novel, Hole in the Woods, released August 4th and can be found online where ever books are sold. Connect with Jennifer and join her newsletter at www.jenniferdornbush.com