Here is my first trend concept post for the fashion blog Fashion Vignette . Each week i will try to create a concept which is directional but also easy to understand from a print/pattern view. This week i took inspiration from A/W collections and created a concept called 'Mighnight Merge' As you can see this concept is a follow up from the big trend of 'watercolor' patterns.I have seen here that designers have used a lot of natural inspiration and translated these ideas into abstract prints which have a lot of depth and texture involved.These are the key elements to this concept;


  MIDNIGHT MERGE  


THE KEY ELEMENTS TO THIS TREND ARE:

Creating natural pattern with abstracted nature




Natural imagery inspirations from : Fire, Volcano and Wild Forest

Futuristic Elements and Ideas - Forward thinking.

Development from S/S Watercolour trend.

Dark Natural color palette with tonal yet bright accents

.        

                                               




Here is my concept board i have created for PV . I am now a guest blogger for the site so i will be keeping you all up today with my blog posts.Please all take a look on 

http://fashionvignette.blogspot.com/ very inspirational and also gives a lot of direction when researching new trend ideas.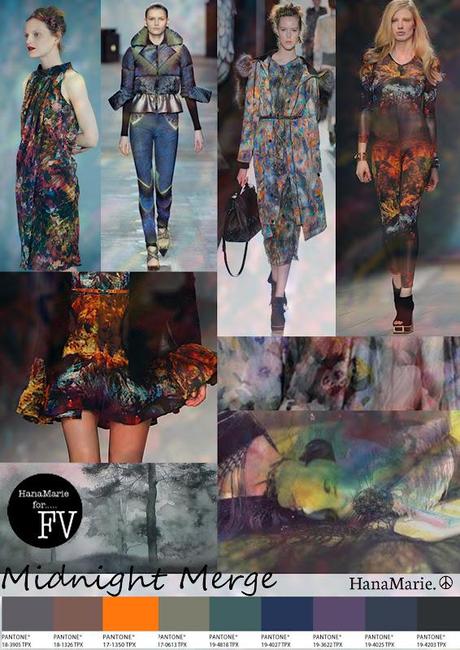 All writing and photographs copyrighted to Hannah Marie Muers 2012