Under the name of Art Deco, Hard Deco Gucci presented at the Fashion Week Milan sophisticated and sensual proposals to look radiant and firm. Because that is cladded in a Gucci know that triumphs. I have to tell you that the Italian firm increasingly fascinated me, a penalty that is not available to all budgets.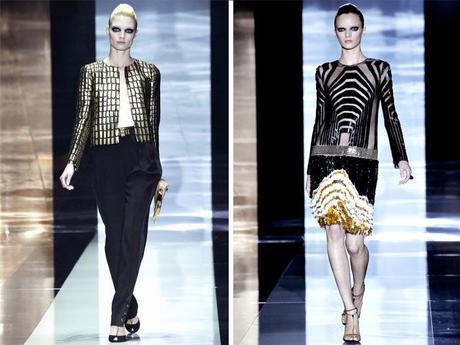 Color contrasts, details of precious stones and animal prints in bright geometric gradient optical movements almost are responsible for decorating these unique garments.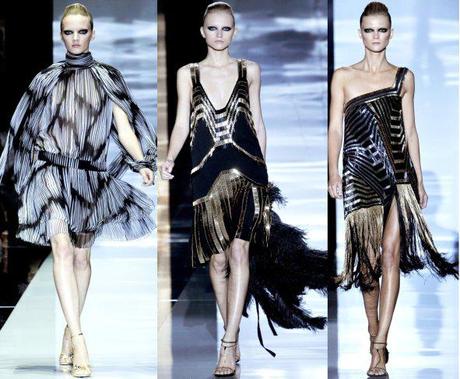 Gucci Spring 2012 Fashion Show opened Milan Fashion Week with a collection inspired by the early twentieth century art-deco era. Designer Frida Giannini send androgynous-looking models on runway in designs that showcased graphic designs in black, white, and bronze color-blockings and androgynous lines.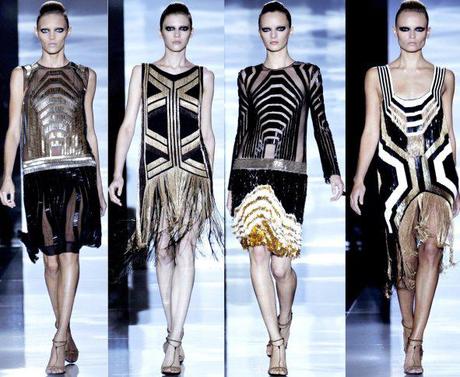 The pants is bloomers high-waited with male influence marked by creases and side stripes, some with a touch of sport and other openings attached to the ankle, my favorites. And combined with t oversize.
The real protagonists of the entire sample are 20′s style dresses low-waist, deconstructed and loose, with folds and mirror detail.
I'm staying and I'm fascinated by tailored jackets as a bullfighter, black silk jacquard with sharp shoulders and narrow lapels, which stand out for its elegant cuts. The best example is the first image. And, in several colors. Green, orange, white, black and golds are the dominant tones of each of the looks.