Scarecrow's Garden Log: 14:02:2011: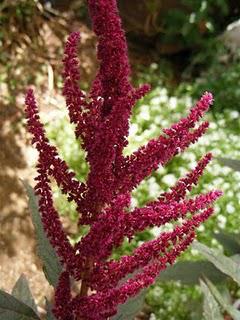 Leaf Amaranth in flower.
Temperatures this week:
Lowest Min 10.6C
Lowest Max 16.2C
Highest Max 36C
21mm Rain

What's the weather been like in the garden?
The temperature was much milder this week but the humidity levels are high for this time of the year. More rain on Friday night and all day Saturday. These conditions after our heatwave has put an end to many summer crops but the rain will help in the preparation for autumn plantings!

Propagation:


Seeds:




Senna artemisiodes

from seed collected at the community garden for planting there.


Potting up:


Beetroot Detroit Red Globe
Beetroot Forono
Beetroot Golden Detroit
Broccoli Nutri Bud
Broccoli Royal Dome
Cabbage Early Jersey Wakefield
Cabbage Verona Purple Savoy
Celeriac
Celery Pink
Coriander
Endive
Gotu Kola
Kale Lacinato
Kale Tuscan Black
Kale Vates Blue Curled
Kholrabi Super Schmeltz
Lettuce Drunken Woman
Lettuce Miners
Mustard Asian
Spinach Bloomsdale Long Standing
Tatsoi


Potting on:


Silverbeet
Rocket
Parcel


Planting out:


Lettuce Drunken Woman in the salad pots out the back.


Cuttings/Division: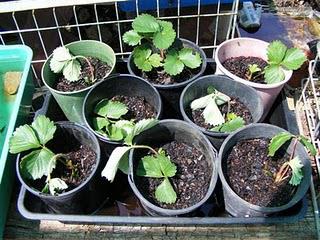 Strawberry Runners from the plants I purchased last year.


In the Garden This week: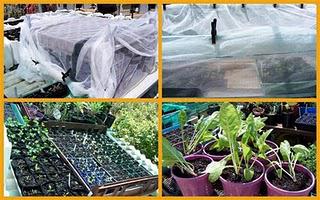 With lots of seedlings to pot up and on I had to scrub a mountain of pots and punnets first. Once clean these get dipped in a mild household bleach solution to make sure no diseases are carried on the pots to the young seedlings.
I have had to make netted shelters for the brassica seedlings as the butterflies are still lurking!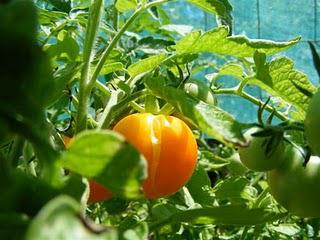 The rain has resulted in many split tomatoes...
...the chooks enjoy these as treats!!!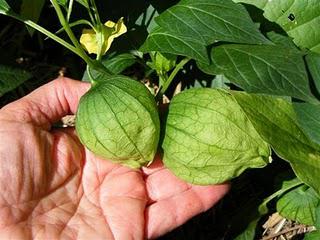 I was doubtful of having anything to harvest from the Tomatillo Bed but I recently found these and others growing! Not to sure what to do with these fellows though...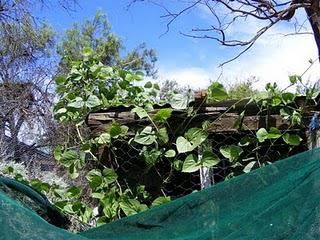 While I was at that bed I noticed that the Seven Year Bean has taken off...over and into the old chook house!!! It is amazing as all that growth has come from just one surviving plant!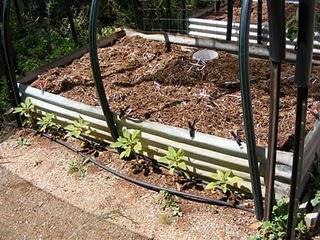 I took a chance and planted out some good sized, late season seedlings of Grain Amaranth. The rain has encouraged it's growth since planting!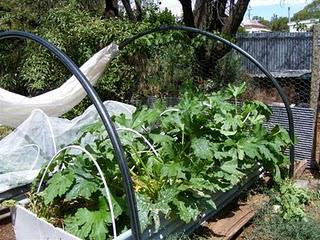 The rain fell lightly on Saturday and there was little wind...a recipe for fungal attack! Between the showers I removed the shade cloth cover from the Zucchini Bed. Sunday was windy, sunny and cool so the large leaves had a chance to dry completely.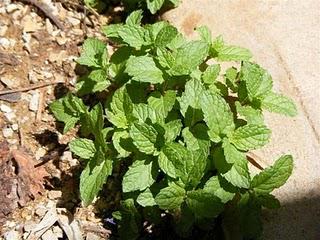 With the recent rain the Garden Mint at the backdoor has sprung to life! Just in time for a local lamb roast!


Mint sauce:

Two teaspoons of chopped mint, two teaspoons of sugar, two teaspoons of boiling water and one and a half teaspoons of cider vinegar! You can increase the amounts, just keep the ratio the same (

ish

).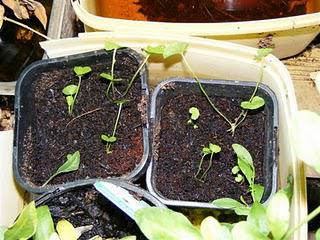 Those babies in the Gotu Kola tub were being smothered by the mother plant's vigorous growth (it liked the rain too) so I've potted them up.


In The Community Garden


Two withered (cooked in the heat!) Lettuces were replaced by two new Silverbeet seedlings!!
It is interesting to note that anything planted in the soil at the base of the tank beds has been eaten by Locust/Grasshoppers but little damage has occurred up in the beds themselves.
I harvested a big armful of Leaf Amaranth and cooked it up in a quiche to share at our committee meeting last week!

No, I didn't weigh that harvest!




Weekly Harvest Tally:


Doesn't include Greens fed to the chooks on a daily basis or herbs picked for use in the kitchen for cooking or tea making.
Potatoes Pink Fir Apple***1154g
Potatoes Dutch Cream***2577g
Zucchini Cocozelle***823g
Kohlrabi Purple Vienna***235g
Silverbeet Rainbow Mixed***228g
Jerusalem Artichoke***120g
Grapes Black Sultana***500g (

we've also been grazing on grapes!

)


Eggs


13 From the 5 Farmyard Ferals
0 From the 3 Barnevelders (who don't like this weather!)
1 From the 5 Faverolles (who had a fright on the weekend!)
To see how the various Garden areas fit on our half acre block check out the newest Map of our place HERE