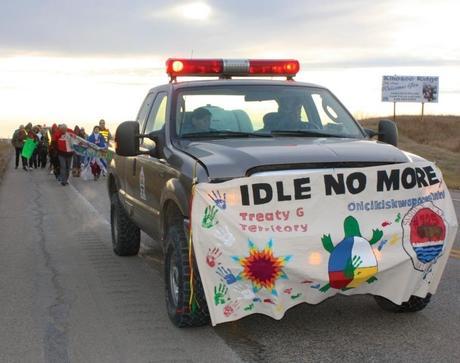 by Brandon MacLeod / Bonnyville Nouvelle
The ongoing releases of bitumen to the surface at CNRL's Primrose site and the likelihood that these incidents have contaminated groundwater aquifers below the surface has drawn the ire of many residents both living in the Lakeland area and elsewhere.
However, groups including Idle No More, Cold Lake First Nations, Saddle Lake Cree Nation and Keepers of the Water believe not enough attention is being paid to the bitumen releases that have now spilt more than 1.8 million litres of oil to the surface over a six-month period, without a solution to the problems or a clear idea about the potential harm done to the environment and particularly the groundwater.
In an effort to draw attention to the these incidents and what one activist called "the destruction of the environment for the profiting of a few", more than 30 people took part in a three-day Idle No More "ceremonial walk" from Cold Lake First Nations to Bonnyville, to La Corey and back, completing "a full circle of solidarity" this past weekend.
"We are here today, walking to protect the land and water. We are doing this for the sake of our children and our grandchildren," said Nancy Scanie, Cold Lake First Nations elder and Clan Grandmother for Keepers of the Water. "We hold their future in our hands."
Scanie said the over-development of industry and these incidents will have long-term negative effects.
"They need to understand that everything is connected. And they've broken the main vein and do not know how to fix it…It will take more than just money."
Mervin Grandbois, a concerned citizen from Cold Lake First Nations, said he was taken on a fly-over of the affected CNRL sites on Oct. 6 and was "devastated" by what he saw.
"I saw people down there in HAZMAT suits, there were boats, some berms set up on the bodies of water to contain the oil. On land you could see in the grasses where the oil was sitting after seeping up from the cracks in the ground."
Grandbois said he hopes to see a conclusion to the CNRL spills soon, but feels more needs to be done to ensure the environment and water is better protected.
"Certainly in one sense we are protesting against the destruction of the environment. But looking at it from the other point of view, we are actually supporting the earth's air, land, sun, and water. Without just one of those, none of this matters."