·

       
My friend, Al, is a great cook.  He hasn't taken any classes but, as he explained it, when he was in college it was learn to cook or starve ~ he picked the better option.  Fortunately for me, Al's wife is a vegetarian so he is used to making different meals for the family at dinner time, and when we came over it was no exception.  Al went onto www.epicurious.com and did a search for vegan recipes.  There he found this beautiful one called the Grilled Veggie and Tofu Stack with Balsamic and Mint.
  I certainly ate my share (along with a little extra radicchio and tofu I "stole" from the pan) and it plates up so nicely that it was a particularly nice choice for entertaining.  I hope you enjoy it as much as I did!  This recipe makes 3-4 servings and take less than a half hour to cook.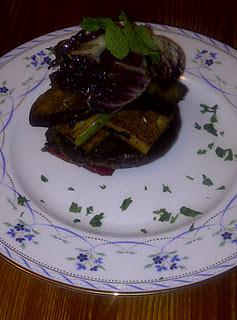 You'll need:
       1/3 cup balsamic vinegar
       2 garlic cloves, minced
       2/3 cup olive oil
       1/3 cup thinly sliced fresh mint leaves plus sprigs for garnish
       1 12-ounce container extra-firm tofu, cut crosswise into 8 slices, drained on paper towels
       1 zucchini, trimmed, cut lengthwise into four 4-inch-long slices
       1 red bell pepper, rounded ends trimmed, seeded, cut lengthwise into 4 pieces
       1 Japanese eggplant, trimmed, cut lengthwise into four 4-inch-long slices
       4 3-inch-diameter portobello or shiitake mushrooms, stems removed
       1 small head of radicchio, quartered through root end
Prepare barbecue (medium-high heat). 
Place vinegar and minced garlic in large bowl. Gradually whisk in olive oil. Stir in sliced mint. Season marinade to taste with salt and pepper.
Working in batches, add tofu to marinade and turn to coat. Transfer tofu to baking sheet and sprinkle with salt and pepper. 
Add zucchini, bell pepper, eggplant, mushrooms, and radicchio to marinade in bowl and toss to coat.
Place zucchini, pepper, eggplant, and mushrooms on grill. Sprinkle with salt and pepper. Cook until charred and softened, turning occasionally, about 6 minutes. Transfer to baking sheet. 
Place tofu and radicchio on grill. Cook until tofu is charred and radicchio is charred and wilted, about 2 minutes per side.
Stack tofu and vegetables on plates. 
Garnish with mint sprigs and serve.