<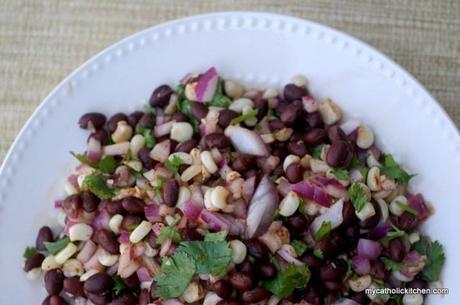 I love making this salad. it is so fresh tasting and full of summertime flavor.  You could use frozen corn if making this in the winter, but right now is the best time to make this. I love to purchase fresh corn from the farmers market and roast it. I then freeze it for later. My favorite corn is Silver Queen.
This colorful salad can feed a crowd and is easy to double or triple the recipe very easily. This is a wonderful dish for a barbecue or picnic because there is no gloppy mayo to worry about.  You can serve this cold or at room temperature. It is low in saturated fat and high in protein. Perfect for friends and family that are vegetarians.
Heck! I love use the scoops tortilla chips and eat it as an appetizer.  I recently served it at our movie night instead of the usual Nachos and the family loved it.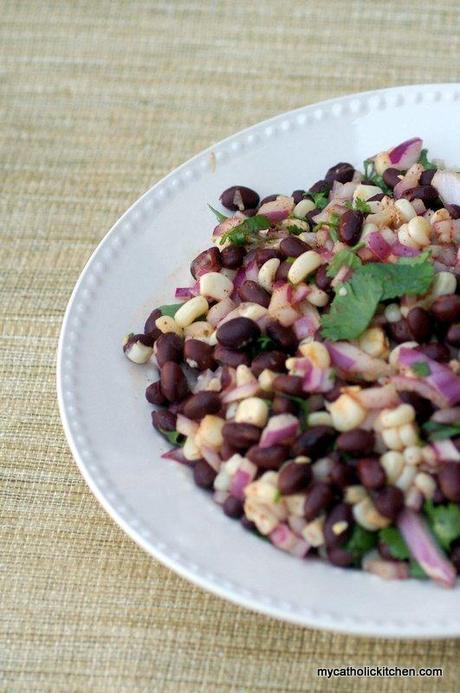 Print

Grilled Corn and Black Bean Salad
Ingredients
3 ears shucked corn
1/3 cup fresh lime juice (about 2 limes)
1/3 cup minced red onion
1/3 cup cilantro
3 tablespoons white vinegar
2 teaspoons sugar
2 teaspoons ground cumin
2 teaspoons chili powder
1 (15oz) can black beans
Instructions
Prepare your charcoal or gas grill
Place corn on a grill rack and grill for 20 minutes or until corn is lightly browned. Cut kernels from corn and place in a bowl. Add juice, onion, cilantro, vinegar, sugar, cumin, chili powder and black beans. Cover and chill for 1 hour. Serve as a side dish or as an appetizer with tortilla chips
Schema/Recipe SEO Data Markup by ZipList Recipe Plugin2.5http://www.mycatholickitchen.com/2014/06/grilled-corn-and-black-bean-salad.html
Google+

Veronica Gantley (My Catholic Kitchen)