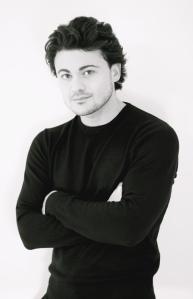 Vittorio Grigolo--the Italian Tenor
Let's face it. In their 2010 review of Manon at the Royal Opera House, the Guardian got it exactly right when they said Vittorio Grigolo's "got everything the role [Des Grieux] demands – a voice that flows, terrific looks, an instinctive sense of theatre."
Who is Vittorio Grigolo? You don't know? You obviously don't read USA Today, Opera News, the New York Observer, or The New York Times. He's is a young tenor from Tuscany who calls himself The Italian Tenor (or his record company does — that's name of his new album) who's been getting a great deal of press.
He's so handsome and charismatic, women swoon over him, especially when he's singing.  (We can't help ourselves.) Men might be thinking we've been ensnared in his considerable charms, ascribing virtues to him–gallantry, devotion, goodness–he doesn't deserve. (We don't care–we love him irrationally.)
On a more serious note, some opera devotees are quick to point out his detour into popera, which forever blights him as a legitimate tenor in their view.
So he detoured into popera. It's  no cardinal sin. He's young. Young people do silly things sometimes. You were young once, too, and made bad choices. The only difference is that the international press wasn't following your every move when you goofed up.
More importantly, he's redeemed himself (and continues to do so at the great opera houses around the world). Last October he made his Met debut as Rodolfo which The New York Times called "promising" in the headline of the review.  What they didn't mention was the intangible appeal Grigolo has, how people buzzed about his Met premiere–on social media, everywhere. How you couldn't get a ticket. How those that did won't ever forget seeing him perform.
Luciano Pavarotti once described the intangible appeal they both possess to Grigolo this way:
"'Charisma is something you either have or you don't.' He said that you can learn to sing better, but that sense of energy is something you can't be taught."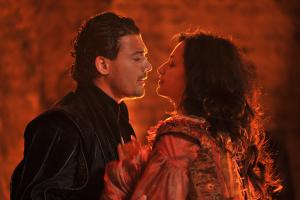 Grigolo as the Duke in 'Rigoletto from Mantua'
He starred as the Duke in the exciting Rigoletto from Mantua shot live on location last year, also starring Plácido Domingo, which I loved. Grigolo has such presence, I can't even hate him as the Duke. He projects passion and sincerity to a degree that hasn't registered with me in a long time.
My affection for Grigolo may be completely unfounded, but so was my love for Franco Nero in Camelot–my very first celebrity crush. That's the thing about watching performers like Grigolo and Nero–every woman thinks she's the only one he's looking and sounding that good for, the only woman who truly loves him so intensely.
Here is a wonderful clip from a morning talk show in the USA called, "Good Morning America,' featuring Grigolo who was in town for his Met debut. I was delighted to find it since I missed it on TV. Ladies, it will not dissuade you from admiring his inexplicable charms.
According to his website, Grigolo will return to the US in November 6 – 26,  2011, to sing Roméo et Juliette (Gounod) at LA Opera in Los Angeles. That's a killer role–all those duets. I'd love to see how he handles it.
Vittorio, next time you come to the States, go east young man. Go east.