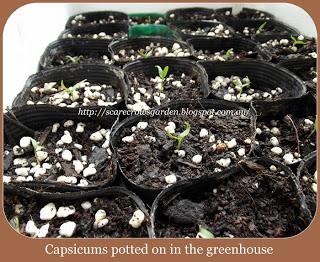 With many of the Capsicum seedlings being potted on and out of the heated propagation tray I have room for some Basil seeds to go in! Looking through my "Greens" seed box I found many varieties of Basil as well as some new ones for this year. So along with a few varieties of Lettuce and flowers/herbs I set about sowing seeds!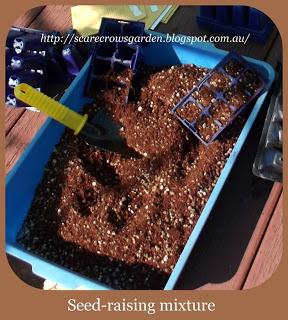 Yesterday - punnets were cleaned and the seed raising mix prepared. This year I'm using Vermiculite with Coir (that has been soaked in a Rainwater mixture of Seaweed and Fish emulsion) in about equal parts.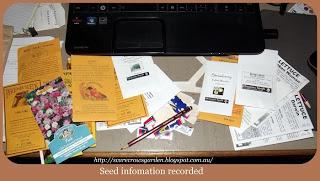 This morning - cut some labels out of some margarine containers in the recycling store (I'm going to miss things like this when that store runs dry). Find a 4B lead pencil for writing on them.
As the labels were written the details from each seed packet are added to the list on the laptop. See list below which will also appear in the Garden Log later in the month.

Outside -  sort the seeds, some will go on the heated propagation tray** (Basil, Kang Kong and something new to me this year Okahijiki) and others are headed for the greenhouse (Lettuce, Flowers and other Herbs)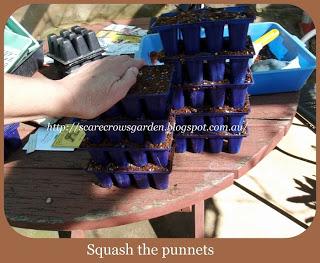 Fill the punnets...squashing them on top of each other helps to firm the mixture. It also leaves an indent in the mixture for placing the seeds. Pop the seeds in - not too many in each punnets cell or you'll end up with way too many seedlings to look after...just like I always do.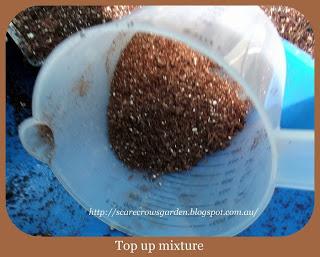 Cover with a layer of fine mix over the top (more for larger seeds...supposed to cover them with twice their size in mixture)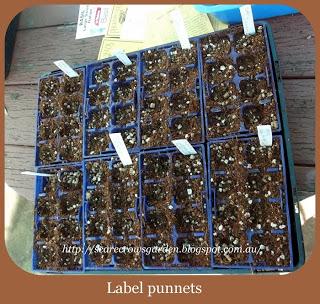 Carefully label each of the punnets, don't mix them up.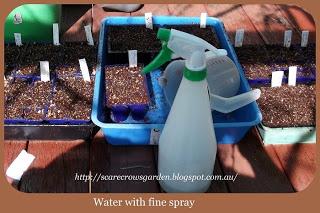 Water with a fine spray of rainwater mixed with a pinch or so of Epsom Salts which is supposed to aid germination.
Take trays to their destination - propagation tray or greenhouse. The seeds in the greenhouse will be covered with plastic at night to keep some warmth in.
** If you don't have a heated tray use another source of heat...on top of hot water storage tank, the fridge or even a warm window sill inside.
The seed List...
Alyssum Gold Dust Aurinia saxatilis - Goodman Seeds
Basil Ocimum basilicum -
Sweet Genovese - Green Harvest

Lettuce Leaf - Cornucopia Seeds

Minette - Yates

Large Italian Sweet - The Lost Seed

Purple Ocimum basilicum cv purpurascens - Phoenix seeds
Thai Lime Basil Ocimum americanum var. americanum - 4Seasons Seeds
Borage White Borago officinalis  - 4Seasons Seeds
Dandelion Red Rib Chicorium intybus - The Lost Seed
Evening Primrose Oenothera biennis - Greenpatch Seeds
Helichrysum (Paper Daisy) Semi Dwarf Bouquet Helichryssum bracteatum - Eden Seeds
Kang Kong Ipomoea aquatica - Phoenix Seeds
Lettuce Lactuca sativa -
Drunken Woman - The Lost Seed

Gloria - Select Organic

Darwin - The Lost Seed
Okahijiki (Land Seaweed, Japanese Saltwort) Salsola komarovii - 4Seasons Seeds
Pink Old Fashioned Mixed Dianthus plumaris - Mr Fothergill's Seeds
Strawberry Yellow Wonder Fragaria vesca - 4Seasons Seeds
Strawberry White Soul Fragaria vesca - 4Seasons Seeds
For further information on Seed Raising Check out - Growing From Seed