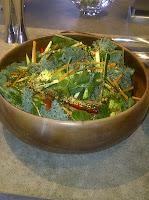 Mixed Greens Salad
I had the good fortune to sample the fabulous vegan fare of
Green & Tonic
, a relative newcomer to the Cos Cob and Darien, CT scene, though it's proprietors have been well-respected in the area for quite some time.  They offer "nutrient-dense foods and fresh pressed organic juices to nourish, energize, purify and revive your body" (and they deliver their cleansing plans, which are not all just juice!)
Yesterday, at perhaps the most spectacular home I have ever seen, I attended a tasting for an upcoming charity event.  To my delight and surprise, the host chose to offer the guests an all vegan menu!
Yes...it just keeps getting better.
Beautifully presented, buffet style, were: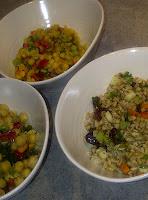 Lentil, Chick Pea and
Wheatberry Salads
Two green salads, one topped with spirulina, sesame seeds and toasted pumpkin seeds, the other with baby coconut "meat" with two different dressings on the side.
A yellow lentil salad
A chickpea salad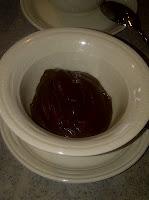 Carob Avocado Mousse
A fruited wheatberry salad
Two different juices: a watermelon, lemon and pineapple and one with pear, orange, pineapple, ginger and aloe vera (I could have had a gallon of that one...)
Well, as if this wasn't enough, we were treated to a decadent dessert ~ a carob mousse made from avocado puree.  I know...some of you are skeptical...but it was really terrific!  This photo just does not do it justice.
Who's meeting me for lunch?