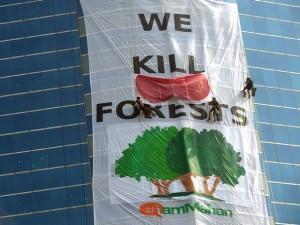 by Andrew Buncombe / The Independent
Environmental campaigners have hit back at a leaked intelligence agency report that claimed their activities were undermining India's economic development and holding back growth by up to three per cent a year. The report highlighted the role of Greenpeace and called it "a threat to national economic security".
In what activists said was an attempt to stifle debate in a country where the issues surrounding development remain controversial, a report supposedly prepared for Prime Minister Narendra Modi claimed environmentalists were stalling projects in seven areas including nuclear power, coal-fired power plants and the extractive industries.
It claimed many of the NGOs received foreign funding in a way that was in breach of Indian law.
The report, said to have been prepared by India's domestic intelligence agency, the Intelligence Bureau (IB), said Greenpeace "is assessed to be posing a potential threat to national economic security … growing exponentially in terms of reach, impact, volunteers and media influence."
Details of the report, published by the Indian Express newspaper, come just weeks after Mr Modi assumed office following a landslide election victory. During his campaign, he promoted himself as someone who would push India's development and welcome investors. He said businesses would be met with red carpets rather than red tape.
Among both Indian and international businesses there has been anticipation of Mr Modi's holding true to his word. At the same time, there has concern among campaigners as to whether regulations currently protecting the environment could be loosened.
In recent years, laws such as the Right to Information Act and regulations contained in the Forest Rights Act, permitted communities across India to halt several controversial industrial projects. Among the most high-profile cases related to UK-based Vedanta Resources, which was prevented from building an aluminum plant in Orissa on a mountain local people considered to be sacred.
On Wednesday, activists dismissed the claims of the report. Ramesh Agrawal, an activist from the central state of Chhattisgarh who earlier this year won the prestigious Goldman Environmental Prize, said if the government had evidence against campaigners it should present it.
"The government is raising the stakes," Mr Agrawal, who helped villagers stop a massive coal mining project, told The Independent. "People need to know about energy production, about coal."
Mr Agrawal, who in the summer of 2012 was threatened and shot, added: "The environment is a concern all around the world, not just in India. To say that we are anti-national – I do not agree with that."
Greenpeace India on Wednesday hurriedly organised a press conference to reject the allegations levelled at it. It also wrote to the home ministry asking that it be presented with a copy of the IB report. No-one from the ministry responded to queries.
Bharati Sinha, a spokeswoman for Greenpeace India, dismissed the claims of the IB and said the organisation had every right to protest in a nation that considered itself the world's largest democracy. She said it had always campaigned for development that was sustainable and growth that was inclusive.
She said Greenpeace India received more than half of its funding from donors in the country and said it never accepted donations from corporations or governments. She said while the group could sustain itself from the funds it raised in India, no laws prevented it receiving a grant from Greenpeace International.
"We operate within the laws of the country and we have not violated any guidelines," she said.
While the details of the IB report have emerged as Mr Modi takes over as India's Prime Minister, this is not the first time the authorities have claimed to have uncovered foreign interference in environmental issues.
In 2012, the then Prime Minister Manmohan Singh said protests against construction of a nuclear power plant in Kudankulam, Tamil Nadu, which grew following the meltdown at Fukushima in Japan, were the result of foreign activists.
He told an interviewer: "The atomic energy programme has got into difficulties because these NGOs, mostly I think based in the United States, don't appreciate the need for our country to increase the energy supply."