A look at Greek wines, specifically Santorini Assyrtiko.
By Lou Marmon
Gazette Newspapers  April 23, 2014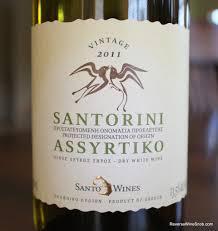 The source of much of our current wine culture rests with the ancient Greeks. Wine has been made in Greece for over 6500 years and it played such a critical role in their civilization that it had its own god; Dionysus. Considered by their leading philosophers (including Homer, Plato and Aristotle) to have profoundly positive effects upon health and intellect, wine followed the Greeks during the expansion of their empire and became a valued export to much of Europe.  
Greek wines were shipped in amphorae, a two handled, air-tight container, the shape and markings of which varied depending upon the source of the wine. This early designation of origin is the foundation of the appellation system, the legal designation of a defined geographic location where grapes are grown. And the early Greek vinification methods became the basis for nearly all subsequent improvements in winemaking technology.
 
The Romans included the Greek perspective on wine in their expanding realm and it became an equally important component of their religious and social life. Via conquest, settlements and trade, Europe developed an appreciation of wine which subsequently led to the establishment of some of the world's greatest wine producing regions. These other areas eventually surpassed Greece in terms of both quality and quantity leading to a general loss of interest in Greek wines.
 
Devastated by wars, economic challenges, the phylloxera infestation and occupation by the anti-alcohol Ottoman Empire, the Greek wine industry languished for centuries. While the rest of European wine production flourished, Greece became a source of mostly unremarkable bulk wines and of retsina, a pine-resin flavored wine that is either adored or abhorred. In the mid-1980s a growing economy and relative political stability lead to the modernization and the rebirth of the Greek wine industry. Today Greece is the source of many high quality wines, especially their whites from the island of Santorini.
 
An island of nearly mythical beauty, Santorini is located about 120 miles southeast of mainland Greece in the Aegean Sea. A central lagoon is surrounded on three sides by steep hills while smaller island separates the lagoon from the sea leaving two openings for visiting ships. Its configuration is the result of a massive volcanic eruption 3600 years ago which may also be the source of the legend of the lost city of Atlantis.
 
The indigenous Santorini grape varietal is Assyrtiko (pronounced "A-seer-tee-ko"), a thick-skinned, early ripening varietal that thrives in the island's volcanic ash rich soil. Nearly 75 percent of the Santorini's vineyards are planted with Assyrtiko and the resulting wines range from dry, mineral infused to the very sweet "Vin Santo." The wine may feature green apple, citrus, pear, apricots and other vibrant fruit flavors but it is structure and balance that make Santorini Assyrtiko wines remarkable. The grape is occasionally blended with other varietals and may be aged in oak rather than stainless steel but it usually maintains its high acidity, dry character.
 
As expected, these wines are ideal summer sippers and pair perfectly with Mediterranean cuisine including much of the traditional Greek small plates or "mezes." And nearly every type of seafood from grilled and poached fish to shellfish and even sushi is well complimented with a glass (or two) of Assyrtiko. The dry versions are best served within a few years after release although some of the older versions can become surprisingly interesting.
 
The Santorini Assyrtiko wineries' names may be unpronounceable to some but are certainly worth learning to recognize on a wine list or retail shelf. These include Gavalas, D. Kourtakis, Sigalas, Gaia, Hatzidakis, Boutari, Spyros Hatziyiannis, Argyros, Santo, Canava Roussos, Karamolegos and Koutsoyannopoulos.