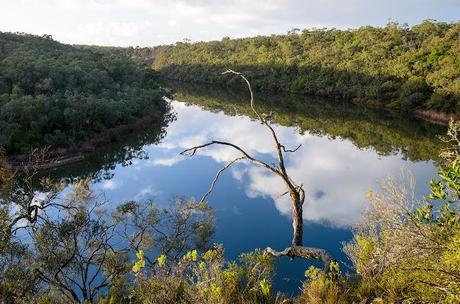 Glenelg River
Well, I'm back in Melbourne after a second attempt at the 250 km Great South West Walk in the west of Victoria. Just with the photos alone, I've been a little overwhelmed in where to start with it all. I've got to begin somewhere I suppose, so I think it's best that I do a quick overview post with a more detailed write up in stages to come. By the way, it's interesting to see what happens to a blog whilst I've been away for a few weeks not posting. The statistics plummet, that's what happens! Tough world this blogging caper.
Remember a few posts ago? My first attempt at this hike whilst accompanied by hiking sidekick 'Smuffin' flamed out due to a catalog of disasters. Leeches, blisters and a shoe detonation that left me hiking in sandals and knee high white socks finally killed off the hike. I abandoned at 92 kms feeling mildly aggrieved by it all to the point that I decided to rest up for a week and return for a second tilt.
I had the option of starting from where I'd left off, but I decided to do it the 'fiasco way' and go back to the very beginning. Yep, all the way back to the Marine Discovery Centre in Portland which has a sign out the front indicating that this was the official start. There was to be a variation though and that is Smuffin thought my idea to hike over the ground we'd done a few weeks earlier to be completely daft. He elected to join me at the half-way point in Nelson and finish off the coastal section we'd missed out on the first time.
I really should include a map, so you know what I'm banging on about, shouldn't I? Well, here's the official walk from the GSWW website.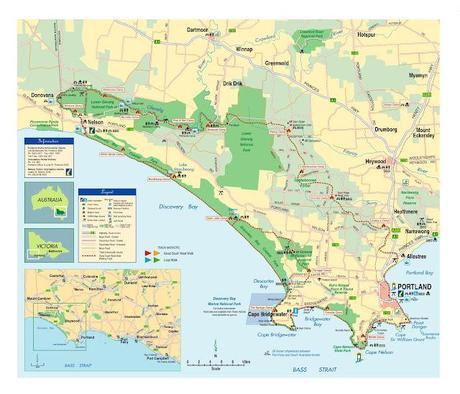 I'm not sure you can really see it though, so here's a link to the same map which can be enhanced a lot more than on the blog.
In the first attempt 'Lady Smuffin' assisted us with food drops at night giving us a 'top-shelf' experience to the walk. Second time round this wasn't going to be the case, but I thought I'd be sneaky anyway. The camps on the GSWW can all be more or less accessed by car, so I elected to do a couple of food drops, so that at any given time the most food I was carrying was no more than four days worth.
I traveled down on the day before starting and left a food drop at the 'Moleside' campsite, another at the kiosk in Nelson and the last at 'Tarragal'. Smuffin was impressed with this method, but he took the food drop to the limit. What do I mean? Well, how about a food drop at every camp site on the way back?! He went nuts and besides food, he'd stock his little plastic box with booze. I've never seen anyone so ecstatic to recover a box in the trees, open it up and scream in jubilation as he pulled out a beer.
I discarded my light footwear option and elected to wheel out my old leather boots which performed flawlessly. I even combined them with gaiters for extra 'leech proofing' which also worked well. The only issue with gaiters is that they wouldn't be a hit on the catwalk in Milan and they do give a bit of the, "I look like a hiking wanker" look, but I've always loved them. They keep the boots dry, sand out and provide a bit of warmth to the lower leg when the wind is blasting. What more could you want?
Anyway, on the first attempt, leeches were assaulting me from all angles, but on this occasion they were flummoxed by the gaiters. I only found one on me when I was brewing up at Cut-Out Camp on the second day. A solitary leech heading up over my knee after been beaten by the gaiter was crawling in the perfect position. I bent my leg slightly, took aim with my finger and pulled the trigger with a flick of such power that I last saw it heading into upper hemisphere. In fact if you look at about 30% above the horizon to the south during the evening you'll see it in orbit.
In the end it all sort of went to plan. I did have a GPS failure on the very first day though. I was using my old
Garmin Vista HCx
 which I think reached the point of, 'A Hike Too Far'. It decided it wouldn't read the topographic map installed on a micro SD card a lot of the time. I don't really navigate with the GPS, but I like having it for recording distance traveled etc. In the end the odometer was working, but the mapping was doing stupid things which may have something to do with the time I took the back cover off the unit to look at it and noticed water in the battery compartment. Mm... I think that might have something to do with it? Obviously the seals were stuffed which wasn't ideal considering we were walking on the coast in winter. Oh well...
What else? Oh there's lots, but let's keep this post short and I'll give you a taste of what's to come via photos. How about a chronological look at the GSWW? It really does have some varied stuff including the odd road stroll. In fact there will be a complete post titled 'Ode to the Road-Bash' in coming weeks...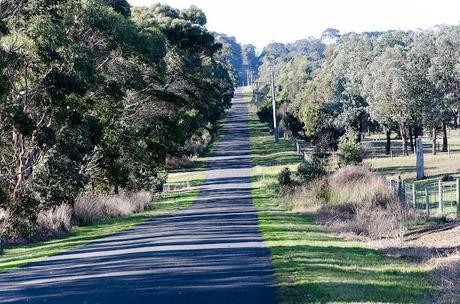 Robertsons Road, Portland
How about some sunglasses on the track in the Cobboboonee State Forest?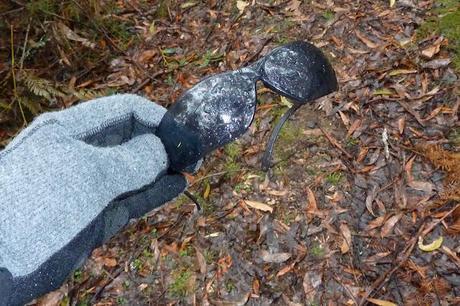 Thanks.
It's hard to take a decent book out on a hike, so I elected a whole new method by getting my 'Goat on'. I had plenty of classics in the one book, but in Haiku form...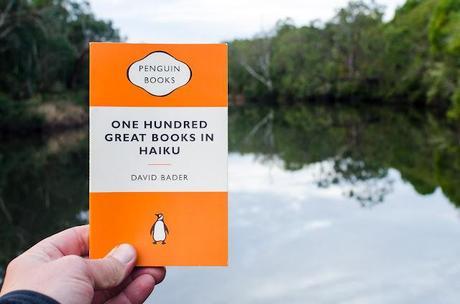 The Glenelg River as per usual delivered stunning, mirror image calmness which makes some of the photos I've taken look a little confusing...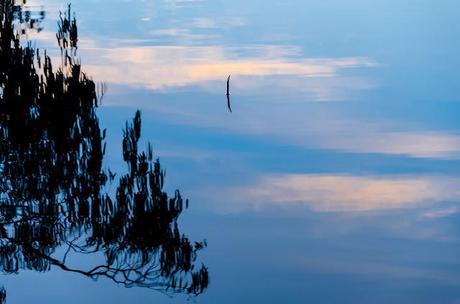 Mirror reflection on the Glenelg River
There's no doubt that the coastal section is the hardest with exposed walking on soft sand part of the
nightmare
 delight. The best thing on a stormy beach though is the potential for finding some 'treasures of the deep' washed in. You're not sure what I mean? Well, how about a flipper?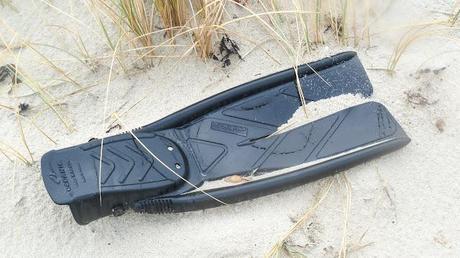 What about some food washed in? Who would open a sachet found in the sand and taste it? Well, Smuffin would of course...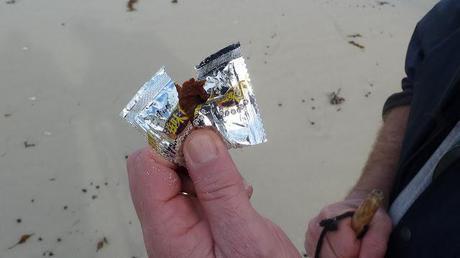 Apparently it was very spicy.
Flippers? That's really not that exciting a beach find is it? Okay, let's ramp it up a little and include a helmet instead...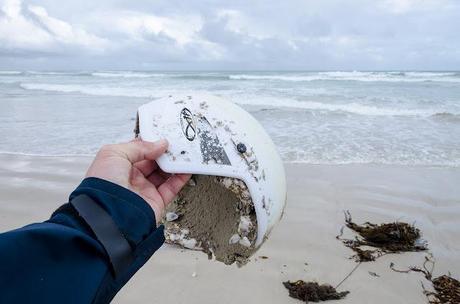 You know what this led to? Well, it led to, 'The Day of the Jetsam'. I'm telling you this, none of this crap is remotely ultra-light...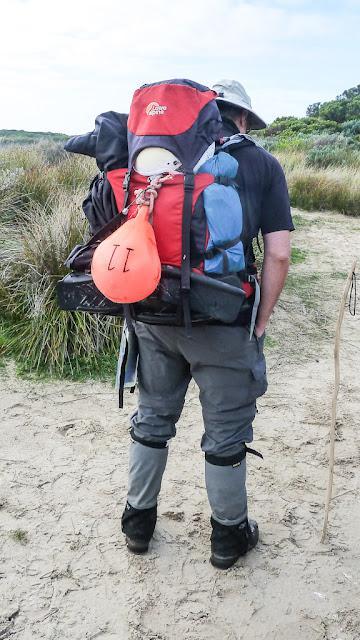 A lot people have asked me, "Why would you hike in winter?" Well, there's a simple answer and that is I like the weather winter provides, especially along the Victorian coast. There was this sunrise at Lake Monibeong that warned us of crap weather to come...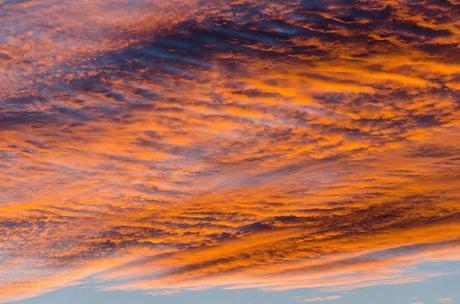 Even worse is when the walk continues and one finds yet another helmet. I've got quite a good tip though and find one like this that still has its chinstrap...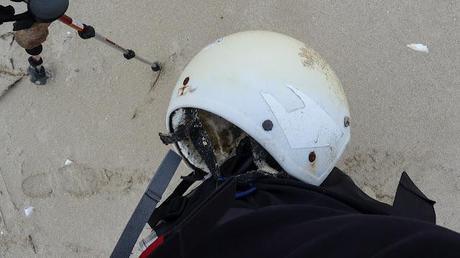 The continual stormy weather didn't disappoint at sunset either. How about this?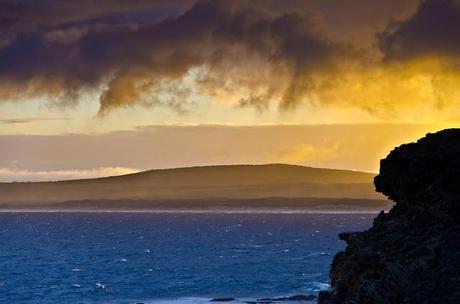 Storm clouds over Discovery Bay at sunset 
Do you reckon I've enhanced that photo? Actually, barely as this was the sort of views we had most days. Try and get that view in summer! In fact, we were hit by windy, wet conditions during the entire coastal section which was great for breaking wave shots...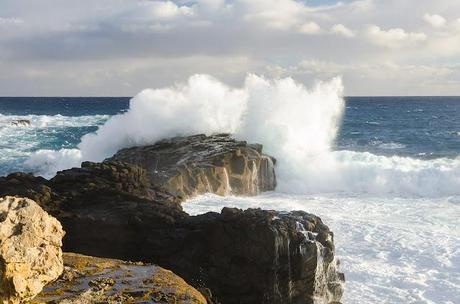 ...and I kid you not, but I have never seen so many rainbows in my life. I'm not talking one or two, but instead perpetual rainbows nearby. They were out to sea...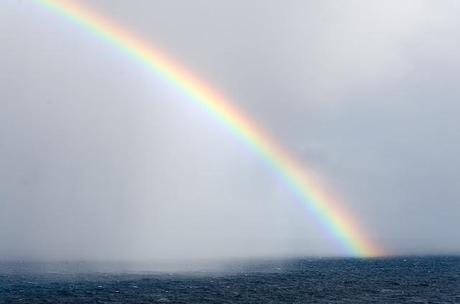 Yeah, I know that the photo above has water spots on it. I'll clean them up when I get around to the actual post of that day. Besides that though, how about rainbows that seemed as absurdly close as any I've ever seen? In fact I swore I saw one about five feet from our heads. They caused me much mirth as I always stopped to photograph them whilst Smuffin moaned, "Not another bloody rainbow photo. You know what? They all look the same!"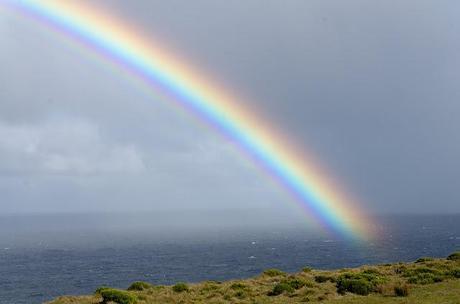 It wasn't all rain and storms though. There was the stunning azure water of Bridgewater Bay...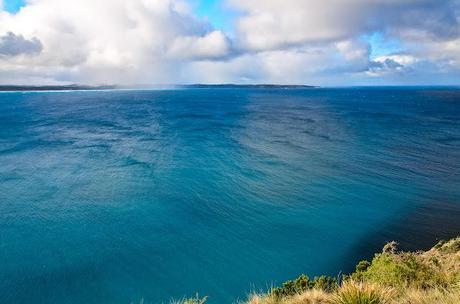 Windswept Bridgewater Bay.
...topped with the standard shot of Smuffin bleeding for no apparent reason.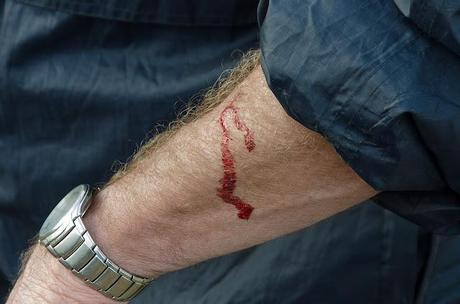 The entire coast seemed to be shrouded in a permanent mist of spray from the breaking waves which took on a cloudy view from above...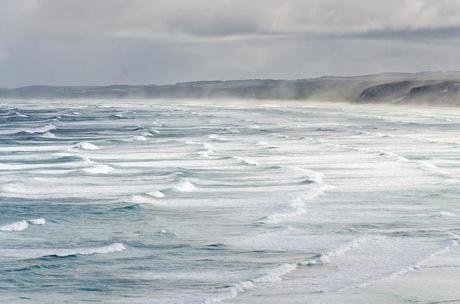 ...which was an amazing sight. Something else that was amazing, but a little more bizarre was the traditional 'Smuffin sprinting for his food drop box whilst clad in underwear' at the end of the day...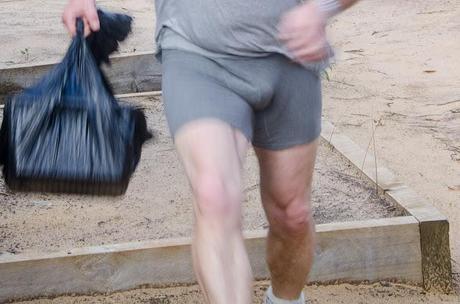 Yeah, that's pretty entertaining, but I won't waste any more time on this overview post. I do think my next entry might be something from the 'fiasco vault' to give you something else to read about for a change. Until then here's the final GPS statistics. 243 kms is my new hike distance record and combined with the initial 92 kms I somehow turned the GSWW into something longer than it needed to be. What it has done though is give me a few ideas of something more substantial in the next few years...