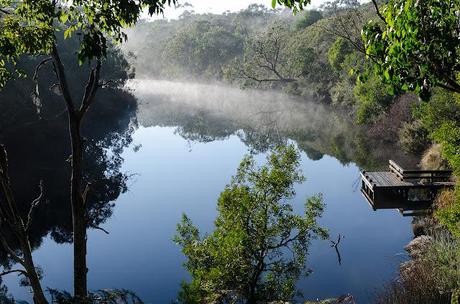 Glenelg River
Well, I haven't posted for a while have I? Believe it or not, but I've actually been walking and frankly it's interrupting the blogging. Since my mystery illness that lasted about six weeks, I've gone out and completed quite a few day walks from the 'Daywalks Around Melbourne' book which is available from
Open Spaces Books
. I will write them up at some stage as there were enough stuff ups worthy of a post or two. How about losing a polarizer on a day walk? Is it even possible? Well, yes, with me it is and one is lying out in the bush somewhere near Castlemaine.
Before I post about those walks, I really have no option, but to briefly mention a hike that has pushed the 'fiasco level' to an all time high. This entry is just a 'greatest hits package' of the hike, but I better mention it now, otherwise the lack of blogging might have you wondering if I've carked it in the last few months. Oh yeah, if I do die, my son Ben said he'll continue the blog. I'm not sure if I believe him, but there you go.
Anyway, last week I started the
Great South West Walk
from Portland accompanied by occasional hiking sidekick the 'Smuffin'. We were going for a bit of an easier method as we utilised 'Lady Smuffin' for food drops along the way, but even with that assistance we were cutting it a little fine as we had 12 days to complete the hike whereas my track notes suggest 14.
The bare bones of the walk are that it's a 250 km loop from Portland to Nelson and back. Oh yeah, there really could be a separate post regarding purchasing the dedicated map for the walk. How about ringing the hiking store
'Paddy Pallin'
and having this conversation with a very polite, but infuriating staff member? After enquiring and specifying what I wanted, the reply was, "Portland? Is it in Victoria?"
"Yeah, western Victoria. The walk is a circuit from Portland, out to Nelson at the South Australian border and then back to Portland"
"Oh, so it's not in Victoria then?"
"Yeah, it is. The map is called 'Lower Glenelg and Discovery Bay'"
"Glenelg? That's not in Victoria."
I was then put on hold and unfortunately I could hear a conversation in the background which went along like this, "
Someone is enquiring about a map for a walk on the coast near Portland. The Great South West Walk"
"The coast at Portland? No, that's from Apollo Bay. We have that map".
I finally got back on the phone and informed the staff member that the walk from Apollo Bay is the 'Great Ocean Walk' which is totally different from the 'Great South West Walk' (I guess too many walks with 'great' and 'walk' confuses people? Not to mention the hundreds of kilometres between the two?)
You know what? I gave up and elected to ring the
Bogong
hiking store instead and just ask directly for the map. Guess what? It didn't go to plan.
"I'm enquiring if you have the map called 'Lower Glenelg and Discovery Bay' for the Great South West Walk from Portland."
Have a guess what the answer was? Yep, it was,
"Portland? Glenelg is in South Australia. So the hike isn't in Victoria?"
I really do have mild manners and at times I should just say, "STFU and listen to what I am saying!" I abandoned the buying of the map from the dedicated hiking stores in the City and elected to go to the shop that knows all things maps. The
'Melbourne Map Centre'
 knew instantly what I was talking about and that's where I ended up buying it from.
Oh yeah, I was in Paddy Pallin the other day and guess what? They had a huge pile of the map that I was enquiring about. By the way, what's going on when people have never heard of the town of
Portland
 which is the oldest European settlement in Victoria?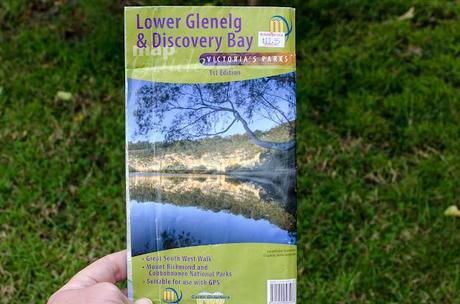 It's just a map. Why does it have to be so hard?
Anyway, that's enough huffing and puffing. How about some pictures that sort of sum up how this hike went rapidly downhill? Firstly the choice of footwear. The walk is pretty much flat all the way and my John Chapman notes suggest, "...runners or very light boots are ideal footwear..."
Okay, I've moved away from my head cracking full leather La Sportiva Tibet GTX boots and instead tried out a few lightweight hiking shoes and settled on the most comfortable being the Keen Siskiyou. I've worn them on quite a few day hikes with the longest being 22 kms and the shoes have been great. So, I with my John Chapman advice I thought I should head into the lighter shoe method as my legs would appreciate lugging less weight over 250 kms than a leather pair.
It's going great isn't it? What could possible go wrong?! How about some pictures that sort of sum up how the the fiasco level 'went to eleven'? It started with this...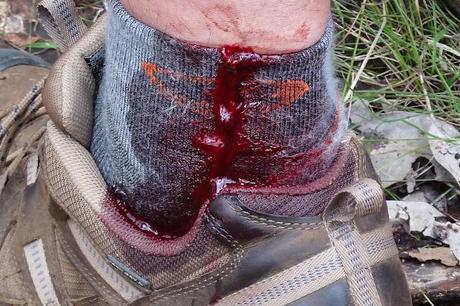 No, I wasn't attacked with a machete. This is a leech bite that I picked up on the first day of walking. If you're wondering why I didn't notice I was bleeding to death, I was actually wearing long pants that have been hitched up for gory photographic purposes.
My first beef with a lightweight shoe is this. An exposed ankle which seemed to be a blood suckers dream. There's no mention in my track notes that leeches on the forest section of the hike are thick on the ground. How thick? Well, at one point I stopped on the track for a photo which took me only a few seconds to take. Upon completion I looked down and observed nine leeches on my shoes all racing for my exposed ankles as if it was the Indy 500. Okay, that's my first 'light shoe beef'.
Next up was the constant light rain and wet grass which caused my feet to get wet from the exposed sock down. The end result was this...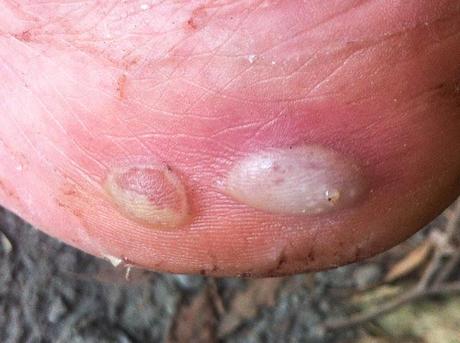 One foot...
...and the other.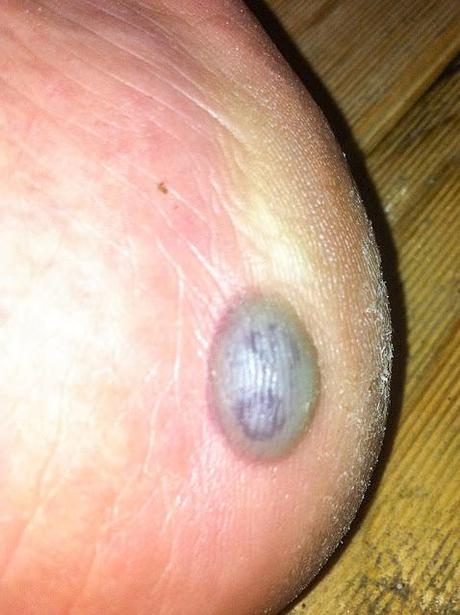 ...the second.
Yes, although I'd put in plenty of kilometres with these shoes on day walks (including with a back pack) I can't say I've ever had them really wet. Yes, sweat and the odd dunking in water had left them damp, but a 20 km day in sections of wet grass had led them to be drenched resulting in these worthy blisters.
You know what though? I wasn't going to stop, but the aim was to now manage them for the rest of the hike. I taped my feet up like a Mummy and continued on, but there wasn't a lot of fun at this stage. I was walking though until guess what? Yes, you better believe it. What's wrong with the next photo?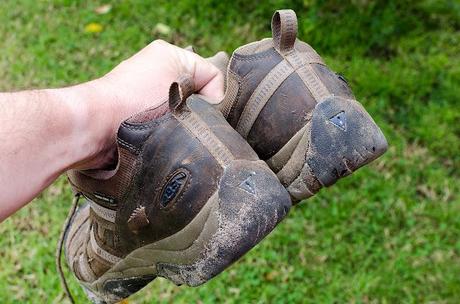 The Keen Siskiyou has straps that run across and behind the shoe which connect to the laces. Tighten the laces and the straps across the shoe constrict. Now, I might be fairly broad in the shoulders and reasonably strong, but I am not
'Haystacks Calhoun'
. I was gingerly walking along enjoying my blisters when I felt as if the left hand shoe lace was coming undone. Looking down though, they seemed to be fine which was a little weird. I undid the lace and retied it to find that the strap across the back of the left shoe in the photo above was broken. Not frayed or worn, but plain old snapped. Huh? How did that happen?
The result was I could no longer apply tension to the lace on this shoe which meant I was now effectively wearing a hiking slipper. Besides my foot being blistered, the shoe was flopping about creating a blister bonanza. Mind you, we were only 60 kms into the hike at this stage, so struggling along with it for the next 150 kms was not really an option. I did have one last trick up my sleeve though. In my car at Portland I had a pair of
Teva
sandals in the boot and Lady Smuffin came to the rescue by delivering the sandals to me one evening.
The only trouble is I was heading into areas of hiking looks which I never thought I could descend to. Firstly I wanted to keep my blisters bandaged and secondly we were still walking in leech heaven. Sandals and leeches weren't exciting me too much, so Smuffin came up with a brainstorm of an idea. Glancing at the socks frequently for leeches was annoying and all of my socks were dark which meant I could never see the blood suckers properly anyway. So, it was white sock time. Yes, the plan was to wear long white socks with pants tucked in, so the leeches could be easily spotted and it actually worked great. Not so good in the fashion stakes though...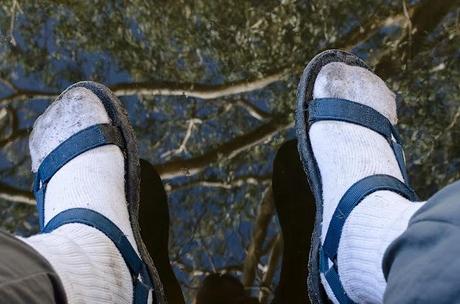 Smuffin was feeling left out, so he adopted the look as well...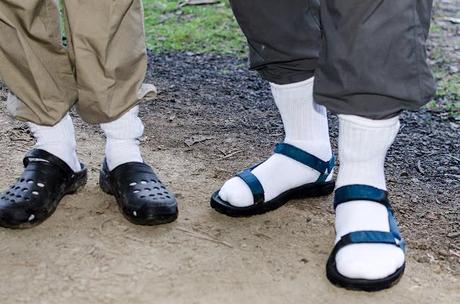 Hiking Fashionistas 101
You know what? I walked another 30 kms like this, but as we approached the halfway mark of the walk at the sleepy coastal hamlet of Nelson a few things ran through my mind. The blisters were giving me grief and I was not getting much enjoyment with pain on every step. Yes, I could have continued, but what was the point, besides being good for the blog?! The ideal situation was to stop for a few days at Nelson and let the feet recuperate, but we didn't have that time up our sleeve and I spent my most of my time longing for my full leather hiking boots. Yeah, those ones that don't cause me blisters, keep my feet dry due to the Gore-Tex lining and that fact they're so worn-in and supple they feel like a pair of runners. Yeah, those ones.
So, at 92 kms I thought, "Stuff it" and decided to come back another day. Lady Smuffin arrived with the sag wagon and the hike was over. I was feeling a little pissed off as there were no other parts of my body hurting. Usually my knees get sore, but I was flying and Smuffin hadn't even raised a sweat. No lightweight shoes for me and when I go for the 'Great South West Walk Tilt No. 2' I'll do things differently. Actually, the writing was probably on the wall once I looked at the Keen website. In the shoe description regarding the 'Siskiyou' they've spelt it 'Skiskiyou'. If they can't even spell their shoe with its particular daft name, what hope did I have?
Until then I'll write up the days we did which have even more entertainment than what I've mentioned so far. I've got my retro Overland Track hike from 2009 to finish, plus all of the day walks. Hey, I've got plenty of material, which means I can go back to sitting on the couch and write up lots of walks that give the appearance I'm out there every day getting it done.
What's the bottom line to all of this? Remember, when it comes to hiking, I've got absolutely no idea what I'm doing. I didn't even wear the right bloody shoes! Anyway, there were plenty of nice sights along the way and I'll finish with a nice filtered sunrise through the trees at one of the great camps one morning. Until then I'm walking around in Winter with sandals on waiting for these blisters to heal and putting off scratching that leech bite that is possibly one of the ITCHIEST THINGS I'VE EVER HAD.