I flew in last September 23 to Singapore via Singapore Airlines to cover the 2011 Formula 1 SingTel Singapore Grand Prix. Of course, the action is not limited inside the racetrack as the entire Singapore was revved up for Grand Prix Season Singapore 2011. And lucky for me, I was there to experience all the action for three full days! Read more…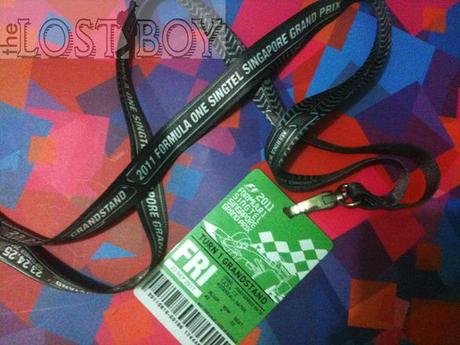 DAY 1
After checking in at my room at the Grand Mercure Roxy and resting a little, I went out to Orchard Road and had a really late lunch at California Pizza Kitchen. I headed to the corner of Orchard and Grange Roads in front of Mandarin Gallery where Rev Up @ Orchard is being held. And there was the four-meter stiletto set up near the stage!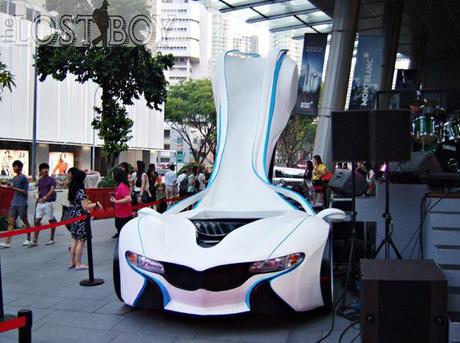 As with the other nights of Rev-Up @ Orchard from September 16-25, the concerts near the lofty stiletto were free, among other perks that were offered at Orchard Road during Grand Prix Season Singapore. That early evening, The Cheating Sons was playing a set, and I was able to watch for a while. I didn't take too long watching though, as the practice races at the Marina Bay Street Circuit were about to begin!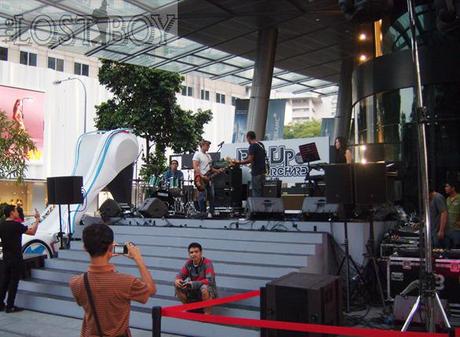 From Somerset MRT station, I took the rush hour trains to the Marina Bay Street Circuit. My three-day Turn 1 Grandstand Pass, which costs 1288 SGD (~45,000 PHP), allows me access to all gates, but the most proximate gate to my seat and grandstand is Gate 1, which is a short walk from Nicholls Highway MRT station.
As I entered F1 Village, I took a surreal walk along the La Terra Al Centro Dell'Universo, an illuminated "Milky Way" that used NASA imagery to recreate the planets. Too bad the geek in me couldn't explore much as Practice 1 is about to begin; I had to hurry to the grandstand!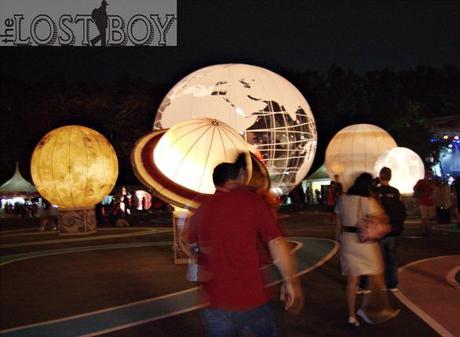 I didn't wait too long until Practice 1 started, and the cars were off! I didn't take the advisory to watch the races in earplugs all too seriously until I heard the deafening whirr of cars that can go as fast as 300kph! Good thing I brought the earplugs our friends from YourSingapore gave me!
Here are the pictures courtesy of Singapore GP Pte. Ltd. of Practice 1 and 2: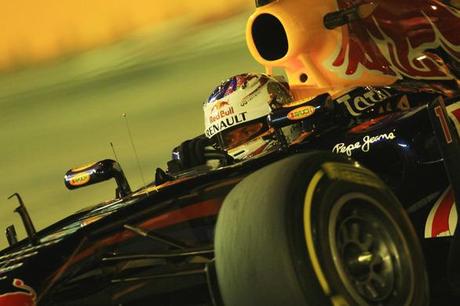 Sebastian Vettel (GER), Red Bull Racing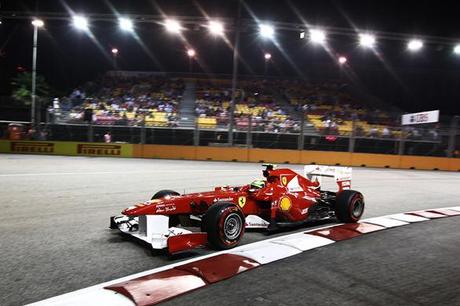 Felipe Massa (BRA), Ferrari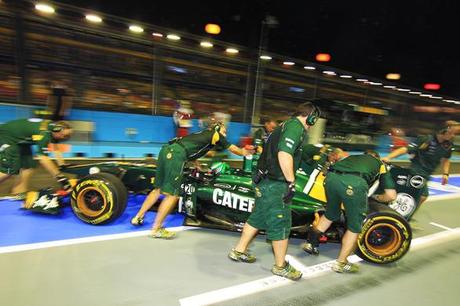 Heikki Kovalainen (FIN), Team Lotus
Adrian Sutil (GER), Force India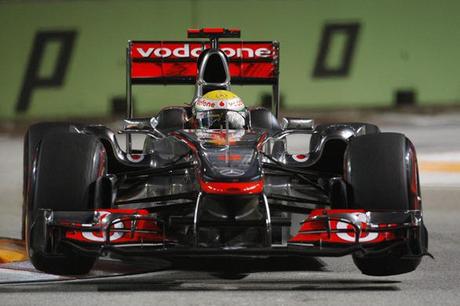 Lewis Hamilton (GBR), McLaren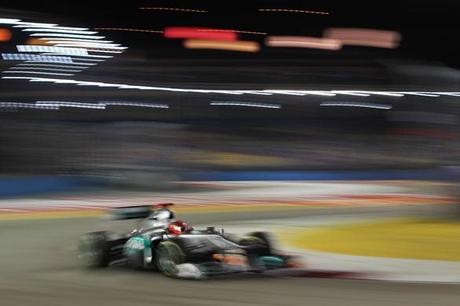 Michael Schumacher (GER), Mercedes GP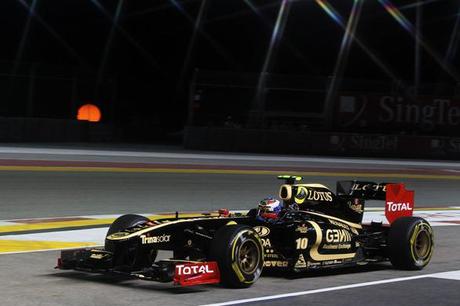 Vitaly Petrov (RUS), Lotus Renault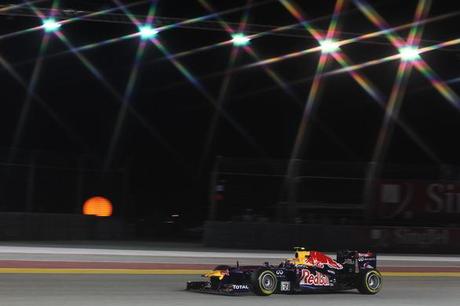 Mark Webber (AUS), Red Bull Racing
For the first practice, 2009 Singapore Grand Prix champ Lewis Hamilton of McLaren was recorded to be the fastest  with a  lap of 1:48.599. Red Bull Racing's Sebastian Vettel recorded a lap only 0.406 slower than Hamilton's with 1:49.005, while his teammate Mark Webber was third with 1:50.066.
On the second practice, Vettel claimed the fastest lap with 1:46.374, while the 2008 and 2010  Singapore champ Fernando Alonso of Ferarri was at the second fastest spot only 0.201 slower than Vettel with 1:46.575. Hamilton was third that time around with 1:47.115.
There was a two-hour interval between the two practice races, so I used the time to grab a bite in one of the many food and beverage options inside the circuit and to explore the different entertainment options.
I witnessed Brian Olsen "magically" turn a blank canvas into art within a matter of minutes! He was performing exclusively at Zone 1, which my Turn 1 pass has access to.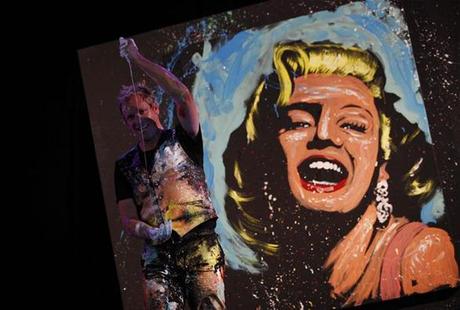 Photo credit: Singapore Grand Prix via Action Images
I was also able to catch a little of Forbidden Broadway, a satirical revue comprised of hilarious spoofs from contemporary Broadway musicals like Rent and Hairspray, and watch the roving performance of Jaipur Maharaja Brass Band both at Zone 1.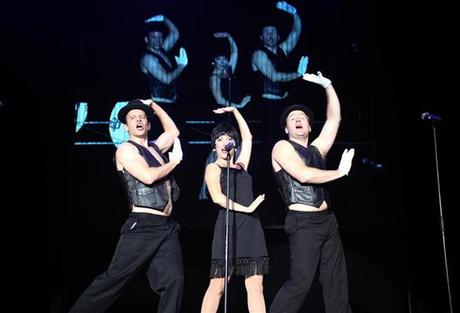 Photo credit: Singapore Grand Prix via Action Images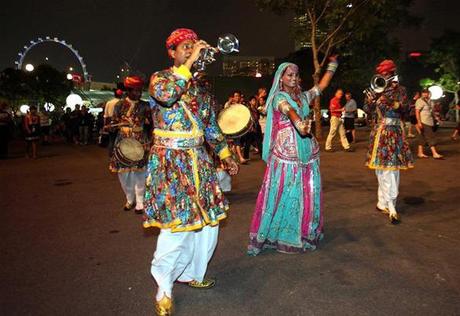 Photo credit: Singapore Grand Prix via Action Images
I'm not a Kpop fan, but right after Practice 2 at 11pm, I found myself rushing among throngs of people to the  Padang Stage at Zone 4. GD&Top and Seungri, members of the Korean boy band Big Bang, were going to perform! Let me clarify though that I watched only out of  curiosity and to find out why Filipinos are that into Kpop. (But yeah, I did like their music.)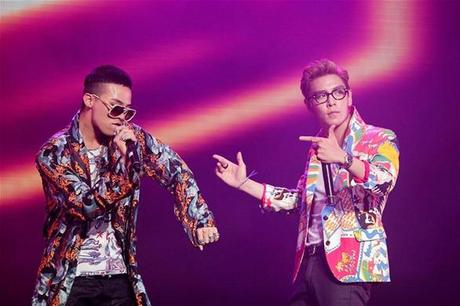 Photo credit: Singapore Grand Prix via Action Images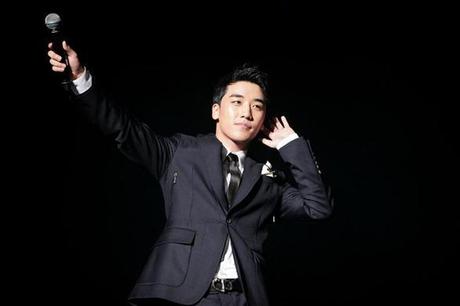 Photo credit: Singapore Grand Prix via Action Images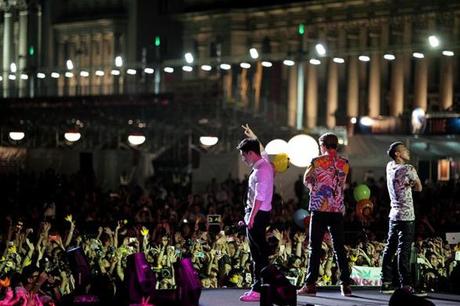 Photo credit: Singapore Grand Prix via Action Images
The concert ended a little past midnight, and good thing, MRT services are extended until 1am. That was a good first day, and I was excited for the next two. To be continued…