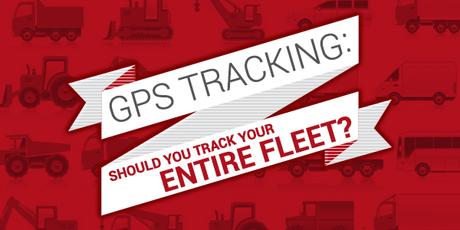 When implementing a GPS tracking solution, many fleet managers are not certain if they should be tracking their entire fleet or just certain vehicles and equipment. Some businesses think it will be effective to use GPS tracking devices on a few vehicles or for one department they know for a fact is experiencing business challenges. The problem with only utilizing GPS tracking for a portion of your fleet is that you will only be receiving a fraction of the benefits possible. If you decided to invest in GPS tracking to help solve your business challenges to reduce costs, reduce risk, and increase revenue, you should want to accomplish these goals for your entire fleet.

Why track your entire fleet?
When determining the extent of your implementation, consider why your business decided to look into GPS tracking in the first place. For example, a government entity may have started looking for a GPS tracking solution because they noticed higher mileage on vehicles in their parks and recreation department. The thing is, if you identify challenges like speeding, unauthorized usage, or excessive idling in one department, it is likely that these problems, or similar ones, are occurring in all departments. To get the most out of a GPS tracking solution, it is advised to track your entire fleet to maximize the benefits.

Can't afford GPS tracking all at once?
After finishing a pilot with a GPS tracking provider, you may be completely convinced that this technology will help your business save money and increase productivity. The only factor holding you back from implementing GPS tracking for all of your vehicles is that you do not have the budget to do so. This is a very common challenge for businesses when they first start using GPS tracking, so many decide to implement the technology to their fleet in stages. It is better to start tracking the vehicles you can now rather than not at all. As your business starts to reduce costs and increase revenue with a GPS tracking solution, it will make room in the budget to implement GPS tracking fleet-wide.
You must use the tracking software!
The most important thing to do once you decide to track either one vehicle or your entire fleet is you must use the software! There will be zero ROI received from GPS tracking unless you utilize its functionality in the right way. Once you identify your business challenges, make sure to use the right reports, alerts, and other functionality that will help you solve these challenges to get the most out of your investment.
To learn more about how implementing a GPS tracking solution will benefit your business, contact GPS Insight or schedule a free demo!