"Hello! This is a pickle."
"Not a sabzi, a salan,not a curry not a side dish..."
"This is a relish, a pickle . "
"To be had as an accompaniment. "
"Not as a "whole" of the meal."
This is what has been happening ever since I have been making Gosht ka Achar courtesy of the You Tube video "Cooking With Faiza" , wherein she makes this Gosht Ka Achaar with Beef instead of chicken or mutton or pork.
Beef would be sacrilege in our home, however ,chicken is almost like potatoes. It has to be there.
So now it is.
Well almost.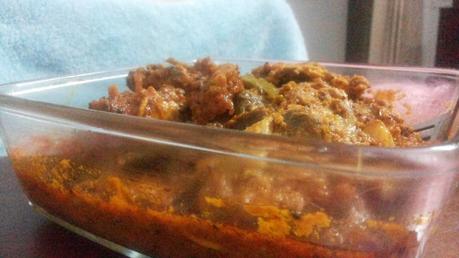 Yes, the Gosht is still warm. But one does not have too many choices, you see...
You may never get to see the Gosht ka Aachar otherwise.
Just almost empty bowls, with a few scrawny bits and all the masala or sauces scraped off.
It is that tasty.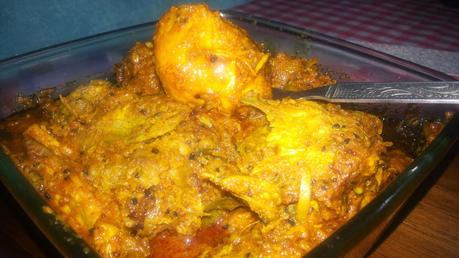 So this is also credit to the Pakistani channel.
You are aware of my predicament of not linking my blog to a Pakistani link-link-not because... Just because!
Any way the shared heritage and common ingredients don't really leave much difference...she was making Beef Pickle ,I was taught a similar recipe with wild boar many years ago. So this was refreshing and brought back memories of many moons ago...
So a pretty yummy side dish or an accompaniment to a roti or parantha.
Here goes.
for the
Gosht ka Aachar -or Chicken Pickle ...
you need
750 gms Chicken cut into small pieces all fat removed- with the bone or without (Chicken on the bone always tastes better)
250 mils mustard oil or olive oil
400 gms chopped onion
100 gms each garlic cloves and ginger plus hand full extra garlic cloves
10 -15 each whole red and green chilies
Curry leaves -optional
50 mils lemon juice
100 mils white vinegar
1 tbsp each whole fenugreek seeds-methi dana ,cumin seeds-zeera, aniseed-saunf, mustard seeds-rye Dana and nigella seeds or kalonji seeds
Salt ,red chili powder to taste
1 tsp red chili flakes
1 tsp Turmeric or haldi powder
1 tbsp coriander powder
Grind the onions ,ginger and garlic with in your blender jar with vegetable oil to a very fine paste without using any water.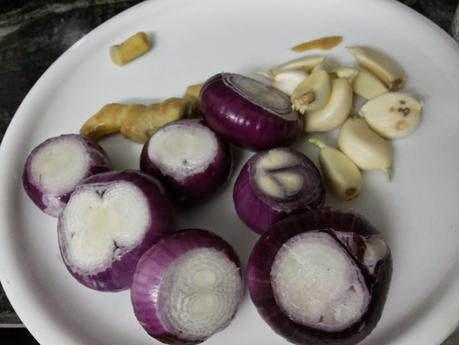 That's how fine. Oil makes grinding super easy and you'll feel the pungency of the onions a lot less.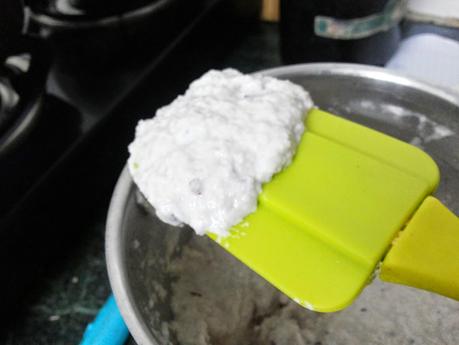 Wash and pat dry the chicken and set aside. Remember,it is essential to avoid all contact with water , as any excess liquid will cause the Gosht ka Aachar to spoil.
Heat the mustard oil till smoking point.
Add in the onion ,ginger and garlic paste and stir.
Add in the chicken and 1heaped tsp salt and all the lemon juice ,the turmeric powder and a spoon full of red chili flakes .
Keep stirring until the mix comes to a boil.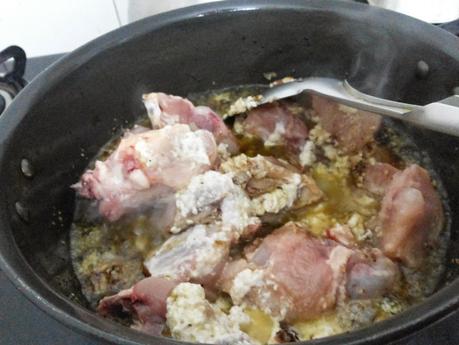 That's the lemon juice being squeezed in.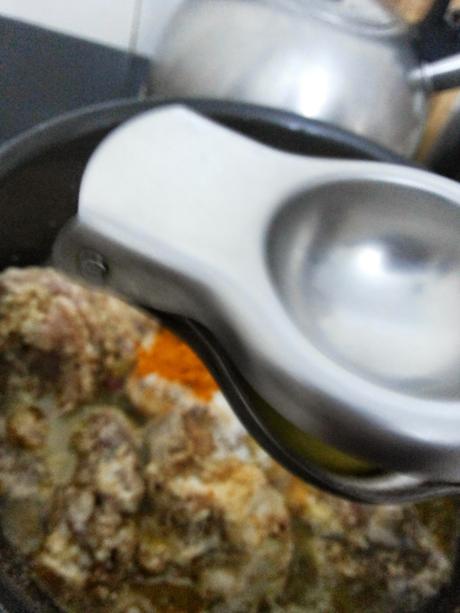 Once the liquid in the pot comes to a rolling boil, turn the flame on low and allow the chicken to cook.The red chili flakes will add flavor without giving too much color.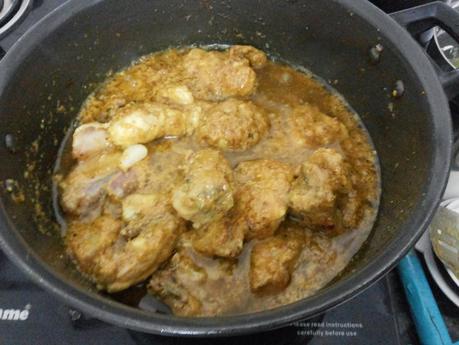 Once the chicken is almost done or almost al dente,its time to sort through the whole spices.
To clarify ,from left to right...
Saunf, kalonji, zeera, rye dana, methi dana or Aniseed, nigella-onion seeds(the most essential part of any pickle) ,cumin seed, mustard seeds and fenugreek seeds.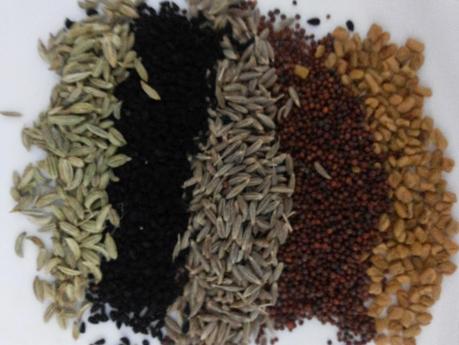 The garlic cloves sliced or whole and red and green chillies with their stems removed.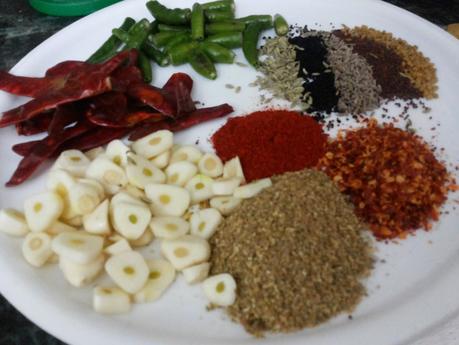 Straight into the pan. Hubby dear is not too fond of curry leaves...so we skip those. Feel free to add in a bunch of those if you like them.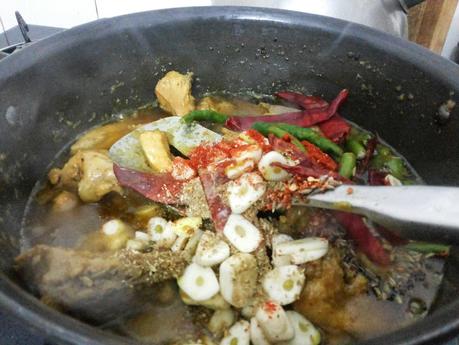 Stir into the pot and allow this to cook with the chicken with the lid off, so as to dehydrate it or dry off all the water. On a low flame. You don't want the spices to burn. Adjust for the salt...
Keep tasting, keep tasting...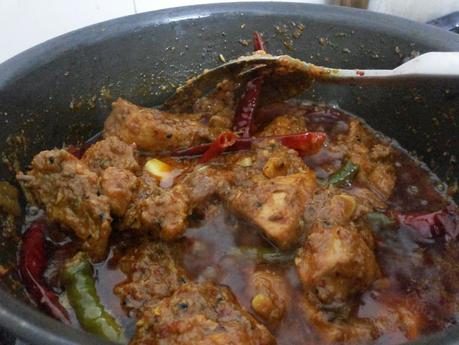 Once the oil separates, and floats and shocks your cholesterol levels sky high,you know its done.Sterilise a glass bowl with a lid. I used my borosil. wipe the bowl with a tissue soaked in vinegar and microwave 30 seconds.Or bake 15 minutes in an oven at 180C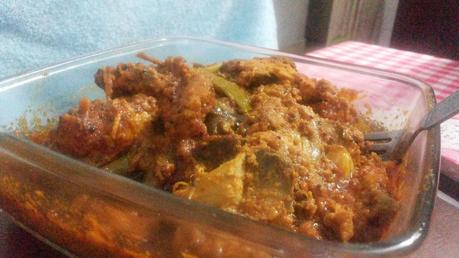 Empty out the Gosht ka Aachar into this bowl while it is still hot. Allow it to cool, cover and store in the fridge.
Whenever you want to, remove a piece with a clean and dry spoon , heat the pickle in the microwave and enjoy.
The chilies taste yum and the garlic even better than the chicken.
I barely manage past the prep stage...whenever I wish to taste it...the bowl is empty.
So I begin again.
So will you.
Definitely.
You can try this with mutton or with pork, but the meat will have to be off the bone.
The same process...just a little longer to make.
So what are you pickling today???