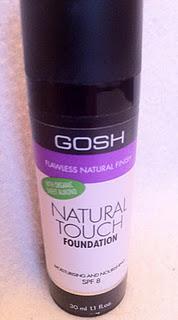 GOSH Natural Touch Foundation
GOSH Natural Touch Foundation comes in a plastic bottle with a pump action top. One of the first things I noticed about this foundation is that it is scented, which is unusual for foundation. It has a light floral smell that is really nice and not over powering.
I wear foundation everyday, I have spot prone skin and even when it is clear I have some scaring that I like to disguise with makeup. I have very pale skin and find it hard to find foundations that match my skin tone so imagine my delight when browsing the aisles in Superdrug I realised that GOSH cater for paler skin.GOSH Natural Touch Foundation comes is a great variety of shades catering for the very pale, darker tones and everything in between. It also has SPF 8, which is rare for budget foundations and is a massive bonus in my opinion.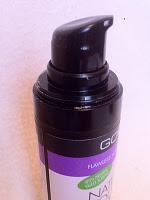 Pump action top
GOSH Natural Touch Foundation claims to be 'moisturising and nourishing' and gives a 'flawless natural finish.' As it is a lightweight foundation is doesn't provide enough coverage for a 'flawless' finish on my skin. However, it does even out skin tone well and I find myself reaching for this product on days when my skin is clear and I just want a light coverage. It gives an even, matte finish that is both flattering and long lasting.
The only real negatives I've found with this foundation is that it is a little bit hard to blend. I also found that it sometimes settles in dry patches and so probably isn't the best foundation for dry skin. I strongly suspect that these problems stem from my skin type and this foundation would be easier to blend and wear on skin that holds more moisture than mine.
Overall this is a great lightweight foundation. I would say it would be best for those lucky enough to have clear skin that requires some coverage, perhaps just to even out skin tone. I also think this product is better for those with normal to slightly oily skin as I suspect it would apply without streaks or the need to blend as much.  I picked up  the GOSH Natural Touch Foundation for £8.99 from Superdrug.
GOSH Natural Touch Foundation Review
Product:
A lightweight foundation with an SPF that is great for evening out skin tone..

Longevity:
Long wearing, up to 5 hours wear. 30ml bottle provides plenty of applications.
Affordable:
£8.99 
Easy to use
: Need to spend a little bit of time blending to get a streak free finish.
Availability:
Available from Superdrug.
The Verdict: 7/10 – A good, lightweight foundation that evens out skin tone and gives a flattering matte finish.