C
ontinuing with my gorgeous gift guide, the lovely people at LUSH (I am a HUGE Lush fan, especially as I worked there every summer during uni!) sent me a package of their new Christmas goodies. Feeling extremely spoilt and very reluctant to give any of them away, I decided they needed their very own dedicated gift guide post. A Lush product makes the perfect stocking filler, or, you can go all out and pick up one of their gift sets, which range from the small (a couple of products) to the amazing huge (20+ products.)
Whatever you choose, take a look at my review below of the best of their new Christmas goodies, and start adding them to your list to ensure a relaxing and beautifully smelling Christmas. Enjoy x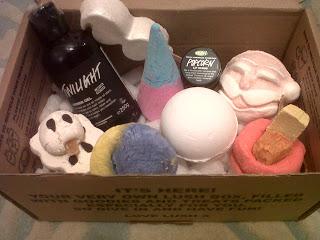 The entire stash!
Bubble Beard £4.95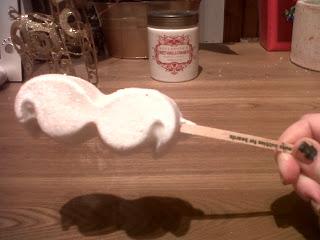 I LOVE this! This cute little moustache on a stick is actually a reusable bubble bar. How does it work you might ask? When your bath water is running, simply take the Bubble Beard and swirl it under the running water, to fill your bath with soft bubbles. Then, pop it on the side of the bath, ready to use over and over again. This smells gorgeous too –not too sweet and actually quite mellow and very relaxing, featuring cedarwood, sandalwood and tonka, making this the perfect pressie for a girl or a guy.
Christmas Eve Bubble Bar £2.95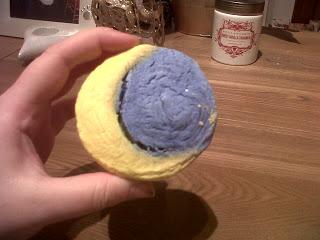 Mmm…I love Lush's bubble bars. They usually produce so many bubbles, that I break them in half, so I get two baths out of them. This Christmas Eve bubble bar is a really lovely treat for a cold winters day (or night depending on when you like to take your baths!) It looks like a crescent moon against a night sky and it does have a feel of magic about it. Featuring a lovely jasmine fragrance and Irish moss powder, which leaves your skin super soft.
Father Christmas Bath Bomb £3.25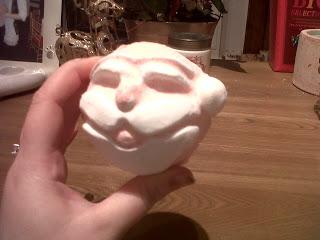 For those of you who are unfamiliar with a bath bomb…shame on you! Where have you been?? Lush's bath bombs are legendary and their cute Father Christmas bath bomb is a must have for everyone. Featuring an adorable Santa face and a couple of hidden surprises…I'm not going to tell you, you have to buy one for yourself to see, this yummy smelling bomb gives off the aroma of a traditional Christmas; mandarin and orange. To get the most out of it, run your bath and then get in, lie back and drop the bath bomb in…it explodes around you and tickles as it fizzes away.
Party Popper Bath Bomb £2.95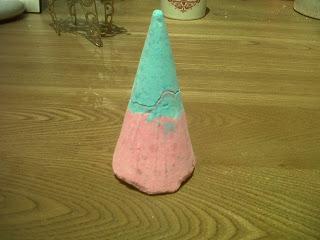 Yay, another bath bomb! This one really gets you in the mood to party. I love the pretty colours (watch that water turn) and the fruity smell, and even better, when I dropped it in the bath, it literally explodes with popping candy, fragrance and (soap) confetti, which leaves you skin really soft and clean. It does kind of make you want to drink the bath water though…but don't…OK?!
The Melting Snowman Luxury Bath Melt £1.95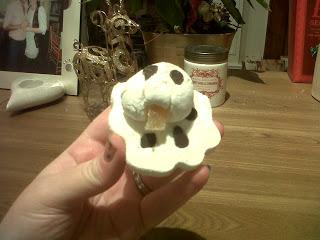 How sweet is this little snowman? Yes he is melting, which is slightly macabre, but he is a snowman, and he is a melt, so don't feel too bad. This is a really gentle product, which I absolutely love. While your bath is running, place the snowman in and watch him melt, leaving a trail of skin softening cocoa and shea butter and a gorgeous hot toddy fragrance – cinnamon, clove, orange, lime and more. I think this is a great gift for a fella in your life.
So White Bath Bomb £3.20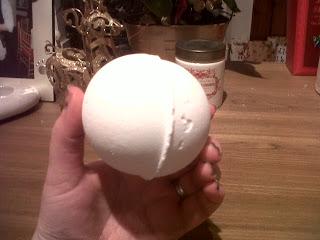 This is a great bath bomb to get someone who might be a little apprehensive about using them for the first time. It has a simple and delicious fragrance of fresh apples, and leaves your skin really soft…even better though, through this bomb against the side of your bath when it is full and the white outer layer shatters to leave a trail of pretty pink, which leaves your bath water looking as sweet as it smells.
Twilight Shower Gel £4.25/100g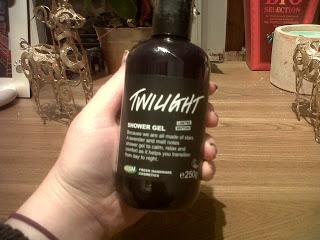 Now personally, I always use Lush's shower gels as bubble baths, because I always prefer a bath to a shower (I know…bad for the environment…slap wrist), and this gorgeous festive gel works equally as well as a bubble bath, shower gel, shampoo, whatever! Perfect for a guy or a girl, this divine smelling gel has notes of lavender, vanilla and malt and really helps you unwind. The color is so pretty too, a shimmering, rich purple. I couldn't get out of the bath when I used this, and it helped me get a really good night's sleep – seriously, treat yourself to one!
Santa's Sack Bubble Bar £4.15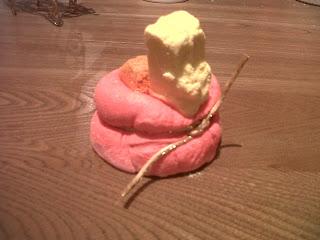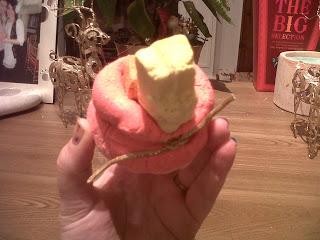 The final bubble bar in my list of goodies comes in the form of Santa's sack! No dirty minds please! Perfect for anyone, this yummy smelling bubble bar is big enough to break in half and use for two baths. Smelling of lovely things like fizzy drinks, neroli, tonka. Even better, you can pull out the "toys" in the sack, and put them to one side to use another day! What more could you ask for.
Popcorn Lip Scrub £5.25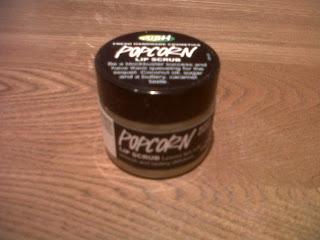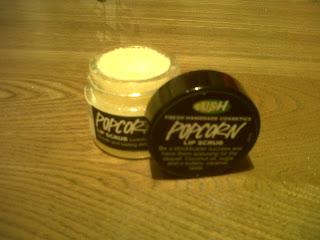 Yum, yum, YUM! I had to be so careful not to gobble this little pot of niceness up...and yes...this is one Lush goodie you actually can pop in your mouth! Featuring a popping candy and salted caramel flavour, and made from coconut and jojoba oil, castor sugar, sea salt and polenta, you take a little scoop of this scrub and buff your lips and then lick them clean! Amazing! I've just had a go and my lips are now super smooth and taste gorgeous. Pop one in every stocking for a very sweet Christmas.
Disclaimer: I was sent these products to review for free but I was not paid to make this post and my opinions are always honest