It's getting very close to that time of year! The festive spirit is well and truly in the air, and what better way to get you all in the mood than to do a little round up of some gorgeous gift ideas for Christmas, Chanukah, whatever!
I have very kindly been sent an assortment of fabulous fashion and beauty products to review for this post, and I have selected my absolute faves to create a gift list idea for you. I loved some of the products so much, I'm going to do a couple of separate posts dedicated just to them, in a bit more detail, but for now, I hope you enjoy my round up.
P.S. I'm going to try and film a video for this as well, but my webcam seems to have become poorly, so hopefully I'll get that sorted and then post the vid here and on my youtube channel. Enjoy! x
Mad Beauty is a great little beauty find. Specialising in affordable beauty and make up treats, they are a great place to go to for fun stocking fillers and secret santa presents. I was sent three gorgeous items to try out; one bath product and two make up products.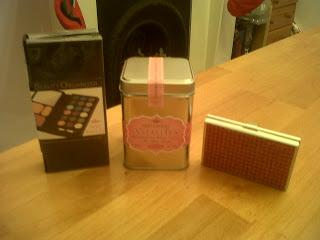 All three Made Beauty products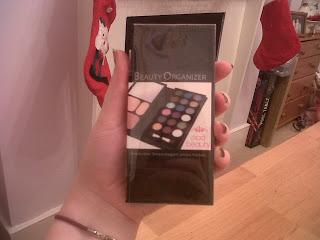 Mad Beauty Make Up organiser front view £6.99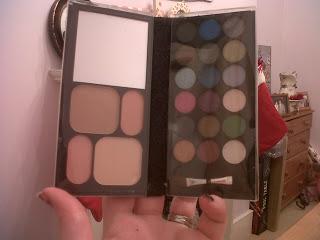 Mad Beauty Make Up organiser inside view £6.99
    The two make up products are actually "make up organisers," a sweet way name for a make up palette. The first organiser (pictured above) contains 18 eyeshadows, an eye shadow brush, blusher, face powder and a mirror, all tucked away in a cute hand held organiser. It's the perfect size for popping in your handbag and for touching up throughout the day, and the eyeshadow colours range from soft neutrals to more vibrant shades. At just £6.99, it's definitely worth picking up a few of these this Christmas!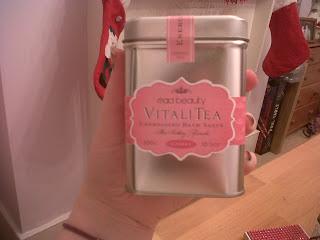 Mad Beauty Vitali Tea £4.99
  Mmm...I love this. It looks like a tin of fancy tea, and is called "Vitali Tea" clever eh? For £4.99 this sweet tin contains fragrance tea bath salts - this particular fragrance is ginseng and it smells divine. You simply open the tin and scatter a handful of the salts into your bath for a delicious smelling soak, and they apparently leave your skin super soft...hmmm...I'll be trying this out tonight then!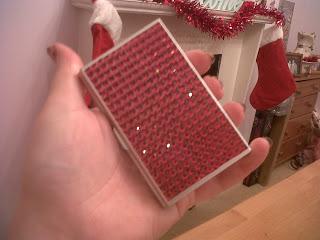 Mad Beauty Make Up organiser front view £5.99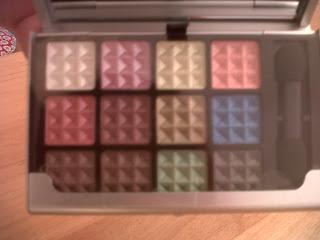 Mad Beauty Make Up organiser inside view £5.99
  The second make up organiser comes complete in a pink diamanté finish. A cute gift for a girly girl, this little organiser snaps open to reveal 12 shimmering pressed eyeshadows in neutral and vibrant shades, an eye shadow brush and a handy mirror. Retailing at £5.99.          Frontcover is a brand, which is fairly well known and is becoming more and more of a cult beauty brand as the years go on. I've been a big fan of the brand for quite some time, and even found myself quoted on one of their
Christmas
gift boxes last year (I was very excited about that!).
This year, Frontcover have come up with two real gems and I was fortunate enough to be sent a sample of both of them. I always get really excited when I see their packaging, as they always look like high end magazine covers. The boxes open to reveal a gorgeous selection of beauty goodies, plus tutorials to get whichever look the sets are looking to replicate. Below are the two products - one is called True Colours (£25) and is a fabulous make up and nail varnish set, complete with make up brushes and the other is called Dark Arts (£25) and is an amazing nail art kit.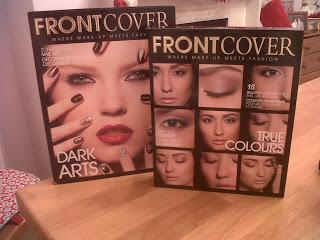 Dark Arts and True Colours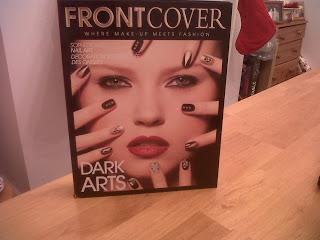 Dark Arts front view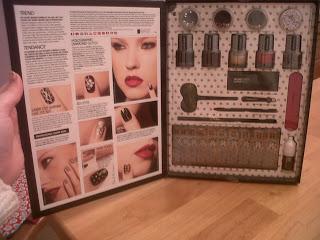 Dark Arts inside view
Dark Arts is a gorgeous gift for any nail varnish or nail art lover. The set contains: 4 nail varnishes (black, red, orange, gold), 1 top coat, 3 strips of bespoke printed nail stickers, a dotting tool, a striping brush, holographic diamond glitter and metallic gold squares for decoration, scissors, mini tweezers, a nail file and nail glue. It basically includes everything you need to get really creative with your nails and I think it is an absolute steal for just £25.
Nail art is so huge right now (in fact, I have another nail art set below) and I love how Frontcover shows you how to create all their looks. I might not actually be able to give this one away as a gift!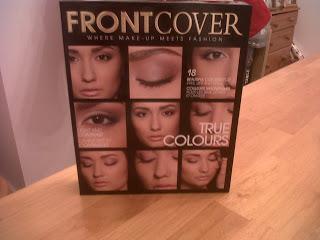 True Colours front view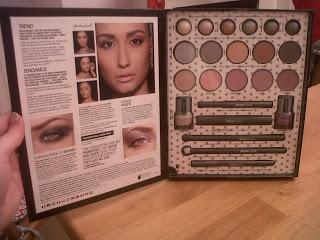 True Colours inside view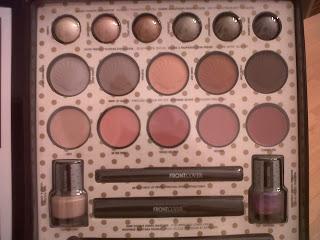 True Colours close up
  The True Colours kit contains "a modern romantic concoction of sheer, shimmery and natural colours that emulate transparency and see through fabrics found in almost every collection this season..." This is such a catwalk worthy make up kit, and the colours are truly gorgeous - a selection of lilacs, warm peaches and soft greys. Inside, you'll find: 6 domed baked powder eyeshadows, 5 satin pressed eye shadows, 5 lip glosses, 1 nail polish, 1 nail glaze, 1 double ended mascara, 1 eye shader brush, 1 blending brush, 1 retractable lip brush. Again, an amazing amount for just £25 and the perfect gift for someone who likes to have fun with their makeup.
The eyeshadow colours are right up my street and will suit pretty much any skin tone. Once again, I might have to keep this little baby all to myself! Whoops!
For more on Frontcover, check out their website: www.frontcovercosmetics.com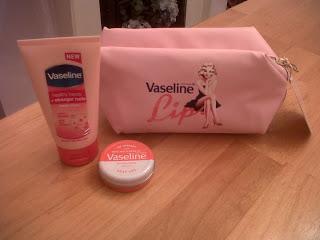 Vaseline Mini Make Up Bag £5.99
   This Vaseline kit will make a really sweet stocking filler, or Secret Santa present. Who doesn't love Vaseline, and at this time of year, when chapped lips and hands are all too familiar, this really is a must-have for everyone! The cute, retro inspired zip up bag comes with two cult Vaseline products - the "Rosy Lips" rose and almond oil lip therapy tin and a divine hand cream for healthy hands and strong nails. Perfect for popping in your bag, grab this little life saver for your nearest and dearest.      
Now, I don't know if you're a fan of the Apprentice, but last year, the finalist Susan Ma made a really big impact, and she has been pushing her beauty and skincare range, Tropic, ever since. I was sent a couple of her latest products, and they are actually really nice. One is a firming nourishing cream and the other is an all purpose organic luxury oil.
Click
here
for more info on Tropic.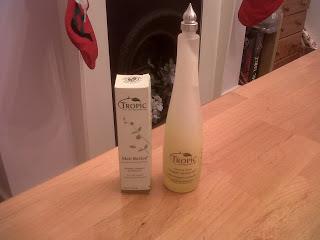 The two Tropic products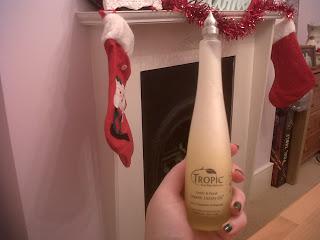 Tropic Organic Luxury Oil RRP £25
  The Organic Luxury Oil smells amazing - it's called "exotic and floral" and it really reminds me of that gorgeous smell when you arrive in a exotic location on holiday. It actually solidifies in cooler temperatures, and considering the temperature at the moment, mine was solid when it arrived. However, you just place it in a bowl of warm water and it returns to a liquid state again. You can use this oil all over as a body moisturiser or massage oil or even apply it to the ends of your hair as a deep conditioner. The oils featured are coconut oil, rosehip oil jojoba oil and macadamia oil, so it is a really lovely, natural product and the bottle is so pretty, this would make the perfect indulgant present.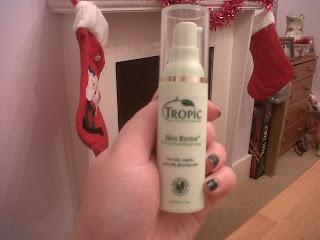 Skin Revive Firming Cream by Tropic £16
This lovely cream isn't perhaps the best present, but it is a lovely treat to give yourself! It's a concentrated face cream containing lots of vitamins, antioxidents and plan actives, which apparently leaves your skin soft, supple and nauturally glowing. I have to admit, it smells beautiful and I'm going to do what it says on the tin (bottle, whatever) and apply it twice a day - especially at the moment with the freezing weather, our poor skin needs all the help it can get! I will report back with my verdict, but it's looking good so far!
Now, how about these for a super special, sparkly present? These stunning tights by Aristoc don't quite break the bank at £35, but you might be thinking, £35 for a pair of tights?! Yes, it does sound a lot, but when you take into account that the back seam is adorned with sparkling Swarovski crystals, you might understand why. They are also super soft and feel like a dream to to put on. They are perfect for any party princesses you might be buying for this Christmas, and will solve the problem of making tights look gorgeous for an evening do. Available from:
http://www.prettypolly.co.uk/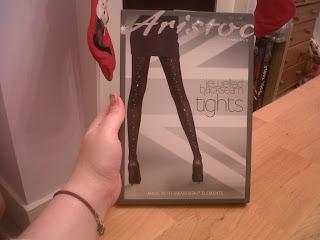 Aristoc Jewelled Backseam Tights £35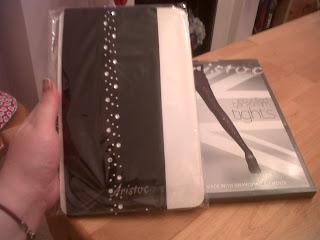 Aristoc Jewelled Backseam Tights detail view £35
Finally, we have a brand, which I have just been introduced to but am already seriously in love with. So much so, that I will be dedicating a whole blog post to the brand and a selection of its products very soon, so make sure you keep an eye out. This is my second nail art present idea, but, as I said before, the nail art craze is so huge now, a selection of products is definitely needed! The brand this time is, funnily enough, called; Nail Art, and this gorgeous gift idea is called "The Party Pack."
This fun gift set is the ultimate one-stop-shop for all nail art lovers. Featuring three sparkly nail art pens (which can also be used as nail varnish), a wheel packed with all kinds of fun and fabulous gems and sparklu bits (over 500 art embellishments to be specific!) and a glitter encrusted emery board for prepping. Available at River Island, this nail art lovers kit is a must-have and at under a tenner (£9.95) this is a secret santa gift you'll want to keep all to yourself.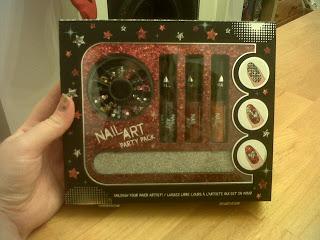 Disclaimer: I was sent these products to review but all views are my own and I was not paid to write this post