My iphone died two days ago.  It committed suicide by jumping inside the toilet bowl.  I grieved it a lot.  It changed my life completely. I was so lost without it for 2 days.  For a year, I slept, woke up, played, and read with it.  I decided to then to buy a "cheaper" Android smartphone to help me wait for the Iphone 5.  I wanted an Android phone because of the extensive app market for Android, second only to the Apple App Store.
After considering a lot of Android phones in the market, I settled for the Motorola Defy.  It seems that this phone corners the market of previous Iphone users whose phone suffered the same fate as mine.  The Motorola Defy is WATERPROOF, scratchproof, or "lifeproof".  Sounded good to me.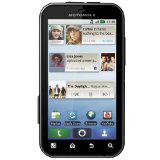 I bought it yesterday evening, and I am happy to say that after playing with it for only the whole night last night, I have my emails set-up and all  my essentials apps installed.  I really like the Motorola Defy a lot.  I don't think I am buying that next Iphone after all.