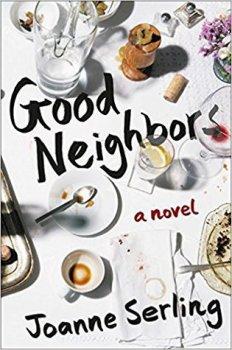 Good Neighbors by Joanne Serling
Published by Twelve on February 5, 2019
Genres: Family Life, Literature & Fiction
Pages: 272
Format: Paperback
Goodreads
Buy on Amazon



In an idyllic suburb, four young families quickly form a neighborhood clique, their friendships based on little more than the ages of their children and a shared sense of camaraderie. When one of the couples, Paige and Gene Edwards, adopt a four-year-old girl from Russia, the group's loyalty and morality is soon called into question. Are the Edwards unkind to their new daughter? Or is she a difficult child with hidden destructive tendencies?

As the seams of the group friendship slowly unravel, neighbor Nicole Westerhof finds herself drawn further into the life of the adopted girl, forcing Nicole to re-examine the deceptive nature of her own family ties, and her complicity in the events unfolding around her.
When I saw the description of this story while browsing available books for reviewing thanks to my association as a book blogger with NetGalley, I was interested. With all the talk on the news about adoption recently, I became even more interested so I signed up and was approved.  While the book was released in February of this year, I was happy to learn that the paperback version will be available on Amazon on February 5, 2019!! (Here's the link in case you're interested in picking up a copy…..LINK)
I learned that Good Neighbors is Joanne Serling's first novel, and that was impressive. The story's narrator is Nicole Westerhof, and she shares the story through her interactions with her troubled mother and sister, her husband and sons, as well as her neighbors.  They live in an upper middle class town, and this book and its story causes readers to question whether or not neighbors can really be friends, or are they just folks who happen to live near us.  The story even made me wonder what I would do if I found out "information" about one of my neighbors and how I would act or react.
There are group of families in Good Neighbors in the neighborhood that seem to be inseparable. They all hvae young children, get together and they've formed their friendships based on the similar ages of their kids.
Paige and Gene Edwards adopt a four-year old Russian girl and they name her Winifred ("Winnie").  Winnie is an unusual little girl, and Nicole seems to take a special interest in her to the extent that she then becomes concerned about her life. Nicole tries to talk to her husband about her concern, but like most men, her husband doesn't want to deal with what seems to be Nicole's chatterings of neighborhood gossip.  This, of course, forces Nicole to share her thoughts with the other neighbors.  The friendships of the neighbors then begins to deteriorate as the "whispering" about the Edwards' adoption grows.
Nicole is a bit "surfacy" – she mentally criticizes people for the way they are dressed and notices details of folks. The other side of Nicole is that she is a great mother and wife, and her concern for Winner seems genuine.  Even her feelings for her mom and sister are believable and loving.  Paige looks perfect on the outside – perfect house, nicest yard in the neighborhood, throws awesome parties, etc. (thanks to her live-in hired help).  The truth, however, is that Paige cannot deal with a child that isn't perfect and her life starts to fall apart.
As the storyline unfolds readers try to figure out whether Nicole and her neighbors are just being nosy and judgmental or if there really is something bad that is going to happen with Winnie. The characters in Good Neighbors are well described and believable; their struggles and personality quirks draw you in as you try to understand what moves them to behave the way they do. I felt the dialog was well written and I was engaged with the lives of these characters from cover to cover. 
Good Neighbors is a quick read (I read it in 2 days, thanks to being forced to work a day job).  Joanne Serling's first book is great, and I look forward to more from this writer!
---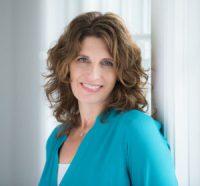 Joanne Serling's fiction has been nominated for a Pushcart Prize and has appeared in New Ohio Review and North American Review. She is a graduate of Cornell University and studied and taught fiction at The Writers Studio in New York City.
She lives outside of New York with her husband and children and is at work on her second book. You can connect with Joanne:
---
I was provided with a complimentary electronic advanced reader copy of this book through NetGalley in exchange for my post.  I was not required to post a positive review, but have chosen to do so because it was such a great story!

~ ~ ~ ~ ~ ~ ~ ~ ~ ~ ~ ~ ~ ~ ~ ~ ~ ~

It would be great if you would stay connected with me!! You can follow me on Twitter @DebiL1611, like me on Facebook at 2014 and Beyond, circle me on Google+, follow me on Tumblr, Instagram and Bloglovin', subscribe on YouTube, or connect with me on LinkedIn and Pinterest.

Please make sure to visit my homepage and subscribe to my blog for more great posts on running, fitness and lifestyle topics as well as food, product, music and book reviews, and more!