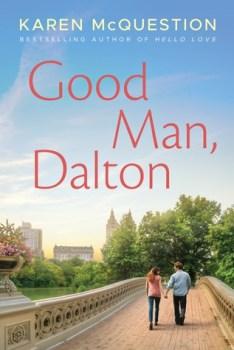 Good Man, Dalton by Karen McQuestion
Published by Lake Union Publishing on March 12, 2019
Pages: 272
Format: ARC, eBook
Goodreads
Buy on Amazon



A chance encounter leads to an unpredictable Manhattan romance in an irresistible and heartwarming novel from the author of Hello Love.

Greta Hansen has arrived in Manhattan to intern with the Vanderhaven Corporation, a company owned by distant and very wealthy relatives. But she soon realizes she's actually been hired to keep watch on their capricious daughter, social media celebrity Cece. No last name required. Why bother? The entire Twitterverse already watches every fabulous move she makes. Including an unfortunate shoplifting mishap when Cece decides to go off script. It's then that a handsome—and homeless—stranger comes to the rescue.

Dalton Bishop has a secret. A man of privilege, he's been living on the streets as a social experiment. Now, in gracious payback for his chivalry, Cece invites him to an elegant fund-raiser called the Forgotten Man Ball. It's Greta he's taken with, however—and to Greta's surprise, she's taken right back. But Dalton has one more secret up his tattered sleeve. For right now, though, he's just happy embracing the woman of his dreams. It's only the beginning of a romantic and revealing adventure that will take them to a place where money, class, and fame matter far less than true love.
Not too long ago I was hanging out on social media and was in a group of avid bookreaders like me. Someone made a comment and then someone else, and I'm honestly not sure exactly how it went down but an author — the author of today's book, Karen McQuestion, made some sort of comment writing books or something similar.   I really don't remember the details of how the conversation continued, but I remember heading over to NetGalley and doing a search of this author, and her new book, Good Man, Dalton, popped up. I requested a review copy and was approved.  Originally I didn't think I had ever heard of Karen McQuestion, but apparently back about a year ago, I read and reviewed Half A Heart (see review HERE).
Good Man, Dalton weaves the story of Greta Hanson and her cousin, CeCe Vanderhaven, who are two women with a close connection but lives that are worlds apart, and the life of Dalton Bishop, who is a young man from an affluent family, but with a lot to prove.
Greta, having just finished college lands an internship with her wealthy second cousin, CeCe's  family business where CeCe has her own clothing line.  Greta and CeCe really only know each other through annual family Christmas cards. Greta arrives in New York at their huge apartment and realizes quickly that her internship isn't at all what she had expected it to be. She also realizes everything she knows of her cousin based on social media is nothing like it appears.
And then there's Dalton, who arrives in New York planning to live as a homeless person as part of an experiment to see what it is like to actually be homeless in New York City.  As you can guess, the author seamlessly brings the two story lines of Greta and Dalton crashing together. 
I enjoyed the the use of social media seemingly right out of today's world. The characters were well written and I enjoyed the way the book ended. A light and easy read for that beach day or if you don't live in Florida like me, a snow day!
---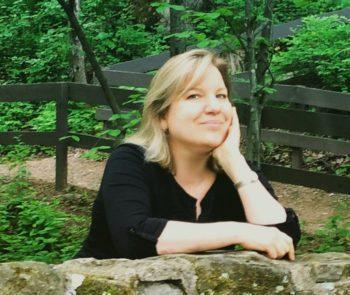 Karen McQuestion is a bestselling author whose books have sold over a million copies worldwide. Some of her titles include Hello Love, Life on Hold, The Long Way Home, and the Edgewood series.  ​Her books have been translated into German, Spanish, Polish, Korean, Turkish, and Czech and are available internationally in English.
Her publishing story has been covered by the Wall Street Journal, Entertainment Weekly, and on NPR. She has also appeared on ABC's World News Now and America This Morning. McQuestion lives with her family in Hartland, Wisconsin.  Connect with Ms. McQuestion on social media ~~
WEBSITE  //  FACEBOOK  //  TWITTER  //  INSTAGRAM  //  GOODREADS
---
I received a complimentary digital copy of this book from Lake Union Publishing through NetGalley in exchange for my review.  A positive review was not required and my views are my own.

~ ~ ~ ~ ~ ~ ~ ~ ~ ~ ~ ~ ~ ~ ~ ~ ~ ~

It would be great if you would stay connected with me!! You can follow me on Twitter @DebiL1611, like me on Facebook at 2014 and Beyond, circle me on Google+, follow me on Tumblr, Instagram and Bloglovin', subscribe on YouTube, or connect with me on LinkedIn and Pinterest.

Please make sure to visit my homepage and subscribe to my blog for more great posts on running, fitness and lifestyle topics as well as food, product, music and book reviews, and more!