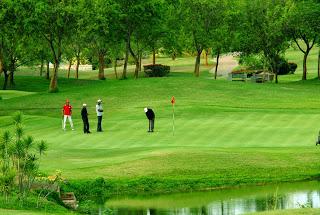 Kashmir is the perfect place for golfing as the invigorating surrounding offers
wonderful opportunity to enjoy this sport with much delights and ecstasy. Golf tourism in Kashmir is also very popular as the pleasant cool climatic conditions offer the golf lovers to enjoy the play for longer hours, surfing the cool breeze in the well organised golf courses. 
Golfing in Kashmir is more enjoyable then compared to any other places in the world. The state also takes pride of holding the highest green golf course in the world that invites every golf lovers from across the world. 
Best time For Golfing in Kashmir 
Kashmir is the perfect place for golfing and the best time to come here for this sport is from April to November. 
Major Golf Courses in Kashmir 
Gulmarg
Kashmir Golf Club 
Royal Spring Golf Course 
Kashmir and Golf is connected with each other for the last 100 years. So come and enjoy memorable vacation in this beautiful Kashmir in a much enjoyable and delightful way.