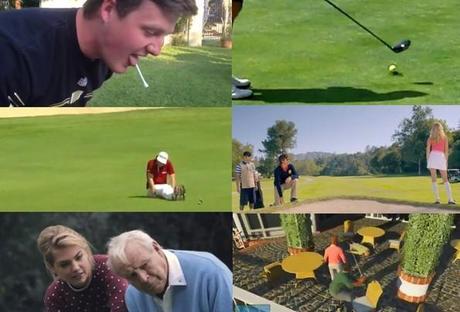 The GVOTW are a day late this week due to unforeseen circumstances ... but there is always a silver lining. By being a day late, we thankfully missed out on the FedEx Cup rap (yes, rap) that lasted day or two on the Internet before being taken down Presumably someone with judgment demanded it be removed like NBC, the PGA Tour, the participants in the video, the United Nations, a local mall cop ... anyone). As we've said here ad nauseum, non-urban people doing parodies of 'fun' raps is a perilous endeavor. Unless you are under the age of six, please avoid at all costs. It's been weighed and measured ... and found wanting.
IS IT BETTER OR WORSE THAN A CLUMP OF DIRT

We were the first (?) to show you this video last week via Twitter. 
It's a good reason to follow @theteesheet on Twitter.
From a glass half full standpoint, it could have been much worse for the guy had it been Laura Davies teeing up her ball using your mouth. For those of you too young to remember, this is how they did it in the old days.
DOES ANYONE CARE ABOUT THE FEDEX CUP
Let's face it, the Fedex Cup is boring. There simply has to be a better way to finish off the year after the PGA Championship. We'll be considering that in the weeks to come.
Consider this, the most exciting part of the FedEx Cup was not Henrik Stenson's win or even Jim Furyk's round of 59. The best part was probably Keegan Bradley and Jason Dufner's pairing in the last round of the year. 
If there's any more proof needed that a 30 player field at the end of the year is not much more than an exhibition, this is it. We are big fans of players having fun and loved Keegan's move. However, let's not pretend the FedEx Cup is much more than a huge cash grab at the end of the year. Can you imagine Bradley or any player doing that at Augusta?
The two were out of the tournament and FedEx Cup by the fourth round, but clearly had good side bet going -- as so well pointed out by Kyle Porter of CBS Sports.
It's not hard to illustrate the lameness of the FedEx Cup Playoffs. Consider the FedEx Cup playoff top 10 plays video is over six minutes long but generates almost not passion.
Now let's compare that to a little over 4 minutes summarizing the 2013 NHL Playoffs
The point is not to try to compare two radically different sports (both of which I love). The point is that to be a true playoff, there has to be something at stake more than money. There needs to be passion, emotion and the potential of making or adding to one's legacy. Did it matter that Henrik Stenson won? Does it change his legacy. No. If Tiger had won the FedEx Cup playoff this year, would we look at his 2013 season any differently? No.
It's time to tinker with the FedEx Cup again.
NOW LET'S TALK REAL MONEY
Stenson didn't make the big money last week. That title goes to Rockstar Games and Grand Theft Auto V which pulled in an estimated $800 million dollars in the first 24 hours of sales. For those of you not familiar with modern video games, the top releases have now eclipsed Hollywood blockbuster movies in terms of initial and likely overall revenues. 
As for golf, the game embeds a golf game and the Internet has already been swamped with videos of the golf in GTA-V. Here's one of the most popular [NSFW language]:
Um ... if you were unfamiliar with the violence and point of the Grand Theft Auto series ... well, that kind of is the crux of ths whole thing. The golf club is likely one of the more genteel parts of the game. Good times.
THE BLONDE LEADING THE BLONDE
Farmer's Insurance's advertisements with Dick Fowler, P.I. are back this week with its weakest installment. 
It seems writing goes out the window once you get a hot blonde in the cast. Blondes somehow made writers dumber. 
Even Golf Digest got in on the blondes-for-clicks bandwagon (I recognize we are guilty here too) using SI Swimsuit model and cover girl Kate Upton to try to sell magazines.
At least Arnie kept it classy as Upton wore a demure outfit ... which turns out to be sexier anyway. For those of you that don't know your Internet history, although she is now know for her Sports Illustrated covers, Upton actually was the first Twitter-generated supermodel. Her rise to fame really started with her fully-clothed viral video from 2011.
DA-DA-DA ... DA-DA-DA
Finally, Bubba Watson led one of the latest ESPN SportsCenter promos released this week. 
Great timing as we rated the best golfer-based "This is SportsCenter" promos a couple weeks ago in GVOTW. It would not be surprising to see Watson get his own soon.
 Cheers!
Douglas Han
@theteesheet
Like what you read? Please share by passing it on to a friend via email or any of the other buttons above.
Have a submission for Golf Videos of The Week? Please email video or link via the Contact Page.