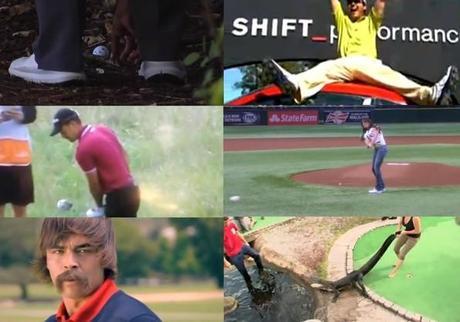 WAIT, WHY DOES THIS BMW LOOK LIKE A TOYOTA MATRIX
Hole-in-ones are great and even better when a car company sponsors the tournament. It would seem even better if it was a German performance and luxury brand ... or is it?
Hunter Mahan must have been pumped to make an ace at the BMW ... so he wins ... a 7-Series? ... and M5? ... wait, an i3? What's an i3? If you don't know, the i3 is part of the BMW electric program and it looks like a cross between a Prius and a Toyota Matrix from the mid-2000s. We all admire the efforts to go electric, but let's just say the i3 may not be what a player has in mind with a hole-in-one at the BMW Championship. 
Probably the best reaction was Rich Beem winning the Nissan back in 2007.
DIGGING A HOLE
In case you missed it, Tiger had another penalty ruling issue this past week at the PGA. We've been a supporter of Tiger here (we agreed with the Masters ruling in that it leads to world peace ... and gave him the benefit of the doubt for the questionable drop at Sawgrass this year) so we certainly have no ax to grind with Tiger. Despite his objections that the ball merely oscillated, it's pretty clear from the video that it moved.  Penalty and case closed.
It seems black and white here and a good call by the rules official and backed up by VP of Competition Slugger White. It is understandable if Tiger felt the ball merely oscillated at the time, but he doesn't really have an argument with this video.
Tiger was not the only one frustrated this weekend. Henrik Stenson shows the roller coaster emotional ride that is golf. This guy won the prior tournament.
FROM THE WIDE WORLD OF SPORTS
GolfChannel host Holly Saunders brought a unique approach to the first pitch at the Trop this week. 
We're all for spicing up ceremonial first pitches in baseball even if Saunders' effort was relatively benign. Perhaps we can get to the levels of South Korean baseball and martial arts stars.
[we realize the YouTube link requires you to leave the page and go to YouTube for this video so here's a preview]
Speaking of Asian combat sports, we couldn't let pass this amazing highlight from the U.S. Sumo Open this past week. 

Were you thinking the same thing, Kris Blanks does Sumo on the side? Okay, kidding Kris ... keeeeding ... we know you have guns. 
Sure Byamba Ulambayar got the best of Kelly Gneiting (surely household names and this was only for the benefit of you non-US Sumo fans out there) but there is one more obstacle in the way of U.S. Sumo domination ... a certain K.C. Royal baseball fan of the week.
NON-BONG RELATED MICHAEL PHELPS TRIVIA QUESTION
Olympic swimming legend Michael Phelps dropped this bomb at a European Tour pro-am a couple weeks back. Question: could Phelps have swum the length of this putt (53 yards) faster than the putt? [answer at the bottom]
MISCELLANY

Rickie Fowler is back with another fun installment of Dick Fowler. P.I. 
As noted on our Twitter account, it's amazing to think Fowler was born a full seven months after the last new Magnum, P.I. aired.
I've never heard of the Gator Boys and this gator seems somewhat less dangerous than Aaron Hernandez, but there is something hypnotic about watching these guys grab the gator.
Is it me or does the mini-putt guy seem more like a contestant on Project Runway than a guy managing a mini-putt course in the south.
Finally, here's a video of a guy just golfing ... and proof that celebrities really have no chance if TMZ can get by the secret service. 
Barack Obama -- Yells At Himself After Golf Shank ... 'Not THAT Far Left'
- Watch More
Celebrity Videos
or
Subscribe
[Trivia Answer: Although it seemed to take forever, Phelps' bomb on the green moved faster on average than he can swim the same distance. The putt is reported to be 53 yards or about 50 meters. Phelps never really swam that distance in competition so we considered his 100M times. We timed the putt at just under 17 seconds. Phelps best 100M Freestyle was 47.51 seconds so half that is aout 23.7 seconds. He could probably do better than that knowing he was going only 50M but still not enought to make up 6 seconds.  The current 50M Freestyle world record is about 20.91 seconds. Anyway, the putt was waaayyy faster!]
Cheers!
Douglas Han
Like what you read? Please share by passing it on to a friend via email or any of the other buttons above.
Have a submission for Golf Videos of The Week? Please email video or link via the Contact Page.