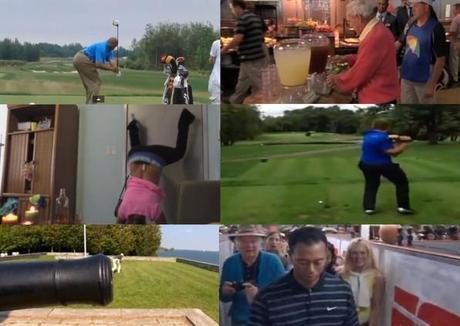 A slow week in golf does not mean a slow week in GVOTW. 
Before we get to golf, let's start with a really great reveal of a staged viral video from Jimmy Kimmel Live last night. 
Of course this harkens back to the great staged viral video by Nathan Fielder in Comedy Central's Nathan For You earlier this year. Some of the best parts of these videos are the actual new reports of the original videos. In the pig-saving-the-baby-goat video, they even got Brian Williams and the NBC Nightly News [apologies for the commercials].
W.C. Fields is credited with saying, "Never work with children or animals." Fielder showed the exception that you can work with child-animals.
HANK HANEY ALERT
We all recall Hank Haney not being able to fix Charles Barkley on his Golf Channel show. However you feel about Haney, you can't really blame him for Barkley. Someone was kind/cruel enough to create a Barkley swing montage this week. Delightful.
We've mentioned numerous times that hockey players love golf -- other than trying to avoid starting the golf season (i.e. you're out of the playoffs). We even theorized Teemu Selanne was faking how bad he was in his great video last week.
Well, here's a genuine honest-to-goodness hockey player that is horrible. At least Barkley makes contact.
Sure Galchenyuk probably has never played. The same cannot be said for some Canadian PGA Tour pros that made this attempt and the old make-the-golf-ball-look-like-it-came-out-of-the-cannon bit.
The only thing missing was a groin shot.
Okay, so maybe it was a bit slow in the golf-related videos this week. Thus, we thought it was a good time to consider the following.
THIS IS SPORTSCENTER ADVERTISEMENTS - GOLFER RANKINGS
Since 1994, ESPN has been doing the generally fun and funny "This is SportCenter" ads starring athletes and mascots as if they just hang out and work around ESPN along with the anchors. As far as we can tell, there are only four featuring golfers. We rank them worst to best below:
4th: Phil Mickelson
Can't blame Mickelson but just didn't resonate. Not to nitpick, but Phil is the swashbuckling risky player and they have him working on posture.
We know Phil is great in front of the camera but the script was the limiting factor.
3rd: Tiger Woods
We feel bad ranking this so low because it was among the very first "This is SportsCenter" ads back in 1984 (2nd ever?).
Give it to Tiger, he was really able to capture a humorless grind of an office job.
2nd: Arnold Palmer
It's his birthday but we still couldn't make this number one. The bit makes you smile just because it's Arnie. Yes it would be awesome to see Arnie mix an AP in person.
 Don't forget we show you how to make one from scratch in just a few minutes here in TheTeeSheet's own Clubhouse Kitchen
Winner: Rickie Fowler
This is not just a vote because it's new. It's the best written and funniest of the ads and overcomes Fowler's modest acting (I say he missed a chance at a great spit-take).
Fowler's ad even stands up to the all time greats. Consider by comparison, ESPN actually did a show ranking their top 50 "This is SportCenter" ads and this Robinson Cano one came out the winner. 
The mascot ones tend to be great and this has always been one of the best.
 Cheers!
Douglas Han
Like what you read? Please share by passing it on to a friend via email or any of the other buttons above.
Have a submission for Golf Videos of The Week? Please email video or link via the Contact Page.