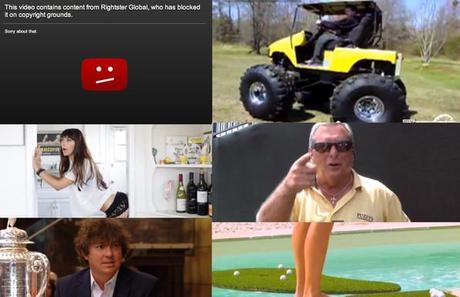 TEAM GOLF'S ALL TIME GREAT SHOT AND WHY THE LPGA SHOULD EMBRACE YOUTUBE
The Solheim Cup came to a close with an anticlimactic thud Sunday with Europe finalizing its destruction of the U.S. team. The most exciting part of the week may have been watching young 17 year-old English phenom Charley Hull break onto the golfing scene. She dismantled Paula Creamer 5 and 4 on Sunday in an early match as the U.S. properly put its big guns early in an attempt to get some early momentum.
The best shot of the week had to be Anna Nordqvist's hole-in-one to clinch her team's match Saturday morning.
By the way, the copyright holder blocked the original popular version of this video. Note to the LPGA and Ladies European Tour who contract out media rights: YouTube is your friend. Take a page from the NBA and embrace people wanting to share your product as much as possible and in a fun way. Think big picture.
You and your media partners should top trying to protect pennies with the law department and instead let golf fans share your product and players.
Dumb.
MAYBE LET'S JUST PLAY IT A LATERAL HAZARD
Speaking of dumb, this thing made its appearance this week ... useless, yet it is somehow hypnotic to watch.
This will not generate the same interest as Bubba Watson's hovercraft. 
THIS APPEARS RELY ON A VERY BROAD DEFINITIONS OF "GOLF" ... AND "JOKE"
While we admire Golf.com's effort to bring us golf jokes told by Champions Tour players, there are a couple of problems:
To be a "golf joke", it kind of has to be about golf. A joke told by a lawyer that is not about lawyers, is not a "lawyer joke" (or if it is part of your opening statement on the national stage, not even a joke). 
It kinda has to be funny to be a "joke" ... by definition.
We like Fred Funk and were relieved to see he did the best job.
At least Fred's were peripherally about golf. I'm not quire sure how these attempts fall under the category of golf ... or jokes.
We're not trying to be snarky and are fully supportive of jokes told by some old time pros; they should probably go with asking these guys funny stories or experiences over ba-dump-dump jokes. Funk had it right.
On the Internet, only Esquire has succeeded with celebrities telling lame jokes. They somehow figured out the magic sauce - can't quite figure it out.
Alas, among the Esquire category, there is only one decent video golf joke (link here - they did not permit embedding for that video).
OH FUZZY, CAN'T YOU EVER WIN ...
Well, among the unfortunate golf jokes from Champions Tour players is this one from Fuzzy Zoeller.
You have to hand it to Fuzzy, he still has the same style of delivery after all these years. 
Wait a minute ... there is something familiar about the way Zoeller tries (emphasize tries) to give the zinger and exit the stage. Oh yeah:
To get the bad taste of Zoeller's Tiger comments out of you mouth, we'll leave this segment with one more Esquire bit.

ANDY DUFRESNE EVENTUALLY DUG OUT
This falls somewhere between admirable and sad. It seems awfully boring and really didn't garner much attention -- surely less than Luke Bielawski probably dreamt up this scheme. Let's face it, there are certain feats that can be accomplished if you simply have enough time and don't bore too easily. That doesn't necessarily make it impressive or news. Guess what? What? Uncle Fred ran a marathon! What really? Ya, he finished in 6 hours, 14 minutes! Oh ... anyway, can you pass the potato salad?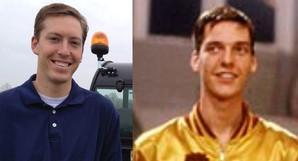 All in all, it was a decent effort by Mr. Bielawski so we'll give him the benefit of the doubt. Anyway, he kind of reminds us of Rade from Hoosiers (either that or everyone from Indiana looks the same) so he has that going for him.
Bielawski has a pretty good turn which is more than we can say for the President. Again, we saw his terrible putting last week. This week, he played with Larry David (one of our favorites) and showed us a pretty bad turn. As we said before, it doesn't matter where you are on the political spectrum, this just ain't a good swing. Hank Haney in 2017?
ONLY THE FRENCH
In what may the strangest and potentially dangerous activity out there (range balls, swinging wedges and alcohol at close range), it would seem only the French could try to make chipping golf balls into your pool like a classy afternoon.
Really, the only thing to take from this video is that a certain portion of the French population feel it is acceptable to drink rosé with ice cubes.
Mon dieu.
HDTV, GOLF AND SPORTS
The advent of high definition television and modern computer technology has really made sports amazing for the home viewer. It's hard to decide which sport it has helped the most. There are arguments for every sport that are too numerous to list here. In golf, following the ball has been made easier. Plus, details both wide (the course and scenery) and small (each blade of grass) has made watching at home an amazing experience. 
It had never occured to me that HD was such a great boon for boxing, aside from being able to now easily identify celebrities that are ringside. That is ... until this week. All doubt about the brutality (that's no value judgment, just an observation) can be laid to rest with this GIF from a fight on the new Fox Sports 1 this week.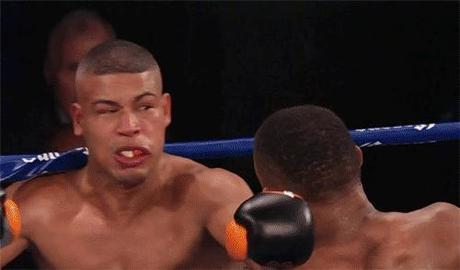 Giovanni Lorenzo gets knocked out with a hard right (yes, that's an understatement)
Ouch. Like a balata.
DUFNER 
Not that there was any doubt, but Jason Dufner was on Live with Kelly & Michael last week and shows again that he seems like a good guy. Great hairdo.
 Cheers!
Douglas Han
Like what you read? Please share by passing it on to a friend via email or any of the other buttons above.
Have a submission for Golf Videos of The Week? Please email video or link via the Contact Page.