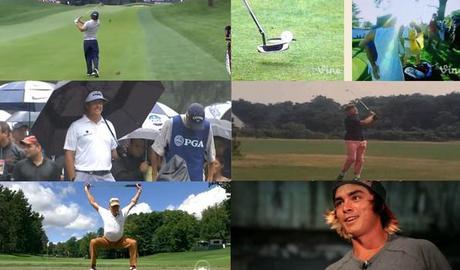 PGA REDUX
It's hard not to like Jason Dufner (you should check out Buzzfeed's 27 reasons to like the Duf, which Dufner himself tweeted out). He's been making the rounds from LIVE with Kelly and Michael to Howard Stern to CBS This Morning to the NASDAQ.
Dufner's pure ball-striking Sunday secured his victory; but, in the category of "every stroke counts", we should also look back to the Friday eagle as his margin of victory:
Maybe more prescient was the PGA Tour itself which released Dufner's These Guys Are Good video online only a week before the PGA Championship.
Dufner was actually not too much of a surprise based on his recent major performances (in terms of Vegas odds, he was essentially in the second tier after Woods, Mickelson and Scott). It is interesting to think how his career would look had he actually held on to win in Atlanta a couple of years ago (we actually did imagine this).
Other than his ball striking, the memorable moments include the two-footer he squeezed in at the 10th and, of course, his celebration with his wife.
Dufner himself has been unabashedly proud of the double-pat-then-grab of his wife's derriere on Twitter. Maybe there is just something in the water in Rochester. Check out the boyfriend of the woman in the green shirt (bottom right) during the PGA Championship coverage.
Admit it, when you first see the title to the YouTube video, you were concerned it was going to be Bones grabbing Mickelson.
WAIT ... NO COASTER?
Larry David fans will want to check out David on Feherty tomorrow night.
As a Curb Your Enthusiasm fan, my first reaction was shock that there are no coasters on the end-table (middle table?) upon which they are resting their mugs. It does not appear Feherty respects wood.
[NSFW language]
Of course Curb has had some amazing scenes on the golf course, which we have previously referenced here in GVOTW.
THE FIRST THREE-PUTTER

Doesn't matter where you stand on the political spectrum, this is a bad looking three-putt from the President.
Maybe a bit more interesting was this cool GIF of JFK's nice looking turn (via @KylePorterCBS's Eye on Golf).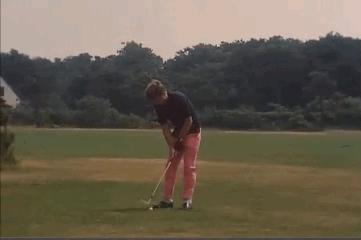 GOLF AND NINJAS
This funny swing has been making the rounds over the past couple weeks.
Whenever Ninjas are referenced out of context (although, when are Ninjas in context?), one can't help but think of this classic Onion bit about the Ninja parade.
From a golf standpoint (despite the efforts of EA Sport and TW14), it is unlikely a golfer will ever make the crossover into martial arts films as successfully as Kurt Thomas in Gymkata (a film which perhaps has one of the great movie trailers of all time). That said, if you had to choose one player to make the martial arts leap, I'd go with Miguel Angel Jimenez:
YOU MAY NEED A RED BULL TO WATCH ALL OF THIS
Lost in the hype of the PGA Championship was this attempt at a fun promotion by Red Bull and Rickie Fowler. We're all for trying crazy stuff like this but the ROI may not be great on this production.
Cheers!
Douglas Han
Like what you read? Please share by passing it on to a friend via email or any of the other buttons above.
Have a submission for Golf Videos of The Week? Please email video or link via the Contact Page.