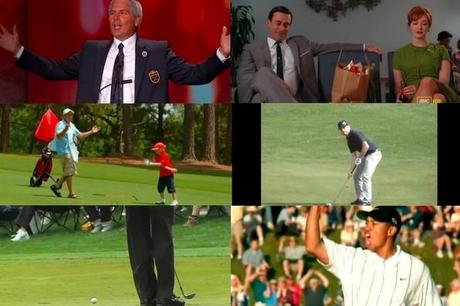 FREDDIE STARTING TO CHALLENGE DICK VERMEIL
Fred Couples may be the coolest guy out there who cries as much as he does. It never seems weak for Freddie and there's no way that full facial sob is contrived. It's the real deal. Couples was inducted in the World Golf Hall of Fame yesterday along with Ken Venturi, Colin Montgomery, Ken Schofield and Willie Park Jr.
It also must be nice to be friends with Jim Nantz because he is about the best person you can get to narrate a Hall of Fame video. Nantz also did the video for his CBS colleague Ken Venturi.
Everyone loves Freddie and if you need any more proof as to his magnetic quality (which you probably don't), here is his Hall of Fame acceptance speech. It can be difficult to describe what makes someone popular. Couples has a confidant intensity that underlies his genuine and humble demeanor that just draws you in.
There is a great story about a visit with Tom Watson in the speech.
Poor Colin Montgomerie. Always second fiddle and even at his inducement into the Golf Hall of Fame, he has go on stage after Sinatra.
If you managed to watch the Montgomerie speech, he does have an interesting story about his job interview before he was a professional and how it took place on a golf course. It is notable how matter-of-factly he spoke of this and how it was normal. I've certainly never been interviewed for a job on a golf course.
It seems even in the 80's and beyond, there is a certain old-boys-club attitude to business and golf. In listening to Monty, it seems even more ingrained in Britain than here in the former colonies. It could be a legitimate reason to question all-male clubs in the UK -- although it does not to seem bother the R&A's Peter Dawson.  Is it really true that you can't get ahead in business in Britain without being able to play golf? Well, for all things historical regarding gender issues, business, drinking, fidelity ... and now golf, we look to Mad Men for guidance.
"DO I REALLY NEED A PEP TALK?"
At the opposite end of the spectrum from the Hall of Fame comes this trailer (via Kyle Porter's Eye on Golf) for a documentary for the 7-year golf world championships of golf called The Short Game. The documentary follows eight little golfers to the world championships at Pinehurst including Anna Kournikova's little brother (I also suspect the Chinese kid was disappointed to discover he wasn't playing in the U.S. Open). Not surprisingly, the kids are entertaining and quote-machines.
The Short Game looks good and was even given a good review by a somewhat snarky non-golfing reviewer from Variety after it was presented at the SXSW Film Festival this past March. 
WHEN RULES CAN BE INTERESTING
While we may be growing weary of technical rules like Tiger's drop and waiver of disqualification and the proposed rule banning the anchored long putter, there was a more interesting apparent ruling on James Lepp's "saucer pass." Lepp is a former NCAA Division I Champion (2005) and finalist in Golf Channel's Big Break Greenbrier last year (in which he used the saucer pass).
First, what is a saucer pass? The term itself come from hockey (shocking that Lepp is Canadian) and describes a pass made intentionally in the air and not slid along the ice so as to hopefully avoid being intercepted. It is key that the puck spins so that it is like a flying saucer and will thus land flat for the recipient. Now personally, having grown up in Canada myself, the term "saucer pass" seems to be more part of the hockey vernacular in the Untied Sates than in Canada. Canadians tend to call it a "pass" whether it is in the air or on the ice. As an aside, it is always curious here in the US when people refer to hockey as "ice hockey", as if there is so much field hockey going on that there is danger of confusion. So let's clarify, "hockey" means "hockey" and only needs an adjective if it is not played on ice. Maybe it is a problem in Islamabad but shouldn't be an issue in Newark. And if you must know, Canadians simply call it "Dry Ginger Ale" and the Chinese just call it "food". If you need any help understanding Canadians' passion for hockey, here is an amazing introduction to this year's Stanley Cup Playoffs by the CBC.
To help illustrate the saucer pass, we can enlist Patrick Kane of the Chicago Blackhawks ice hockey team to explain:
Not surprisingly, perhaps the greatest saucer pass of all time was made by Wayne Gretzky (after having searched the entire Internet, no video evidence appears to exist). I actually can't recall the game or if it was even an important game, but on this particular play the Great One saucered it over one defender's stick, had it bounce perfectly over the second defenders stick, and settle on the ice at the stick of his fortunate teammate ... who put it in for a goal.
Here's a more recent example of a beauty by Detroit's Pavel Datsyuk (who probably has the best hands in the game today). Yes, this was intentional.
So, what does this have to do with golf and rules?
Apparently, Lepp gets a bit jumpy or yippy with chips on tight lies (this is something I just call "golf") so he addopted a bit of hockey into such chips. Lepp himself shows how.
Lepp can even pull this off from 60+ yards.
That's about net to net in a hockey rink.
Lepp's saucer pass was originally viewed as legal according to the RCGA/Golf Canada (Canada's governing golf body and version of the USGA and R&A). However, after consultation with the USGA and R&A, the bodies decided this week that the saucer pass is non-conforming (as reported in the Vancouver Sun). In that story, it was reported:
Dale Jackson, who chairs Golf Canada's rules committee, said the shot was ruled to be non-conforming at a recent meeting of the joint rules committee of the Royal & Ancient Golf Club, the United States Golf Association and Golf Canada.
"The rule that would be breached is Rule 14-1 that says in part the club can't be pushed, spooned and scraped," Jackson said. "Pushed and spooned don't apply here, but scraped here basically means you are intentionally dragging or pulling the club along the ground before it hits the ball, which is what he does."

Let's take a look at the wording of Rule 14-1:
14-1. Ball To Be Fairly Struck At
The ball must be fairly struck at with the head of the club and must not be pushed, scraped or spooned.
Is Lepp "scraping" within the meaning of the rule? Jackson of Golf Canada indicates that Rule 14-1 says the club can't be "pushed, spooned or scraped." However, are those terms referring to the ball or the club in the wording of the rule? Perhaps it a difference without a distinction ... although constitutional lawyers make a living making such distinctions. Is it possible for Lepp to argue that the rule says the ball cannot be pushed, spooned or scraped and there is no rule against the club doing those things. In fact, Lepp could argue the rule doesn't even make sense if it is referring to the club because you can't "spoon" a club -- so those terms have to be referring to the ball. Thus, Lepp could say he is not scraping the ball because he actually strikes the ball and it spends no more time on the clubface than a chip. He could also add that plenty of shots including a flop shot and the way some people putt involve situations in which the club slides along the ground in advance of contact (or most amateurs hitting any iron and fairway wood for that matter). Lepp could argue that is the entire basis of utility clubs and wide-soled player-improvement irons.
As we analyzed in detail in respect of the Tiger situation at the Masters, the Rules of Golf also have corresponding "Decisions" that assist in further defining the Rules. In the case of 14-1, there are several Decisions (e.g. the pool-cue shot is illegal) but none specifically deal with the meaning of "scraping."
The closest we come to guidance is Decision 14-1/4:
14-1/4
Striking Ball with Half an Inch Backswing
Q. A player's ball lies close to an out of bounds fence, but there is room behind the ball to insert an iron club or a putter and leave a space of half an inch between the ball and the face of the club. If the player plays a stroke with such a limited backswing, is he in breach of Rule 14-1?
A. It is possible to strike a ball fairly with a half inch backswing. However, in most such cases the player would be pushing the ball, contrary to Rule 14-1. In the absence of strong evidence to the contrary, it should be ruled that the player has pushed the ball.
In order to strike the ball fairly, it must be swung at with the clubhead. If the ball is moved by any other method, it has been pushed, scraped or spooned.
If a ball is fairly struck at, there is only momentary contact between the clubhead and the ball or whatever intervenes between the clubhead and the ball.
There are arguments on both sides. The governing bodies can point to the existing Decision 14-1/4 and note that the club "must be swung at with the clubhead" and Lepp's shot is not a swing but a slide/scrape. Alternatively, Lepp could say he has fairly struck the ball because there is only momentaty contact between the clubhead and the ball, like any chip.
This is a tough call.
It actually looks kind of fun and as a Canadian and hockey fan, I want to be on Lepp's side. However, to be consistent with my rationale behind banning the long putter, the shot itself looks bad and is designed to remove nerves from a situation. TheTeeSheet has to come down on the side of the governing bodies: illegal.
Anyway, as my golfing friends would properly point out: anything inside of 60 yards, bunker or not, you should be chutting anyway!
NEVER MIND FROM THE FRINGE, SERGIO USES THE WEDGE ON THE GREENS
Well, the story leading up to and during the Well Fargo Championships at Quail Hollow last weekend was how terrible the greens were (a couple had to be completely resodded just prior to the event).
Sergio Garcia may be a bit jumpy with the putter but no one can question his comfort with the irons and wedges. More proof is that he used a wedge to hop over a spike mark to make a short "putt" at Quail Hollow. Not exactly a ringing endorsement for the head groundskeeper.
Never mind the belly-putter, the fat grip putter or Stan Utley, maybe Sergio should just go with the wedge and take the putter out of the bad altogether.
GET A GRIP
Hmmm, I've never been a tinkered when it comes to my own clubs and just take them to the shop. There always seemed to be a lot of mystery behind getting new grips and how many layers of tape etc. This fellow makes it seem awfully easy!
Why do I always have to wait a week?
NO MAN'S LAND IS AN ISLAND GREEN
The PLAYERS Championship is this week which means the island green at 17. Although this video is several years old, it is still worth a look to get warmed up for the PLAYERS and features Hall of Famer Couples.
Douglas Han