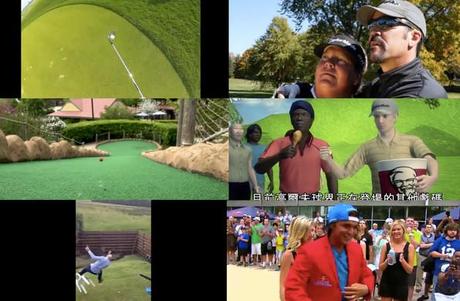 FRENCH HOT DOG
Romain Bechu is not a delicious salad with creamy dressing but apparently a pro-golfer. He may become better know for trick shots and his control of the ball with the wedge. It makes Rory McIlroy and the other Nike sponsored players look pedestrian at best.
It's pretty impressive and for some reason reminds me of the minor league baseball player that could spin the bat while swinging. Remember this guy?
Bechu is ranked 1550 in the world and tied with me in 2013 having gained zero world ranking points. So, there's some work to be done.  Let's hope Bechu makes it further than trick swinger Josh Womack who does not appear to have ever made it to the majors before hanging it up after the 2011 season. Salad or not, the PGA Tour media would eat Romain up if he ever got his card.
CHANCE MANNING RETURNS!
After what appears to be a near-nine-month hiatus, it looks like Golf Digest's Dear Lumpy feature has encouraged the return of under-appreciated and under-viewed golf instructor and realtor Chance Manning.
Here's the latest starring Lumpy himself and although you typically do not find swing tips here on TheTeeSheet, we make an exception here (and the end-credits themselves are worth checking out): 
The fortunate return of Chance Manning (part of Bogey Pro's marketing campaign and we have no affiliation with them) allows us to look back at one of his many underappreciated videos. How does this video only have 416 hits (as of Tuesday morning)?
Looks amazing but I would advise Jeff Overton to avoid using this anywhere near the course. In case you missed it, the arcane rules of golf came into play this week again as Overton was disqualified after using a putting training aid during a delay during the 10th round. This wasn't a rain delay but a back up on the 10th hole of three groups. The players were told by a marshal they could putt at a designated practice green (which was true - it was the swing aid that was the violation). Overton then used an alignment stick while practicing. Now, I like Overton and obviously he's no cheater ... but:
Doesn't everyone know you can't use a training aid mid-round? I can't be the only one to remember when Juli Inkster got DQed a couple years back for using a donut mid round (that one was even caught on tape!). Ahhh, donuts!
Overton is an awesome putter, does he really need the alignment sticks on the 10th hole and what was the caddy doing pulling them out without asking more questions?
Is this a double standard compared to the ruling Tiger received at the Masters? Possibly and there could be arguments made on both sides (after all, that's what lawyers do even when if comes to deer antler spray). However, the USGA made pretty clear that the ruling with Tiger was based on exceptional circumstances and 33-7 (waiving a DQ) should be done only in such extreme circumstances. They even released the analysis and attempted to narrow the Masters ruling as much as possible. Mostly though, it is not as if the marshal told Overton the aid was okay but appears simply to have said they could practice on a particular green. That is different than saying the swing aid was okay (or even deciding as a committee after the fact as in the ruling involving Tiger). Sure you may think it is a dumb rule but there is not real gray area on this rule (see USGA Rules 7-2 and 14-3).
Sorry Jeff, it's a harsh rule but black and white... and you're not Tiger.
SPEAKING OF CHARICATURES
My favorite new favorite mini-putt purveyor is Stuart from Congo River Miniature golf. Only a mean spirit could not appreciate his genuine enthusiasm. The slo-mo, dramatic music and corny edits are impressive in their lack of irony.
This next one invloves a shot in which you can intentionally run the ball down the river.
It is difficult not to agree with Stuart that hole #6 on the Rapids Course is scenic and "perfect for that picturesque date night!"  
Letting the golf ball ride the rapids at mini-golf seems a bit safer for teenagers than some of the alternatives.
TIGER AND SERGIO
Maybe you were surprised when we said it was the Chinese that are fixated on fried chicken when the Tiger-Sergio spat reached new and unfortunate levels. Well, further proof can be found in the famous Taiwanese animators take on the long-putter anchoring ban released this week.
As mentioned here before, while the Taiwanese animators seem ubiquitous these days, it was the Elin-Tiger fight that really started it all for the news animators. It would seem they have not come as far as Pixar over the years in terms of nuanced animation but the videos have become part of pop-culture -- and yet another example of Earl Woods' prediction that Tiger would change the world.
KUDOS FOR BREVITY BUT NOT ORIENTATION
We all love drunken (?) pratfalls as much as the next person, and this fellow through does deserve some credit. Unlike so many similar videos, at least these guys understood the importance of brevity.
Like everyone, the vertical picture is annoying so here's a reminder of the importance of always holding your phone in landscape position when taking videos.
Amen.
NO JACKETS REQUIRED
Player and sponsors never seem to get enough of golfers hitting off of buildings and elevated positions. There are too many examples to list but off the top of my head, Tiger off the Dubai hotel, John Daly over Niagara Falls, Dustin Johnson somewhere and most recently long driver Joe Miller off the roof of a the clubhouse. Ricky Fowler joins the club here. 
While this is all innocent enough, maybe Fowler should decline the use of the red jacket. Colonial ought to think about dropping the plaid jacket too. A jacket in golf means one thing: the green jacket of the Masters. Everything else seems like bad luck. Sure even Arnie's Bay Hill has a jacket but it just doesn't seem right. There is no way I would put on the Greenbrier's green jacket even if I won by 10 strokes. It seems like horrible mojo. 
The green jacket in golf should be treated like the Stanley Cup: with reverence. Most professional hockey players will never touch the Stanley Cup unless they have actually won it. Never mind touching, many don't like to be in the same room as the Stanley Cup unless they have won it because they don't feel worthy. That is how the green jacket should be in golf and any other jacket is just mocking that reverence.
My advice - ditch the jackets in golf except at Augusta. As a player, politely decline anything but the real thing. It's never a good idea to mock the golf gods.
SPEAKING OF GREEN JACKETS
The Memorial is this week and the PGA Tour has a nice video about Jack Nicklaus. We can never get enough of Jack here.
Douglas Han
@theteesheet