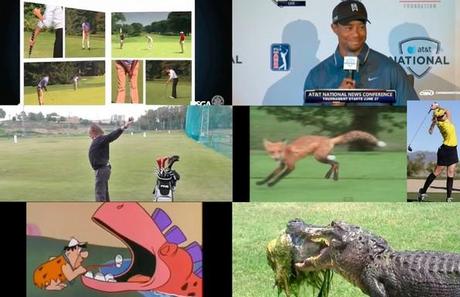 ANCHORS AWAY!
There is a Latin expression in the legal world: res ipsa loquitar. Literally, it translates to "the thing itself speaks." To overly simplify, it essentially means the result speaks for itself or proves the point. Consider it the Latin version of "just take a look and this mess -- do I need to say anything more?"
In some ways, it was essentially the tact the USGA and R&A took when they confirmed and implemented new Rule 14-1b banning the anchored stroke. Of course, they were not that concise and provided a 40-page explanation that looked a lot like a legal memorandum. It's actually very well written (if the same people responsible for this had handled Vijay Singh's deer antler spray situation, the PGA Tour would likely not made a lawsuit, albeit still dumb, so easy to file). Despite the long and technical legal nature and structure of this dissertation, what underlies the whole tins is what we all know deep down. The anchored stroke looks and feels wrong and is just not golf. 
The USGA & R&A start with a clever approach by saying it doesn't matter whether or not the statistics show it makes putting easier. That is not the point. The only issue is whether if has the potential to do so and more importantly, whether it is a stroke within the nature of golf from s subjective sense. A telling quote is:
The concept of intentionally immobilizing one end of the golf club against the body, in a manner equivalent to creating a physical attachment point to use as a fixed fulcrum or pivot point around which the club can be swung, is a substantial departure from that traditional understanding of the golf swing. Reduced to its most basic elements, golf involves a player swinging a club at a ball to move it toward and ultimately into a hole. The player's most basic challenge is to direct and control the movement of the entire club in making that swing. Anchoring the club while making a stroke also involves a challenge, but it is a different one, in which the player uses the immobilization and stability of one end of the club as an essential component of the method of stroke. It is not the same as freely swinging the club.
The application of the rule itself is summarized in this handy USGA video:
TheTeeSheet has been on the record ad nauseam in favor of banning the anchored stroke (here originally, here with Tiger, here with Trevino and even here celebrating Adam Scott). As a recovering lawyer, it is obvious the entire issue has been framed as anchoring (instead of putter length) because of the concern about legal action from manufacturers and player relying on the long-putter. In many ways, it reads like a legal memo in response to how we could be sued if we don't reasonably address every concern.
All that said, the governing bodies summed it up eloquently:
... we monitor and update the Rules of Golf to protect the essential character and challenge of the game for all players in the future. Our mission in writing the Rules of Golf is not to make the game easier to play or to maximize participation at any point in time, but rather to preserve and strengthen the elements that have made golf a special sport that will thrive long into the future. Although it would be unfortunate if anyone were to play less or stop playing because of this Rule, no one should assume that the only golfers who care about this issue are those who use anchored putting strokes. On the contrary, a great many sentiments were heard and expressed to us in the course of this review from those who believe that anchoring is undermining the game. All who are concerned about the health of the game need to consider these sentiments as well. Based on our review, we conclude that the long-term health of the game will be enhanced by reinforcing the core traditions of the golf swing and the challenge that attracts people to the game. 
The USGA and R&A did the right thing and for the right reasons. There's only one more thing to do.
TIGER AND SERGIO: PLEASE DO NOT STOP
This is of stuff we need to make golf even more fun to watch. It doesn't even matter whose side you are on. It like when you have a Secret Santa (with stealing -- the only real version), this is only worthwhile if there is some acrimony and bad feeling.
Sergio Garcia in turn responded with some great quotes. Earlier today, Garcia said this:
"He called me a whiner. He's probably right, But that's also probably the first thing he's told you guys that's true in 15 years. I know what he's like. You guys are finding out.... That [Tiger does not want to clear the air] doesn't surprise me. That's what he's like .... First of all, I don't have his number. And secondly, I did nothing wrong and don't have anything to say to him. And he wouldn't pick up the phone anyway. But that's OK; I don't need him as a friend. I don't need him in my life to be happy and that's fine. It's as simple as that. Like I have always said, I try to be as truthful as possible. That's why I think sometimes most of the people love me and some hate me. I understand that but I'm not going to change. That's what makes me who I am and that's what makes me happy. And that's what makes the people I care about happy because they know they can trust me. Tiger doesn't make a difference to my life. And I know that I don't make a difference to his life."
This would get better if Garcia and Woods are both in the hunt at the U.S. Open or the Open Championship. Please don't clear the air or hug it out.
As we've said, it doesn't matter if Tiger is or is not a great guy or ignores or is blind to social cues (in Tiger's case, we don't have to worry about an effective hug-out with Sergio). His lack of grace (or awareness) can also be seen in this story from Rocco Mediate that came back to the forefront recently.
As for Sergio, he is not exactly the model of charm and grace himself. When you think of charming and graceful Spanish golfers, there is only one person that comes to mind, 
In the case of Tiger and Sergio, kudos to the media for continuing to egg them on.
WILDLIFE AND GOLF
There are surprising number of videos of foxes stealing golf balls out there and here's one from this week.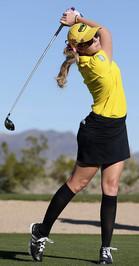 This particular fox is only notable because the black socks look is reminiscent of Paula Creamer's Thursday outfits ... that we all agreed were good for golf.
A little searching shows a great number of wildlife-on-the-golf-course videos out there. These are relatively innocent and let's not get all worked up about golf courses intruding on nature. Golf courses are no more guilty (and likely much better) than housing communities or used Russian jet fuel barrel depots. 
Perhaps a more impressive jaw this week comes from this gator who for some reason is intent on moving this boulder. This guy would be either good as part of the gallery for Tiger or a worker for the Slate Rock and Gravel Company.
It is reminiscent of Fred's great triumph on the links (and admittedly suggests golf may have been around before the Scots 700 years ago).
One of the best parts of this video is homage to Shell's Wonderful World of Golf when showing the graphic of the hole.
WHEN NATURE CALLS
Wildlife is not the only time nature imposes itself on the golf course. This week provided two great examples.
The hail video came via the twitter feed of Geoff Shackelford. 
The other version of nature calling came during last week's Volvo World Match Play with Nicolas Colsaerts.
Granted, it is not exactly an exciting video but mostly gave immature commentators the chance to squeeze out some bad puns. We have a couple points: one, that lazy attempt at humor is crappy and such innuendoes essentially constitutes loafing on the job; number two, we would not crouch to that level in loo of actual sophisticated comedic writing. Golf is a serious game and we respect Colsaerts for appropriately playing with his balls in his attempt to capture the throne of this championship. Good day.
DOING THE MATH 
This office putt has been making the rounds this week. Not bad but we've broken down the odds of seemingly miraculous putting exhibitions before.
In this case, I'd hope to make it one out of ten times and probably wouldn't give a guy better than 7-1 odds to make if I were a betting man (i.e. would you put up more than $140 against $20 of a co-worker who works for a golf club manufacturer to make that putt)? 'Nuf said.
NICE STORY OF THE WEEK
This is a nice story about an autistic kid from Los Angeles area.
My primary thoughts: I'm glad the kid doesn't use a long putter; and is it just me or does everyone from LA look half-black, half-hispanic, half-native and half-asian? I know that doesn't add-up, but the USGA and R&A said numbers don't aren't important on certain subjective matters ... either that, or Colsaerts would back me up that things this week always seem to add up to number two.
Douglas Han