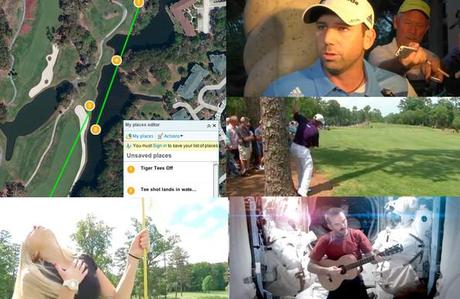 FOLLOWING MORE TIGER DROPPINGS
Tiger Woods not only wins The PLAYERS Championship but also is the source for much of this installment of Golf Videos of the Week.
Before we get to the spat with Sergio, let's take a look at a possible new issue regarding a drop Tiger made on Sunday. It was the 14th hole at Sawgrass and he pop-hooked a shot into the drink leading to a double-bogey pretty much letting Garcia, Jeff Maggert and David Lingmerth temporarily back into the tournament. Let's take a look at the conspiracy-theory video making the rounds (originally via CBS Sports' Kyle Porter's Eye on Golf).
Now, just because this fellow Ziegler may not like Tiger does not make him wrong (I'll assume this because of Tiger's golfing with Obama and Ziegler is on the record as a Sarah Palin supporter). While it may be going a bit far to say there was some sort of media conspiracy to help Tiger out, it is worth considering further. It is an interesting issue not because I doubt Tiger's on course integrity, but more whether it is insightful as to how professionals deal with each other on the course in rules situations.
First, let's consider the facts. One of the problems with the blimp shot is that it is not directly overhead so the ball flying over the water in the video may not reflect whether the ball was actually over land (thus allowing for Tiger's drop where he made it). In such a case, let's go to the satellite! (thanks to Bing Maps)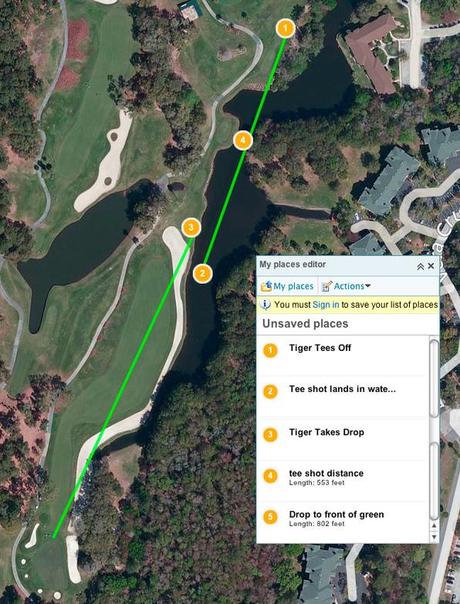 So, looking from the satellite, it if not clear whether the flight path was over the land in the area where Tiger made his drop. Was there anything untoward about the entire episode or some kind of conspiracy or attack on Tiger's credibility? No. Consider the following:
He hit a fairway wood (reported to be the 3 wood) and it is certainly possible that he hit a pop-up hook that crossed the land where he dropped before going in the water. Despite the contrary comment of the conspiracy theorist in the video, it certainly is possible to hit a pop-up hook with this kind of club (I know from personal experience). Also, he was lined up on the left side of the tee box aiming right trying to hit a draw which would further support the likelihood that the drop was proper.
From the video, you see that Tiger looked away while the ball was in the air. So he likely never watched the ball enter the water. He ended up asking his playing partner Casey Wittenberg who confirmed that he told Tiger he thought it crossed at the bunker where he took the drop. Wittenberg has been adamant he believes the drop was good.
Worst case likely is that Woods would have had to take a drop at the peninsula of one the forward tees were. From there, Tiger would have hit a stinger iron, got on with a short iron and two putted for double bogey anyway. It's not like he snuck out of there with a bogey. It was a double bogey and wherever he took his drop (or even re-teed), there was likely no impact on his ultimate score on the hole and thus no impact on the tournament.
Unlike the Masters ruling, once Tiger, with Wittenberg's help, decided on the drop and there being no further evidence before he shoots, there is nothing to correct even if it was not the correct spot. Even if a video is uncovered after the round with definative proof he dropped in the wrong place, his drop would still be fine (the Rules of Golf and corresponding Decisions are clear in this situation).
More interesting is the fact Wittenberg himself seemed to easily and comfortably provide such a beneficial place to drop. Surely it is not the natural inclination to give a fellow competitor an advantage. So why does this happen if, to quote Johnny Miller, it is a "borderline situation"?
Ignoring whether this was Tiger, it begs the question whether PGA Tour players tend to provide fellow playing partners the benefit of the doubt when assisting another player out with these kinds of rulings. When a pissed-off player walks up to a spot he thinks his ball crossed a hazard line and asks, "do you think about here?", it must be very difficult for a player partner to say, "uh-uh tough guy, back up about 30 yards!" Think about how awkward this is with your weekend foursome. It must be doubly awkward when it is a fellow professional who has just dunked one in the hazard. It is probably ten times as awkward if it is Tiger.
I'm not saying it is a conscious bending of the rules but more of a subconscious quid pro quo to not be a hard-ass about this kind of thing with your fellow players. Let's get along and go along.
However, if Tiger's playing partner for the 4th round had been Sergio, he may have said, "uh uh tough guy. Back to the tee!" In case you missed it, here is a summary of the Sergio and Tiger beef which was certainly one of the highlights of the weekend. 
I suspect this was a bit of gamesmanship on Tiger's part. Despite what Tiger said in the video, the marshall has subsequently claimed he did not tell Tiger it was okay. In fact, the excellent piece by Michael Bamberger in SI quotes the marshall as saying they are told not to even speak to the players!
I'm no Sergio hater and like that he shows his emotion and fallibility. At the same time, I kind of hope Tiger was tweaking Garcia a bit by pulling his club during Sergio's backswing. A bit of bad blood makes for good television. Surely we were all relishing the thought of a Tiger-Sergio playoff late Sunday afternoon. Alas, Garcia has yet to ever beat Tiger when they have played in the same group in a PGA tournament (although I do recall watching the night golf experiment in the early 2000s once when Sergio beat Tiger at the Battle of Bighorn). Sergio should be careful about poking the bear or this kind of thing happens [warning: not for the faint of heart - skip this video if you don't like the idea of a bear attacking a monkey at a very sad looking Chinese and non-PETA approved circus. Click if you are looking for that sort of thing]

Overall, The PLAYERS was chock full of great videos. Lee Westwood finished strong this weekend despite a complete whiff at the start of his round Saturday.
Westwood finished tied for eighth along with six others, including miraculously Ben Crane whom a marshall tried to forcibly remove from the course in the second round -- as you can see here.
Finally, perhaps this is the final reason The PLAYERS Championship cannot and will not be considered a major. Aside from all the obvious reasons, majors are about history and tradition. While I'm no luddite, this is what the PGA Tour provides to signify Tiger's win. Not exactly bagpipes and Garry Harvey engraving the claret jug by hand.
EUROPE PLAN CHANGES FOR RYDER CUP
Sergio may like this idea for golf with his occasionally balky putter. This Real Madrid squad still has some players from the 2010 Spanish World Cup Team so they are used to international pressure. 
I admit it looks kinda fun. And at least the guys are wearing knicker-length pants, which are required by the PGA Tour, unless ...
KNICKERS IN A KNOT
Ashworth Golf today put out an amusing video to try to promote professionals wearing shorts.
While it is a fun video, this is a terrible idea. Shorts on the PGA Tour are simply too informal. It's the one way you can tell you can instantly tell you are watching men's professional golf.
I admit we can all understand hating pants because they are ugly.
It is just a bit curious that a clothing company is starting a petition to sell items with less material and presumably less opportunity to make cool designs and use expensive new materials.
W FOR EFFORT
Although about a year late to the game, we give the Wofford Golf teams some credit for putting themselves out there in a (mercifully abbreviated) version of Call Me Maybe.
Of course the best cover version of a song on video in the entire solar system this week had nothing to do with golf (well, the Wofford golf teams were lip-syncing and the best non-golf video in that category this week was by Jimmy Fallon and John Krasinksi). Canadian astronaut Chris Hadfield on board the International Space Station did this amazing cover of David Bowie's Space Oddity. If you haven't seen it, Hadfield posted this from his twitter account just before heading back to earth this week.
Douglas Han