DUFNERING!
While the static nature of Dufnering is elemental to the awesomeness of this internet sports meme, Dufnering did manage to make the Videos Of The Week. Bubba Watson and D.A. Points probably get biggest kudos for facial expression and timing.
If you don't know the Harlem Shake yet, you're not missing much but you do have to know your memes.
GVOTW also gives cleverness points to the Vikings of Berry College in Georgia by mixing memes (and also managing to put a twist on the annoying Harlem Shake video memes with the static second half Dufnering of the video).
SUPER SLO-MO SWINGS (AND WE'RE NOT TALKING BEN CRANE OR KEVIN NA)
Cool this week was the PGA Tour putting up a bunch of HD slo-motion swings they captured at the 2012 Barclays. Here are some of the more interesting ones, being Tiger and defending Masters champ Bubba Watson. It's best if you select the highest definition in the YouTube settings for the videos.
Sergio Garcia's swing is also interesting because his finish seems almost haphazard for a guy known for precision ball-striking. It is amazing to see how wild he seems at the finish and it is amazing how much he rotates around at the end. Very cool video. It reminded me of another swing:
Here are a couple more interesting comparisons: Tiger's swing from the old Nike ad from mid-2000s and his current swing from 2012. 
It is always interesting to see a clean swing like Mahan (or Luke Donald) alongside another classic.
As noted above, it is best to make sure you have the YouTube setting on the highest definition possible for full effect. Alas, we can only dare to dream of this video in HD.
PHIL'S NO FLOP
It just made the GVOTW last week and is almost getting stale for this week but in case you missed it.
Of course we shouldn't be that surprised seeing that Mickelson has shown how to go backwards, so the straight up shot is not that big a deal (unless you're the person standing in front of him).
MAYBE THE TSA NEEDS TO RE-THINK ALLOWING GOLF CLUBS IN THE CABIN
It appears one of the unintended consequences of the TSA allowing golf clubs back on board flights is that it may have got Southwest Airlines thinking in advance. 
It turns out the TSA should extend restrictions to include kids plastic clubs or maybe require that Gary McCord do in-flight commentary. Indeed, one of the funnier moments of Tin Cup is McCord grabs the bar-soda-dispenser as a microphone to start comentating the bar bet and Roy tells Romeo "to get control of that guy". Sadly, the Internet only provides audio.
More interesting is that there is now a Team Adams-Southwest with the bigger names being Aaron Baddeley, Jeff Overton and Kenny Perry. Baddeley and Perry should be given high marks for feigning genuine enthusiasm.
There is something positive here though. As suggested by TheTeeSheet, sponsored groups of golfers could make for actual teams and an interesting season long team format that could run concurrently with stroke play tournaments. Now this team would probably not have a chance against a powerhouse like Team RBC with the likes of Ernie Els, Luke Donald, Brandt Snedeker to name just a few or even the ubiquitous RocketBallz guys ... well, at least until they reach the pearly gates because at first glance the Adam-Southwest team appears to be based on Christian faith over world golf rankings.
HARTO-THROB STRIPS
Danish golfer Andreas Harto got serious last week to make this greenside shot.
The really issue is not that it answered the boxers of briefs question (realistically Harto does not have an important enough job for that to be relevant). I does raises the question as to why Harto runs like a 8 years old scurrying from the swimming pool to his mom holding a towel. Just saying.
Now, Harto is positively modest compared to Henrik Stenson back in 2009 at the WGC CA Champtionship in which he stripped right down to his Bjorn Borgs (I would assume that is a Swedish euphemism for underwear, just like referring to your Calvin Klein's now ... well, at least in the 80s). What is notable about Stenson's Borgs are that times have changes such that Borg brand underwear is actually longer than the shorts the tennis great used to wear -- and not as upsettingly revealing.

Northern Exposure: Henrik Stenson at the 2009 WGC led the way for Scandinavian exhibitionism in professional golf ... Jury is out whether the LPGA should follow suit
While we have yet to see an LPGA player get down to the unmentionables, we are on the way to seeing some skin on the cover of Golf Digest with GolfChannel personality Holly Sonders getting skimpy for the May issue.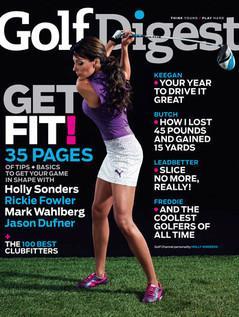 While the cover is not exactly pin-up stuff, Golf Digest appears to be promoting the sex appeal of the photos on the inside. Is GD is going to go the way of GQ? In the 90s, GQ had to start competing with lad-mags like Maxim, Stuff and FHM so it started putting sexy women on its covers. It probably started around 1995 with Uma Thurman and Sharon Stone (granted, there were a few comediennes prior to that). Now there is a steady stream of half-dressed women (or less) on the cover of the leading men's fashion and clothing magazine. Granted, the come-hither look is going to be a bit more challenging to put in context for a golf magazine. It looks like GD is willing to try. We may be headed to eye-candy in general as the Golf Channel budget for peroxide looks like it is starting to challenge Fox News. 
Speaking of men's roles and peroxide blondes, the best video of the week is not golf related: one of the original unaired pilots for Three's Company hit YouTube this week. It turns out there were a couple pilots for this remake of a successful British comedy at the time (the importation of television concepts to the U.S. continues today). It is fascinating to see how different this pilot was compared to the actual version that hit the air. This version seemed a bit sharper and better written (although it probably would not have been as successful then or now - we haven't evolved that much if you consider Two Broke Girls). 
[alas - as of Tuesday late afternoon, it appears a copyright block went up on this. I hope holder or someone puts it back up or it can be found elsewhere because it is amazing and to everyone's benefit]
While small-town and Indian casino musical dinner theater would have suffered in the subsequent decades without Joyce Dewitt, the original character and casting for the brunette had a bit more edge and comedic chops than Janet/Dewitt by today's standards. Of course, it is not possible to argue with the ultimate casting of Suzanne Somers and her ultimate contribution to pop culture (even beyond Chrissy and She's The Sheriff).
The Shake-Weight seems positively PG by comparison.
MASTERS PREVIEW
No Masters teaser video this week. No need - we're only 8 days away! Look for an extensive Masters preview items all week at TheTeeSheet.com.
Douglas Han
@theteesheet