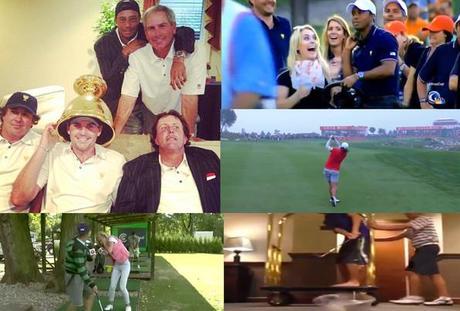 PRESIDENTS 'SUP

It's not that there is anything to hate about the Presidents Cup. It simply does not inspire. Sure the actual cup itself is ugly and the International Team logo is lame, but that's not the problem. It just doesn't seem to mean anything. Maybe that's why the players seem so relaxed in general. Hell, even the wildlife doesn't get too excited. Never mind the players, the squirrel should be checked for Ritalin and beta-blockers.
The better photos of the year came from Amanda Dufner's Instagram account.
Nice pic and it says a lot about how much the guys must like Fred Couples. That said, it also seems pretty clear the Presidents Cup is not that big a deal to these guys. It is clearly more of a fun time to hang out rather than relief and joy over winning.
I do like the idea of the giant heads making it to golf.
Not to beat the point to death, but this is more like three groomsman having a drink after the reception rather than competitors stressed out in the middle of a serious competition.
I get it. It's fun. It's social. The Captains didn't even care about the singles match-ups -- which at least could have created some interest. The reality is the players don't want the pressure this time of year. Fine. Let's just not pretend it is anything more than a fun exhibition.
Do you think Lindsay would joke around with Tiger like this in the middle of a major championship?
This is how relaxed Tiger was.
One of the fun things about match play is that you see players (even Phil) try some stuff they wouldn't try in a stroke play event. Here, Phil tries a crazy shot, hits the tree and then even gets the crazy skip off the water to stay dry. It's the kind of shot that is usually pulled off by your lucky buddy who ends up winning your match by one ... and then have to listen to the 18-handicapper explain how he crushed you over the beers you had to buy. 
As an aside, anyone who wants to criticize Keegan Bradley over using the long putter - he can pick you out of a crowd.
Finally, one of the lasting highlights of the Presidents Cup was the streaker on the last day. Stephanie Wei actually has an appropriately nutty interview with the harmless streaker in this fun piece. 
We have nothing bad to say about young women (or men?) willing to take off their clothes and run around. It is actually refreshing to see how relaxed and cool everyone was about the whole thing, from the players to the police to the Muirfield Village staff.
The Streaker is attractive enough but her exhibition does show us the difference between attractive and sexy. The Presidents Cup Streaker was just too damn fast to be sexy. This would not appear to be a problem with Dustin Johnson's fiancée this week who released this video.
CLUTCH/LUCKY SHOT OF THE YEAR AND WHY STACEY LEWIS IS  SHOULD STAY ON TWITTER
Shanshan Feng has the clutch shot of the weekend. It was so lucky that is caused Stacey Lewis to quit Twitter. Lewis was really sore about this one and  before completely deleting her account, she had a series of pissed of and passive-aggressive tweets:
Congrats to Shan Shan on the win, crazy shot at 18. Very disappointed in fans in China this week."
"Between all the cameras and cheering when I missed putts. It was just really hard to have fun out there. On to the next."
"Btw what (sic) till you se the shot on 18 that won it! Let's just say it involved a rock and the flag stick.
Lewis should have stayed on Twitter. There was nothing wrong with her comments and if anything, it was good to see here competitive fire and how much she hates losing. If anything, it makes me like Lewis more. It was a crazy shot by Feng on 18. It probably was hard to have fun when everyone is cheering for your opponent. Feng's awesome shot on 18 did involve a flagstick (and probably a rock). 
Now, just because we like Lewis showing her true feelings doesn't mean she was not being a sore loser (which is fine -- especially right after the match). In truth, although Feng hit a lucky shot, it is important to keep in mind:
Feng was leading going into the 3rd round
Both Feng and Lewis shot 68 in the final round
Feng's shot on 18 was a result of her going for it. Sure she may not have hit the hot she wanted but she was clearly going for the green but probably to the safer side. Even though Feng did not hit the shot she wanted, the ball essentially tracked the entire way directly at the pin, bounced once hard in the rough and off the flagstick. If Tiger hits that shot, we would wax on for days. It's not like the ball bounced out of the hazard she bounced it off a bridge in the middle of the water and onto the green.
Feng is not some lucky flash-in-the-pan. She was ranked 9th in the world before this tournament and shot.
Yes, the Chinese can be a bit loud and occasionally obnoxious -- have you ever been to dim sum at noon on a Sunday? Even so, Lewis should try to embrace this huge market because it will be good for the LPGA and good for her. As the top ranked American player, Lewis should see China as an amazing opportunity (see Kobe Bryant and Tiger Woods).
Okay, so Lewis lacked some grace. The great thing about Twitter and social media is that it can give us insight into a player's emotion in near real time. Lewis was grousing because she wanted to win. Who hasn't felt the same way after a tough loss? This is the kind of raw emotion that makes Twitter more fun and the players more real. 
Stacey Lewis: come back to Twitter! You're allowed to be a bit sore after losing. Embrace the passion - don't hide it away. You seem to have quit for the exact reason you're worth following.
NOW THIS WOMAN HAS A REASON TO GROUSE
The co-host doesn't seem that apologetic.
MORE TRICK SHOTS AND STUNT DRIVING 
We've all seen numerous trick shot videos from various sports including golf. Even so, there is something hypnotic about these trick shots - not all of which use golf balls.
For not particular reason, a guy doing a wheelie in a golf cart.
EVERYONE LOVES JACK
Even these professional hockey players who have likely done a bunch of ceremonial puck drops seem genuinely happy to be in a picture with Jack.
Of course this golf season has had numerous controversial and complicated rulings and penalties. In contrast, we provide you with some honest simplicity in calling a penalty from the NHL's opening week.
 Cheers!
Douglas Han
Like what you read? Please share by passing it on to a friend via email or any of the other buttons above.
Have a submission for Golf Videos of The Week? Please email video or link via the Contact Page.