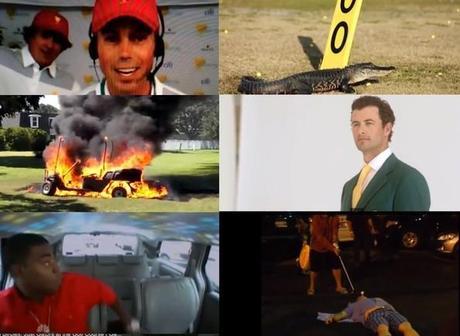 WHO CARES ABOUT THE PRESIDENTS CUP
Does anyone really care about the President's Cup? If you're American, is it really possible to get worked up to cheer against a bunch of Aussies, South Africans and Canadians? It's kind of like cheering against the staff at the ski resort if you've ever gone skiing in the Rockies: polite, handsome and likeable. The Japanese kid is even super-likeable. On the other hand, if you're Australian or South African, is there any real victory or pleasure from beating a team that get's crushed by the Europeans every two years? 
Team competition needs passion and regrettably, there is none here. Instead of passion and winning, the primary focus of the week seems to be how nice the gear is (not that great btw) and who Tiger is playing with and how they will do. We like following Tiger as much as anyone ... but in this case: big whoop.
It's time for a real international competition to get the competitive juices and emotions flowing. 
Everything you need to know about the emotional resonance of the President's Cup can be summed up as follows: the most memorable moment in the history of the event is journeyman Woody Austin falling in the water.
Case closed.
Fortunately, Jason Dufner provided the rare bit of entertainment his week at the President's Cup at one of the sponsored press pieces.
In hindsight, the only thing that would have made the Woody Austin spill more interesting would have been the possibility of aligators.
MAYBE GATORS AREN'T SO BAD (ASIDE FROM AARON HERNANDEZ)
The Gator Boys are somehow back on GVOTW with this clip.
The funny thing about these videos from the Gator Boys is that they make alligators seem less dangerous. Once you realize that a fat guy with bare feet and electrical tape can essentially play with an alligator, they don't seem that scary (the gator not the fat guy ... who still seems scary).
Anyway, in case you missed it, the best nature video of the week is this release of a little bunny.
Jimmy Kimmel may have ruined everything because I now suspect he is behind this. 
BEST ON COURSE FIREBALL SINCE CADDYSHACK
We were probably the first to link to this last week. Who knows what it's about but if you've ever wanted to see a golf cart on fire, here it is. 
so what you're saying is you'd rather walk today … http://t.co/PQDF6o4W8y

— Douglas Han (@theteesheet) September 27, 2013
Look, the Supreme Court said Casey Martin could ride a cart, burning them is not going to change that.
HANDSOM MEN IN CABS
We didn't need any more proof that Adam Scott is basically a likeable dude (aside from the long putter). Decent effort by SI's Golf.com for a candid interview in the back of a car in New York - but Scott is just not that engaging.
While Scott appropriately puts Tiger's accomplishment in proper perspective, he's probably not a bigger star because he is dull (see Dufner above for more fun).
In recent memory, the best handsome-man-in–the-back-of-a-NYC-cab for silent intensity (there is a Golden Globe category for that) had to be the end of the under-appreciated Michael Clayton.
This was a close second.
IS THERE A WEEK WHEN JOHN DALY IS NOT IN THE PARKING LOT WITH A BUNCH OF DRUNK GUYS EGGING HIM ON TO DO SOMETHING INVOLVING HITTING A GOLF BALL?
This video is making the round this week. Seems to me there must be one of these with John Daly every week.
It is somewhat more interesting this week knowing that only a week before, a guy tried this with a non-professional golfer (sobriety unclear) with somewhat worse results.
Daly has done this stuff before with beer cans and Fehertys.
The beer can version gives a little insight and context to Daly's life in that the videos reveals:
at least one "git 'er done!" shouted
a "doggonnit!" shouted (possibly "daggummit")
a guy weating denim overalls ... possibly unironically.
GOLF SHOULD PERMIT CHANTING AND SHOUTING DURING SHOTS

Here's an idea for post-PGA Championship golf: change fan etiquette rules to allow pictures, noise and chanting during shots. It will give fans a chance to get involved and feel part of the action. Does it really matter? Right now the fall is just a big cash grab with no real meaning. We may as well make it fun.
Check out the amazing Pittsburgh Pirate fans last night as they take a page out of the book of hockey fans. The fans are chanting the opposing pitcher's name to try to rattle him. The results are awesome.
It is probably no accident this is from Pittsburgh where Penguins fans are intimately familiar with fans chanting opposing players names (typically goalies) to try to rattle them. A recent excellent example is the Winnipeg Jet fans taunting Dwayne "Rollie" Roloson.
 Cheers!
Douglas Han
@theteesheet
Like what you read? Please share by passing it on to a friend via email or any of the other buttons above.
Have a submission for Golf Videos of The Week? Please email video or link via the Contact Page.