Scarecrow's Garden Log: 04:12:2010
(Ooops running late again!!!)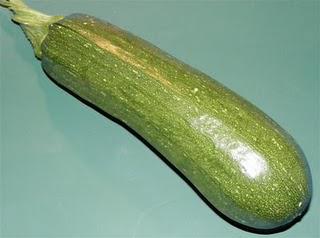 The packet said Golden Zucchini
but this one doesn't look very golden.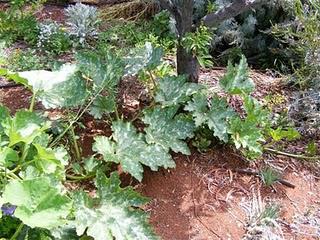 The plant has taken a running form too.
This happens when Open Pollinated seeds
don't come true to type!!


Temperatures this week:




Lowest Min 8.5C


Lowest Max 19.5C
Highest Max 36.1C
2.5mm Rain


Propagation:




Seeds:


Scattered Sunflower seeds saved from last years crop around the garden.


Potting on:


Beetroot Forono
Kohlrabi Purple Vienna
Parcel
Parsley
Tomato Black Cherry
Tomato Kotlas
Zucchini Cocozelle


Planting out:


Kohlrabi Purple Vienna
Beetroot Forono
Silverbeet Rainbow Mixed
Dwarf Sunflowers
Leaf Amaranth
Basil Purple


Cuttings:


Sweet Potato


In the Garden This week: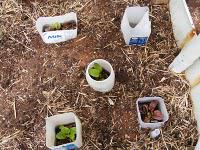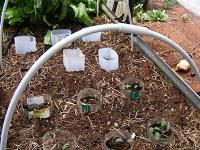 I cleared the Wicking Bed in the extended Kitchen Garden (formally Dog Pen) of all plant material except the French Sorrel.
The soil was a light dose of Blood and Bone.
Holes were made in the soil and half filled with worm filled worm casts and seedling Silverbeet, Kohlrabi and Beetroot were planted to replace the failed Carrot crop.
Plastic covers were popped on the seedlings to protect them from bug attack.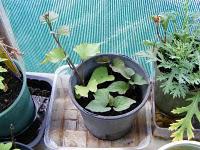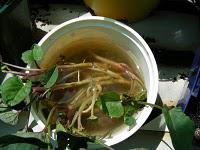 Following the complete failure of the Sweet Potato cuttings I bought this year I've taken slips (shoots twisted from the tuber) off a bought, organic Sweet Potato tuber and potted them up ready for planting soon.
Shoots from some regrown tubers in the ground were dug up and placed in water where they have quickly formed roots. These will be potted up soon.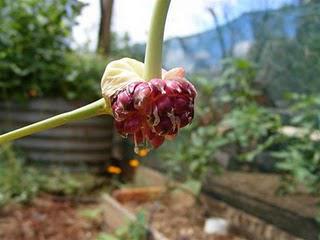 The Purple Monaro Garlic heads this week!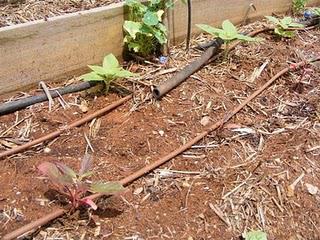 In the ground near Bed 7 (next to those Garlic heads) Dwarf Sunflowers and Leaf Amaranth have been planted.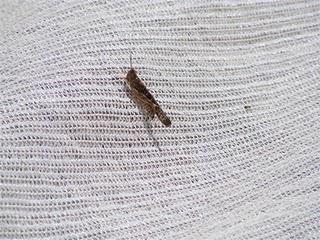 The Locusts have arrived but not in huge numbers yet.


Weekly Harvest Tally:


Doesn't include Greens fed to the chooks on a daily basis or herbs picked for use in the kitchen for cooking or tea making.
Garlic***771g
Zucchini (?)***354g
Strawberries***321g
Loganberries***319g


Eggs


16 From the 5 Farmyard Ferals
15 From the 4 Barnevelders
21 From the 5 Faverolles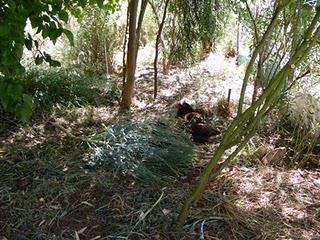 The 4 Barnevelders have been moved over to the Almond Area run and now live in Blackies old house and enjoyed the shade of the Mulberry tree during the recent hot days.
To see how the various Garden areas fit on our half acre block check out the newest Map of our place HERE