With the advent of cheap airfares, trips to Malaysia are easier than ever. But in this guide, we also summarize the other ways of going to Malaysia for Filipinos—by sea and from neighboring countries. May this guide come in handy for those planning a trip in time for Visit Malaysia Year 2014, a year-long celebration filled with events and festivities. Read more…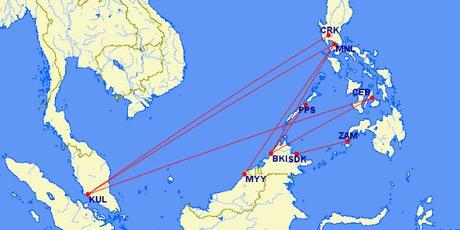 BY AIR
Philippine Airlines, Cebu Pacific Air, AirAsia Zest, and Malaysia Airlines all fly daily from Manila to Kuala Lumpur. From Cebu, AirAsia Zest also flies daily to Kuala Lumpur, while from Clark, Pampanga, Malaysia AirAsia has flights four times weekly.
The primary gateway of the Philippines to Malaysian Borneo is Kota Kinabalu, and AirAsia Zest flies there from both Manila and Cebu. Cebu Pacific Air, meanwhile, likewise flies three times weekly to the said capital of Sabah. Recently, AirAsia Zest introduced a four-times weekly service from Manila to Miri, which serves as the Philippines' sole gateway to Sarawak, and MASWings a three-times weekly service from Kota Kinabalu to Puerto Princesa, Palawan.
From Kuala Lumpur, flights can be easily and affordably taken to capitals and key cities in Peninsular Malaysia, such as Penang, Johor Bahru, Langkawi, Alor Setar, Kuala Terengganu, and Kota Bharu via airlines like AirAsia, Malaysia Airlines, Firefly (via Subang), Berjaya Air (via Subang), and Malindo Air. Alternatively, these cities can be reached by bus, train, and ferry.
On the other hand, from Kota Kinabalu and Miri, flights can be taken to destinations in Malaysian Borneo. AirAsia and MASWings fly to Sandakan and Tawau in Sabah; Kuching, Sibu, and Bintulu in Sarawak; and Labuan, a Malaysian federal territory. MASWings alone, meanwhile, plies minor routes to smaller airports throughout Sabah and Sarawak.
Major airports in East Malaysia are connected to the mainland by air and vice versa. Kuala Lumpur-Kota Kinabalu and Kuala Lumpur-Kuching are of course the most frequent routes, but there are also city pairs like Johor Bahru-Kota Kinabalu and Penang-Kuching.
BY SEA
Since Sabah is very proximate to the southern maritime boundaries of the Philippines, going to Sabah is very much possible. Limited information is available regarding trips by sea from the Philippines to Sabah, but the Zamboanga-Sandakan route is still operational. Aleson Shipping has one sailing weekly, and the trip takes a long 20-24 hours. It would be best to contact Aleson Shipping for schedules first, however.
There have been plans to link Brooke's Point in Palawan to Kudat in Sabah via vessels, but the operations have to materialize as of yet. Brooke's Point is approximately 5-6 hours away by public van from Puerto Princesa, the capital of Palawan that has an international airport.
FROM OTHER COUNTRIES
Singapore. Two causeways link Singapore with Johor Bahru, and both are crossed by city buses. Singapore and Kuala Lumpur are linked by bus, train, and typically cheap flights. But going to Kuala Lumpur by land, it's recommended to start the long-distance journey in Johor to save on fares by as much as half because of Malaysia's cheaper transport prices.
Thailand. Peninsular Malaysia is in the south of Thailand, and there are seven immigration checkpoints across the land border between the two countries. The Malaysian states of Perlis, Kedah, Perak, and Kelantan are linked to the Thai provinces of Satun, Songkhla, Yala and Narathiwat. Long-distance buses, a train, and flights connect the two countries.
Indonesia. There are two official land crossings that link Kuching in Sarawak and Pontianak in West Kalimantan, and those are between Tebeduk in Sarawak and Entikong in West Kalimantan, and between Aruk and Biawas. Certain cities and towns in Peninsular Malaysia, meanwhile, can be reached through marine vessels mostly from Sumatra in Indonesia.
Brunei. There are four border crossings between Brunei and Sarawak. The most popular one is at Sungai Tujoh, where buses going to Miri pass by. Other border crossings at Kuala Lurah, Puni, and Labu may also used depending on the route and destination.
VISA INFORMATION
All holders of Philippine passports enjoy a visa-free entry into Malaysia good for one month. However, the purpose of visit must exclusively be social or tourism—work is prohibited. Note further that drug trafficking is penalized with a mandatory death sentence.
CONTACT INFORMATION
AirAsia Zest and Philippines AirAsia
Domestic Road, Pasay, Philippines
Telephone: +63 2 742 2742
www.airasia.com Aleson Shipping
172 Veterans Ave., Zamboanga, Philippines
Telephone: +63 62 991 2687
www.aleson-shipping.com
Berjaya Air
Subang Skypark, Selangor, Malaysia
Telephone: +603 2119 6616
www.berjaya-air.com Cebu Pacific Air
Domestic Road, Pasay, Philippines
Telephone: +63 2 702 0888
www.cebupacificair.com
Firefly
Subang Skypark, Selangor, Malaysia
Telephone: +603 7845 4543
www.fireflyz.com.my Malaysia AirAsia
Low Cost Carrier Terminal, Selangor, Malaysia
Telephone: +600 85 8888
www.airasia.com
Malaysia Airlines and MASWings
LKG Tower, Ayala Ave., Makati, Philippines
Telephone: +63 2 887 3215
www.malaysiaairlines.com Malindo Air
Subang Skypark, Selangor, Malaysia
Telephone: +603 7841 5388
www.malindoair.com
Philippine Airlines
Diosdado Macapagal Ave., Pasay, Philippines
Telephone: +63 2 855 8888
www.philippineairlines.com  
Tourism Malaysia
Jln. P5/6, Precint 5, Putrajaya, Malaysia
Telephone: +603 8891 8000
www.tourism.gov.my Tourism Malaysia (Manila)
Picadilly Star Bldg., Bonifacio Global,Taguig, Philippines
Telephone: +63 2 846 2697
www.tourism.gov.my
Embassy of the Philippines Kuala Lumpur
Jln. Changkat Kia Peng, Kuala Lumpur, Malaysia 
Telephone: +603 2148 9989
www.philembassykl.org.my Embassy of Malaysia Manila
Tordesillas St., Salcedo Vill., Makati, Philippines
Telephone: +63 2 662 8200
www.kln.gov.my/web/phl_manila