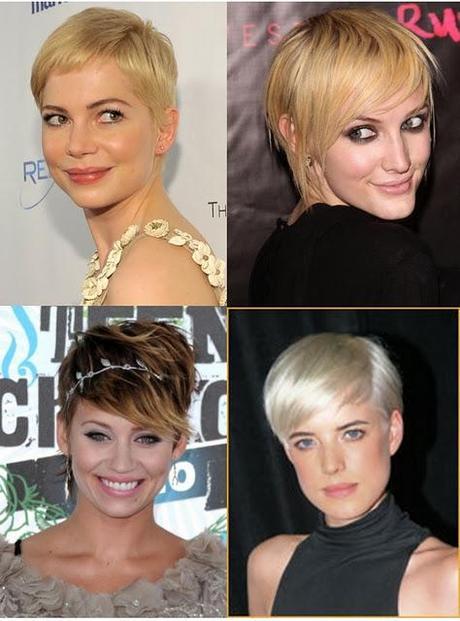 Top left: Michelle Williams, Top right: Ashlee Simpson
Bottom left: Kimberley Wyatt, Bottom right: Agness Deyn
In a recent
Elle
interview Michelle Williams said of her short hair, ' The only people who like it are gay men and my girlfriends. Straight men across the board are not into this hair.'
Firstly I take issue with this as I have had cropped hair for around 6 years now and I have not found this to be the case at all. Not everybody will find someone else attractive and this is the same for hair cuts. Some men like short hair, some prefer longer hair. 
Secondly and most importantly who cares? The easiest way to feel attractive is to feel good about yourself and stop worrying what other people think. Feeling confident and happy about your appearance is far more important than what other people think of your hair cut.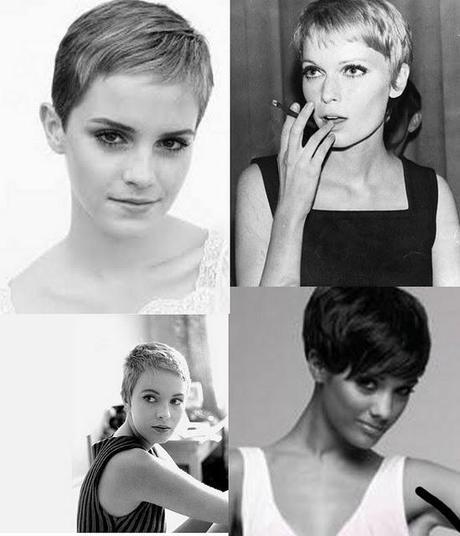 Top left: Emma Watson, Top right: Mia Farrow
Bottom left: Jean Seberg, Bottom right: Frankie from The Saturdays
If you're thinking of going for the chop there are a few things that you might want to consider before you do:
v

  
Are you the kind of girl who is likely to have an America's Next Top Model Style break down if they chop your hair? If so, you might want to do it in stages because a short hair cut takes a long time to grow out. I recently grew mine to my shoulders and it took 2 years! It's much easier to grow out a bob than a cropped pixie cut so if you have a deep emotional attachment to your hair get it done in stages.
v

  
Choose the right stylist. Your hairdresser might have done your hair for years but cutting short hair is different to long hair. I'm very fortunate that I have an amazing hairdresser but over the years I have had some awful haircuts from different stylists. If you know someone with short hair ask them who cuts it.
v

  
When you go to the hairdressers take pictures, be clear about the style you want and have a consultation with your hairdresser before they cut it. Also don't expect your style to be exactly like your favorite celebrities, the cut should be tailored to your features.
v

  
Do you have the right features to pull off short hair? All of the women above have similar soft and petite features. Round faces and square jaw lines aren't always flattered by a short cut.
v

  
Do you like to change your hair a lot, if so this might not be the right option for you? Short hair isn't the most versatile and you can't just tie it up on a bad hair day.
v

  
Short hair needs to be maintained with regular trims, which is not only a time commitment but a financial one too. 
v

  
If you go for the chop own your cut and wear it with confidence. One of the up sides of short hair is that it definitely makes you stand out from the crowd!