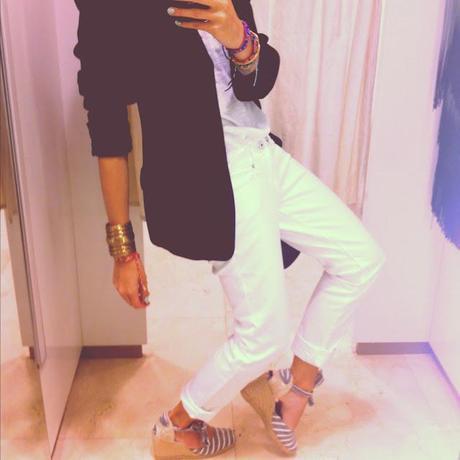 Here's the thing, I'm gonna nominate my today's choice of footwear a godsend even though it wasn't the most comfortable thing ever, however when you look at it from the positive side it could've been worse, like YSL tribtoo's (which I couldn't imagine myself walking in almost a kilometer from the bus stop to my maison). And looking at the weather now, it could've rained as well.. and these espadrilles my dear friends, are made of fabric (not all obviously, but the stripy gray part), therefore you can probably imagine what a disaster would that be.
About the godsend, there's also one more thing except for the shoes. Duh, I always choose my headings carefully so that I can link it as many outfit things (so eg. if I call my post fabric, then I should link it to all my body-cover => clothes). But anyway, the godsend here is the fact that I got over my laziness for at least 5 minutes of my precious morning time and got myself to try on something else - my mom's vintage MaxMara blazer. Yup, MaxMara. Nothing against the brand, but their latest collections are just not my cup-o'-tea so I strictly disapprove to buy/get clothes from there (for myself, not others -> I highly support freedom of living... well unless it's too destructive).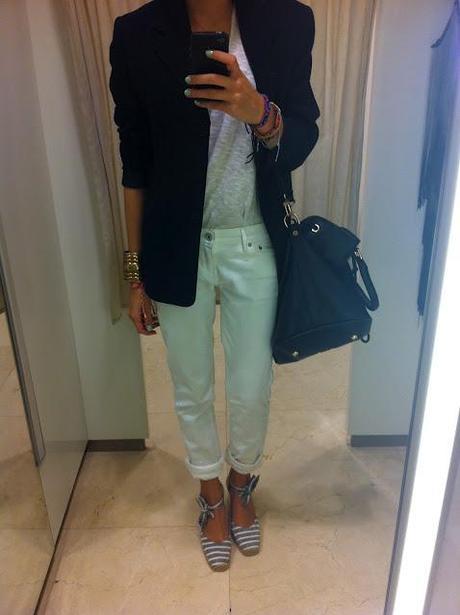 Plain shirt - Zadig et Voltaire, Jeans - Levi's, Blazer - MaxMara, Espadrilles - italian vintage, Bag - Louis Vuitton
So here's the thing, this is vintage which is a very good excuse for the fact that I actually like this boyfriend blazer and again supports my opinion about fashion - the style has always been better in the past, therefore everytheeeeen is coming back. Kids, it's time to invade your grandmother's grandmother's mother's closet not to get out of style for the near future, or at least until 21st century ends (oh and unless the whoever's clothes didn't turn into dust yet along with their precious 500000 or more year old self). The background of the photo has again been very carefully chosen and stylized to white (matching my clothes, duh) in the beautiful Zara spaces while trying on some dress for an upcoming event (you'll see/I'll write about that later). Whoever says this is boring n plain is simply so out of style or blind. Just wait until I roll up my sleeves and kick up my pumped up kicks fellas.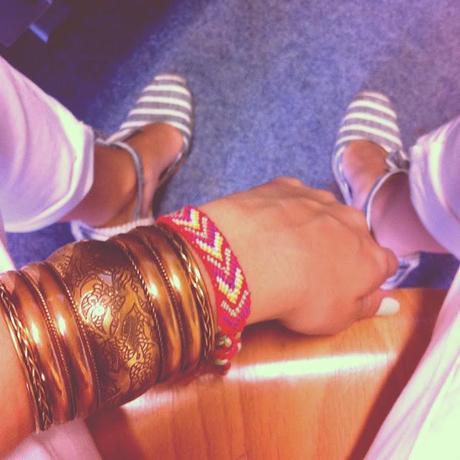 Sadly not seeing properly the color of the nail (yes, nail without S because you can only see one nail on the last picture), doesn't have as effective effect (my english teacher would kill me for this expression, excuse meehhh) however if you're not lazy to look up, notice the nails. They are the shit I tell ya. And they simply match everything, unbelievably but truly. Now, off from the poisonous green nails and moving up the arm on to the major arm party. Sadly I don't have 3 arms so I can't take pictures of both at once, and since I'm right handed I'm not even almost able to take a picture using my left hand only, here's my left hand (the more interesting one of course). The ethnic bracelet just felt right to be matched with the outfit because this outfit + gold is really the shit once again. Not silver, oh please no. That would literally kill the soul of the outfit, and the espadrilles, and just simply everything. Luckily the bracelet is long enough it filled my arm up to the bracelet top limit, therefore all I could place there was a new-old bracelet I found last week. How luckily am I, better than Dannijo I must say, and has so much of an effect because even though I don't know who the hell's done it, I'm sure it's handmade so I can just say I got it from my friend. Which is true but if they ask which one, I'm f - ed.