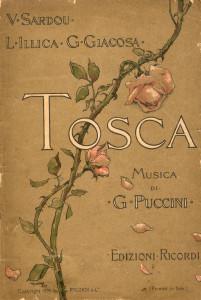 Even the libretto cover is lovely, no?
Editor's note: This post marks the first of a Tosca week celebration on Operatoonity.com, in homage to the 114th anniversary of the work.
So, Tuesday the 14th of January marks the premiere of Puccini's Tosca, written that date in 1900.
I want to shout it from the roof of my modest bilevel home that needs new siding: I LOVE TOSCA!
Why? The music, of course. Whenever I am listening to Opera Music Broadcast during the work day (and I almost always am live streaming it) and an aria from Tosca plays, I stop what I am doing, and take it in-completely–into every pour of my body.
Even though Cavaradossi is nearly drowning in his melancholy thinking of Tosca during the transcendently lovely"E lucevan le stelle," I am transported to another plane of existence while he sings. Completely alive. Taking every note of the song into every pore.
But it's not just the music. It's the sentiment behind the music. The man is unequivocal, unapologetic, and consumed by his love for Tosca. That kind of devotion to a woman seems so unfashionable today, in this era of non-commitment. Perhaps that's why I find his devotion so arresting and transformative.
Heavenly day, who wouldn't want to be wholly loved like that! by a man like Cavaradossi!
Not convinced? Listen to Alagna singing the act three aria 'E lucevan le stella." Oh, and here is a translation of the lyrics:
"E lucevan le stella"
The stars seemed to shimmer
The sweet scents of the garden,
The creaking gate seemed to whisper,
And a footstep skimmed over the sand.
Then she came in, so fragrant,
And fell into my arms!
Oh! sweet kisses, oh, languorous caresses,
While I, trembling, was searching
For her features, concealed by her mantle.
My dream of love faded away, for good!
Everything's gone now.
I'm dying hopeless, desperate!
And never before have I loved life like this!
And never before have I loved life like this!