Enter recipe name here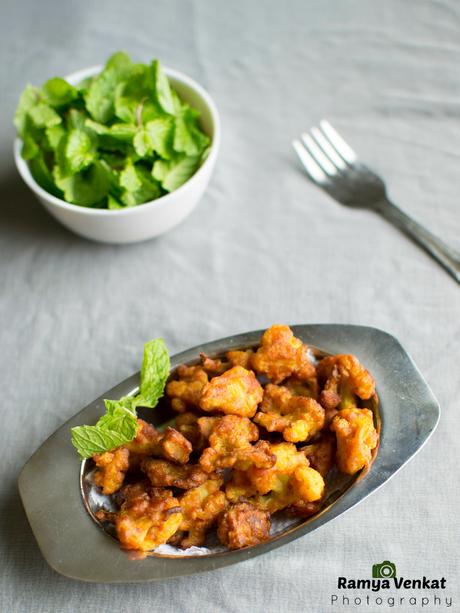 Recipe description here

Ingredients
cauliflower - 1 medium size
yogurt - 1 tablespoon
gram flour/besan - 2 teaspoon
corn flour - 1 teaspoon
ginger garlic paste - 1/2 teaspoon
red chilli powder - 1 teaspoon
garam masala - 1/4 teaspoon
turmeric powder - 1/4 teaspoon
salt - to taste
oil - for frying
Instructions
Take the cauliflower and separate into small florets and soak it in warm or boiled water for 5 minutes.drain the excess moisture by placing it in a towel.
For the batter for this recipe,take yogurt,gram flour and corn flour in a mixing bowl and mix it with red chili powder,ginger garlic paste,turmeric powder,garam masala with enough salt.
Add little water to the batter if required and toss the florets with little flour as first coating and then mix it with the batter.Heat the oil in the kadai and lower the flame once it is hot enough for deep frying.
Then add the coated florets in the oil very gently and deep fry till they get golden brown.then drain excess oil in absorbent paper and then serve.