Anyone who knows me knows one thing, I can't cook all that well. Sure, I can do the basics, but beyond that... it is just
too much work
 (it's okay, you can call me lazy). After being at the office for 8 hours, the last thing I want to do is cook any sort of fancy meal. As for baking,  I am a bit better at it, but still... the simpler the recipe the better. I was perusing the internet the other day and came across these adorable
Santa Hats
, and I couldn't wait to make them. The best part was, I had almost all of the ingredients in my fridge, making it even easier then I had planned for. I had picked up some Trader Joe's Gluten Free brownie mix a few weeks ago, so I was thrilled to have a substitute for the regular brownie mix the recipe called for. It was refreshing to have a sweet holiday treat in the house that I too could munch on, considering most people don't cook
gluten friendly
sweets (especially during the holidays). They turned out to be quite delicious, so yummy in fact, they didn't last one full day.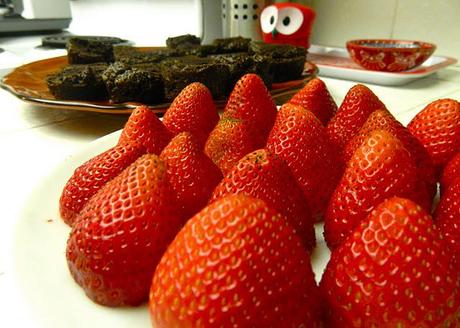 Cardiff Seaside Market had the most beautiful & delicious strawberries, even at the end of the season.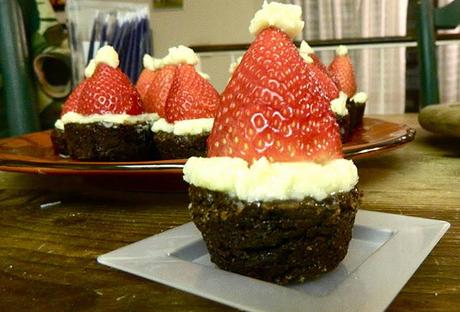 What you will need: 
- 1 pan of brownies, I used Trader Joe's Gluten free brownie mix, but you can substitute this with your personal favorite. I will say the gluten free mix is pretty delish.
- About 15 strawberries, cleaned & hulled.
- Marscapone buttercream frosting (see recipe below)
Marscapone Buttercream 
(side bar: you can use store bought frosting if you are super lazy, but this frosting is so good I suggest taking the extra time to make it) 
Ingredients:
- 1/2 cup (or 1 stick) of unsalted butter (make sure it's at room temperature)
- 8 ounces of marscapone cheese (also at room temperature)
- 2 1/2-3 cups of powdered sugar
- 2 tsp of vanilla extract
- pinch of salt
Directions:
- Beat the butter and the cheese using a standing mixer for about 2 minutes, or until creamy.
- Add the vanilla extract and the salt.
- Start adding the sugar 1/2 cup at a time until you reach 2 1/2 cups, if not at the texture you like you can add the extra 1/2 cup.
Time to Assemble: 
- Once your brownies are cool you can either use a circle cookie cutter or a knife to cut the donuts into small circles. Shave off the top so they are flat.
- Using a piping bag, or a ziploc bag with one corner snipped, pipe a ring around the outer top rim of your brownie.
- Cut the stems off of your strawberries and place them upside down on the ring of icing.
- Add a dot of icing to the tip of each strawberry, for the poof on Santa's hat of course.
There you have it- a quick, easy, festive, and gluten free treat!