Yet another Rhubarb recipe, this one is combined with rose cordial in a gluten free cake mixture, satisfyingly tasty and better eaten the next day this a great recipe for lunch boxes in the summertime. Not overtly sweet the rhubarb really sings with the subtle hint of rose.
Currently in the garden rose "Gertrude Jekyll" is flowering prolifically,so this is the inspiration for this bake, a deep rose pink highly fragranced David Austin rose with ample double blooms. Roses always mean summer to me, their luscious fragrances and ample flowers and also quintessentially English.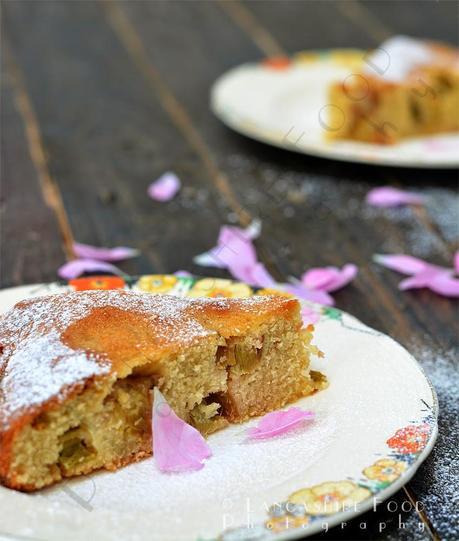 A delicious bake with a good crumb studded with tangy juicy chunks of rhubarb.
What you need
3 or 4 talks rhubarb, washed and chopped into 1cm ish chunks
1 1/2 cups of ground almonds
1 cup of gluten free plain flour (I used Doves Farm)
150g softened butter
3/4 cup light brown soft sugar
1 tsp vanilla paste
1 tbsp rose syrup
4 eggs - free range
23 cm cake tin, base lined (ideally loose bottomed or spring form)
What you do 
Pre heat the oven to 180c
Toss the prepared rhubarb into the flour and ground almond mixture
Beat the sugar and softened butter together until light and slightly fluffy, add the vanilla and rose syrup
Add the eggs one by one , don't worry to much if the mixture curdles slightly keep mixing, add a little of the flour / almond mixture
Now fold in the rest of the flour, almond and rhubarb mixture
Scrape into prepared cake tin and bake for about 45 mins or so , bake until golden, slightly risen and done when tested with a cocktail stick.
Allow to cool in tin
Wrap and store once cool, its has a better flavor if kept for 24 hours.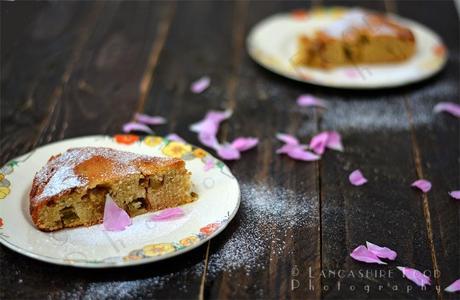 I am linking up this post to this month's Tea time treats , hosted in turn by Karen over on Lavender and Lovage and
Hedgecomber
. This month's theme is Floral, I think this more than qualifies.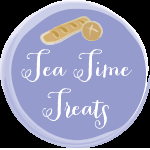 I am also linking up to Ren Behan with her
Simple and in Season
campaign. As this is a very seasonal recipe as it features rhubarb from the garden and is decorated with fallen petals from Gertrude Jeykll rose.