One of the hardest things about a gluten-free diet is missing those comfort foods that you eat on cold mornings, like pancakes. For the longest time I longed to have a pancake on a weekend morning, or make my kids pancakes on a snowy morning.
One day I started experimenting with pancake recipes and finally found a recipe that tastes like pancakes, at least to me.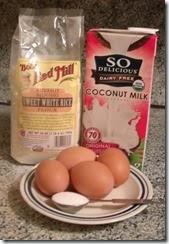 All you need to make Gluten-Free Pancakes is:
4 eggs
1-1/4 cup So Delicious Coconut Milk
up to 1 TBSP sugar (you can leave this out if you want. Depends how sweet you like your pancakes)
1 Cup Sweet Rice Flour
To make the Gluten-Free Pancake mix:
Mix the eggs, coconut milk, and sugar in a medium sized bowl until well blended.
Add in Sweet Rice Flour and beat with a whisk until the batter is smooth. It is normal for it to be a little lumpy.
Cooking your Gluten-Free Pancakes:
On a skillet heated over medium heat, place a small pad of butter, and pour 1/2 cup of the batter mix into the skillet.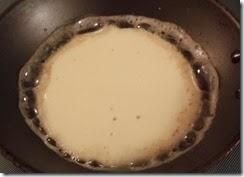 Wait for bubbles to form on the batter. Here you can see a few bubbles starting to form. When plenty of bubbles have formed, flip it over. I usually check to make sure the underside is nicely browned before I start flipping.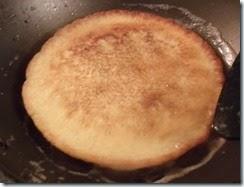 Here you can see the beautiful browned side. Let is cook in the skillet for about 2 minutes or until it is baked all the way through.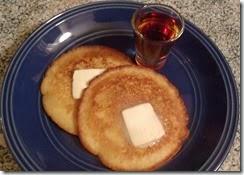 I like to put a pad of butter on each (you can skip this too) and dip them in syrup, or you can smother them in syrup.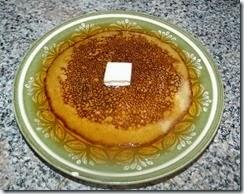 Either way is just as delicious!
I had a friend come over and try them and photographed her eating them. Here she is devouring them!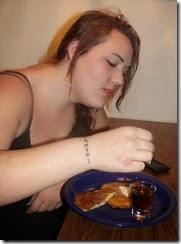 First she dipped them in syrup and checked them out.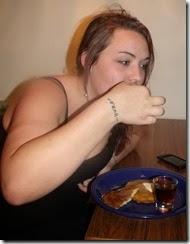 Then finally tried them and loved them so much, that I got this wonderful picture of her!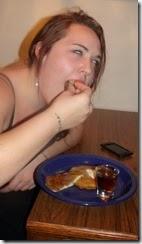 Your welcome Lexii! Glad you loved them!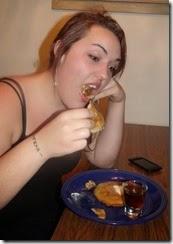 GIRL! Swallow the food in your mouth before stuffing more in! At least they are tasty!
I hope you all enjoy them as much as we did!