I've always been a fan of Glossybox and supported them when there was a lot of
whinging
 negative feedback about the January Valentine's Special Edition Box - my review is
here
.  So I was very interested to see what would be in my February box, especially as I'd taken a screenshot of the box contents when Glossybox inadvertently put it up on their website, prior to removing it very quickly, last week......oo look Becca!!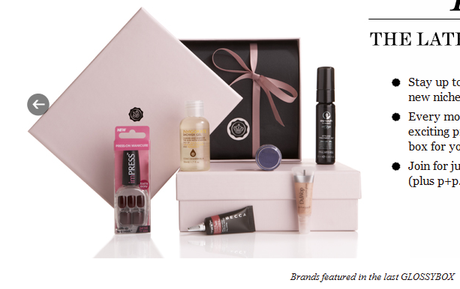 I also caught a couple of previews from Glossybox Ambassadors (bloggers 
who receive a free PR box prior to regular subscribers) and whilst I could definitely live without press on nails and wasn't overly excited by the mineral eyeshadow (at least black or blue were usable colours), I was really excited by the Awapuhi by Paul Mitchell Wild Ginger Treatment Oil 
to tame my coarse frizzy straightened locks.  
Glossybox had announced we would start recieving our boxes today and when I logged on this morning and saw Facebook was alive with mixed comments over the February Glossybox but awaited my trusty postman with an open mind.  When he eventually rang my bell (so to speak!) I grabbed the box from him and ripped open the packaging in eager anticipation.  Becca! Becca! please, please Becca......this is what I found...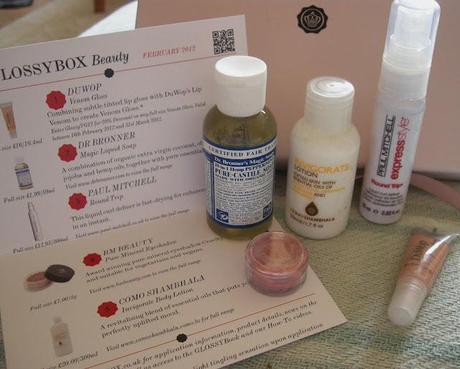 Duwop Venom Gloss in Buttercup 5ml Dr Bronner Magic Liquid Soap 59ml (full size) Paul Mitchell Round Trip 25ml BM Beauty Mineral eyeshadow in Her Majesty 1g Como Shambhala Invigorate Body Lotion 25ml The Duwop Lip Venom is nice enough, the color Buttercup is described as a light shimmery champagne and the full size 10.4ml has an RRP of £16 which suggests this 5ml sample is worth around £7.50.  However, you can pick up 8 of these glosses, including this shade, in the Duwop Venom Gloss Candy Box for just £21 (incl delivery) from HQ Hair here The Dr Bronner Magic Liquid Soap is full size but this retails at £1.99 - I may well use this to wash my make up brushes, though I'm happy enough with the Johnson's Baby Shampoo I use at the moment... Paul Mitchell Round Trip. Nooo where is my treatment oil?  The very last thing I need is a curl definer as I spend a great deal of time and effort (including wearing a variety of silly hats if it even looks like rain) on keeping my hair straight.  RRP for 200ml is £12.95 so this 25 ml size is worth about £1.60.  Anybody want mine?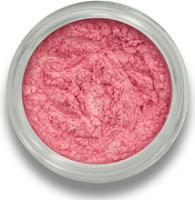 BM Beauty Mineral Eyeshadow in Her Majesty....it's pink!  Actually described as shimmery pink gold...Humm I'm over 40 and have red (okay ginger!) hair.....see where I'm going here?  I suppose it'll come in handy for a Toyah revival circa 1980's party  RRP £7 for 2g so this 1g is in theory worth £3.50

Combo Shambhala Invigorate Lotion. Hey it's a body lotion and I've yet to find anything to match good old Baby Oil, mixed with a couple of drops of essential oil on damp skin after a shower RRP is £20 for 300ml so this 50ml size is worth £3.33.  I'll give it a go but I would never spend £20 on a full size body lotion. My verdict?  Well here is a direct quote from me from last month's box review:

"Now since starting this post early this morning I've noticed a lot of whinging 

negative feedback about this box, along the line that it's 'not fair' people got different products and different color of eyeliner and also comparing the worth of each of the 3 (I believe) different boxes. I really don't understand this as I always get exactly what I signed up for which is at least 5 luxury sample products for £10 per month plus £2.95 P&P.  In fact every month I've received MORE than I signed up for because there are full sized products too. I've calculated the total worth of this box at approx 

£45 which I think represents great value and also satisfies my thirst to try new products."
Perhaps I've been hoisted by my own petard because I must say I'm disappointed.  I'm still not in the 'it's not fair' camp because whilst, sure, I would have preferred some of the other products available this month I paid my money and I took my chances. I calculate the value of my box this month to be approx £18  ,and that's being generous as I've based it on RRP, for an outlay of £12.95. Sure I did get a full size product but that was only worth £1.99! Ever optimistic I could add at least I have a nice pink storage box...but to be honest I'm starting to overflow with empty beauty boxes..


I must admit I'm undecided as to whether I'll remain subscribed to Glossybox. This is by far the most disappointing offering I've had from them and when are they going to start consulting the beauty profiles we completed months ago??!




Glossybox included a small card in this box stating 'Expect the Unexpected' with a link to www.glossbox.co.uk/mystery box advising to check from February 24th.  Perhaps they're selling off boxes of previous samples?  Your guess is as good as mine but sadly I've already received the unexpected...disappointment at this month's box.




Laters Peeps!

Love Lainey

xxxx